6 Surprising Ways Yellowstone Just Set Up An Exciting Season 3 Finale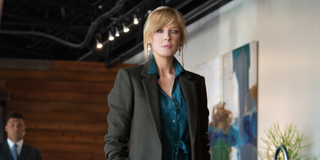 (Image credit: Paramount Network)
Spoiler alert: Plot details for Yellowstone Season 3, Episode 9 ("Meaner Than Evil") will get described below.
Yellowstone's penultimate episode took many surprising turns as it set up a destined-to-be-exciting Season 3 finale. Star Kelsey Asbille hinted that a real jaw-dropper is awaiting viewers when the Western signs off again ahead of its fourth season. After Episode 9 ("Meaner Than Evil"), though, I am even more at a loss than ever before as far as where all of the season's action could be headed.
The hit Western quickly ventured into resolving the huge moves made in last week's episode, while confronting the fallout of others. It is a perplexing time to be a Yellowstone fan, since the road ahead looks eternally indiscernible. That said, the unexpectedness of this quietly dramatic ninth episode should leave fans buzzing loudly until the Season 3 finale arrives. Now let's get into it!
Colby and Teeter's Fates Were Revealed
Thankfully, Yellowstone did not leave fans in suspense for long regarding the fate of Colby and Season 3 newcomer Teeter, with both characters having survived the vicious attack led by Wade Morrow. In the aftermath of the harrowing ordeal, a shaken Colby and Teeter took refuge in one another and shared a kiss. The new couple alert is official!
Hot off their long-simmering kiss, Colby and Teeter re-joined the bunkhouse, ready for revenge against Wade and his son, and they did not have to wait long to get it. (More on that in a moment.) Besides their newly cemented couple status, Colby and Teeter took another plunge together. They both took the brand together as an everlasting commitment to the ranch.
Yellowstone mercifully spared viewers from having to witness the painful process, though the unnerving reality of what they endured was ever-present. Regardless, Colby and Teeter are deeper than ever before, both with each other and with John Dutton and the ranch. After leaving fans to wonder, Colby made his choice, and as he and Teeter witnessed with Wade, there is no turning back.
The Walker Issue Got Resolved (Sort Of)
Rip and Lloyd kidnapped Walker and quickly brought him before Kayce. There was no fight between Rip and Kayce over what Rip could have undoubtedly seen as a betrayal. Yellowstone was not about to take the expected route, and the kind-hearted Kayce still wanted to find a non-lethal solution to the whole affair.
It was a choice I applauded him on. Walker ended up agreeing to return to the bunkhouse to swear an even deeper allegiance to the brand. Rip later had Walker do something even more incriminating with the intent of further ensuring his silence. At the end of the episode, I wasn't even sure it was guaranteed.
Walker accompanied the always-informative Lloyd to the "train station" without any risk that he would catch a ride. By the end of their conversation, I was still uncertain if everything was settled or not. Thus, Walker remains a wild card, and I am starting to wonder if Rip and Lloyd ran across him on purpose. Is he possibly working undercover as an informant? Stay tuned for the finale, since I don't think the threat of Walker is over by a long shot.
Jamie Met His Biological Father
After an episode that didn't touch much on Jamie's shocking realization that he is adopted, Yellowstone picked back up on the storyline in Episode 9. Jamie sought out his biological father, Garrett Randall, and listened to his side of the story. In a scene that reminded me of when Dylan met his biological father on Bates Motel, oddly enough, everything the audience thought they knew changed with a single dialogue.
Garrett claimed that drugs were the reason for his violent past and why he murdered Jamie's biological mother. That added a twist to the story that John told Jamie about it, and it was enough to persuade an already curious Jamie to get to know Garrett better. Could this relationship help lead to something potentially "awful" happening, as Wes Bentley teased?
I am honestly not sure. At this point, Jamie seems desperate to connect with his biological father, which makes sense, considering John has not been the loving dad he believes he had been towards his son, on top of his fractured relationship with his sister. Plus, Jamie is going to be a father himself soon, even if Yellowstone has ignored that plot point so far in Season 3.
Beth Got Fired And Met Willa
Beth Dutton finally met Willa Hayes (played by the brilliant Karen Pittman), and it was as amazing as I had hoped it would be. Willa informed Beth that she'd gotten fired from her job. The two then shared an intricate back-and-forth conversation, which ended with the warning that Willa was on Beth's bad side before the latter walked away.
As Beth left, Willa said that she "really liked" her. Much like Roarke and Beth's relationship would be something different in an alternative Yellowstone timeline, I could totally see Beth and Willa working together in massively successful ways in another realm. In the current world of Yellowstone, Beth seemed to be slightly gutted by that news, although she took it in her usual stride.
Where will Beth work now, though? Is she going to be put on the ranch's payroll? Or does any of that even matter? She is engaged to the love of her life, and they could blissfully make a life together at the ranch. Losing that job could be a blessing in disguise, if such things still exist in this world.
The Case Of Wade Morrow Was Also Resolved
What did Wade Morrow take from John Dutton that no cowboy can? After a lot of vague hints, Yellowstone, revealed the ranch's brand to be what John wanted back so badly, and Rip ensured he got it. How? Episode 9 revealed that Wade and his son were working for Roarke to push the Duttons' buttons, and the latter pushed back hard.
Rip led the bunkhouse (without Kayce) to exact revenge on Wade for nearly killing Colby and Teeter. Wade's son was killed in the pursuit, while Wade got captured via a lasso and was then tied to a tree. Rip beckoned for Walker to take back what Wade had stolen, and Walker somberly retrieved the brand by carving it from Wade's skin in a most gruesome fashion.
The threat of Wade Morrow is now a thing of the past. Of course, Roarke will undoubtedly want to make the Duttons pay for killing his asset, which at least gives him a better reason to want to get rid of them. But at least viewers now know that it was either Wade's or his son's body that was shown toppling down the cliff in the midseason trailer. That mystery is solved, even if plenty of others are still at play.
Monica And Kayce Make A Decision
To end things on an uplifting note, I turn to Yellowstone's preeminent couple, Monica and Kayce Dutton. Monica woke up sore from her mission, vowing it to be not only her first, but also her last. The conversation soon turned to Tate and a parent/teacher meeting at his school, but Kayce had another idea: homeschooling Tate.
The pitch? For the highly-equipped Monica to teach the great Tate what he needs to know in the traditional classroom, while John mentors the boy about life on the ranch. Monica ultimately agreed, filling my heart with tremendous joy, though I admit I was surprised that she quickly accepted arrangement, as terrifically explained as it was.
When I was growing up, I never heard homeschooling discussed with any admiration, kindness, or acceptance on television. In fact, my perception was that it was often looked down upon. So for Kayce to speak of it with genuine enthusiasm, and for Monica to be receptive and agreeable about it, it was pleasantly surprising. I did not think I could love Kayce and Monica's family anymore as they pave their own path, but then this happened. Thank you, Yellowstone.
Considering all of the foreboding and build-up regarding Rip's potentially deadly future, Yellowstone gave no ominous hints about losing the cowboy. There's only one week to go before I can breathe a massive sigh of relief over the threat that Rip could get killed off. But that Season 3 finale could go anywhere, so no relief just yet.
Find out what happens in the Season 3 finale of Yellowstone when it airs next Sunday, August 23, at 9 p.m. ET on Paramount Network. This fall's big TV premieres will arrive before you know it, so stay current, and you can watch the intense action of past seasons by watching Yellowstone's first two seasons on NBCUniversal's new streamer, Peacock.
Your Daily Blend of Entertainment News
Like a contented Hallmark movie character, Britt happily lives in the same city she grew up in. Along with movies and television, she is passionate about competitive figure skating. She has been writing about entertainment for 5 years, and as you may suspect, still finds it as entertaining to do as when she began.
Your Daily Blend of Entertainment News
Thank you for signing up to CinemaBlend. You will receive a verification email shortly.
There was a problem. Please refresh the page and try again.