Yellowstone's 6 Biggest Moments From New Midseason Trailer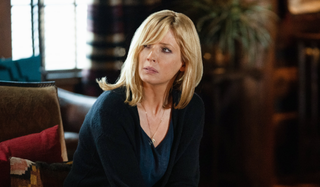 (Image credit: Paramount Network)
Yellowstone has unleashed a whopper of a midseason trailer, and there is no shortage of topics to get into. The preview gives fans 90 seconds of non-stop jaw-droppers as tension rises over the Duttons' land. John Dutton's family and allies are heading into war!
As the midseason trailer (seen lower) explains, there are only four episodes left of Yellowstone. Yes, we are already there, and John Dutton is laying down the law and training Beth to do the same – not that she needs much help in that department – and as hoped, Beth will be meeting up with Angela Blue Thunder. During an earlier episode of Yellowstone, Thomas Rainwater had called on Angela for help fending off the land grab impacting the Native American Reservation. It looks like his interests are about to intersect with the Duttons', so it's time to get into the six biggest moments the trailer had to offer.
Jamie Might Have Sold The Land
In the Yellowstone trailer, John is shown talking to Roarke, who says, "That land is mine. Nobody can sell it but me." While other threats against the Dutton ranch also get shown, it seems like John might still be talking to Roarke in telling the antagonist that he "stole the one thing that a cowboy doesn't steal."
Either way, if the first bit is indeed directed at Roarke, it sounds like Jamie may have sold off some of the Duttons' land behind John's back. The latest episode of Yellowstone pitted father against son after Beth's big reveal, which seemed to confirm Jamie feeling zero guilt for sterilizing his sister without her knowledge. So maybe he's so fed up and desensitized at this point that he possibly incited a war by selling the land to Roarke.
Beth Meets An Ally And A Rival
John's mentorship with Beth plays a significant role in Yellowstone's midseason trailer. Among other things, she meets up with Angela Blue Thunder and squares off with the newly introduced Willa Hayes. The latter is heard possibly telling Beth that she and Metro Capital have "big plans" for the valley.
Beth then says, "The outcome has already been decided." But is this a good or bad thing for the ranch? Beth's demeanor is hard to read, though the does say that it will be "interesting" to join Angela Blue Thunder in fighting Metro Capital, even if that's as vague as it gets. Can Beth and Angela Blue Thunder find a way to save their respective homes? Probably, but expect some sacrifices.
The Duttons' New Enemy Circles
Wade, the guy that may or may not be referred to as a "coward," and the thief of something no cowboy should steal, has gradually made his presence felt on Yellowstone. My guess from the trailer is that he took a horse from the ranch, which would explain Kayce riding alongside a truck attached to a horse trailer, as well as him immobilizing the driver via a lasso.
As far as I'm concerned, fans can count on the Duttons securing this victory in Season 3. Wade provides for more of an old-school fight for the Dutton clan, such as the one they had last season with the Beck brothers. As such, Rip and Kayce seem primed to deal with this battle, while John and Beth focus on the over-arching one.
A Body Is Thrown Over A Cliff
So about that body... This was the moment during Yellowstone's Season 3 trailer that totally made me suck in my breath. To be clear, though, did everyone else see what appeared to be a cloth-wrapped body getting thrown over a cliff? It happens around the 1:11 mark, and you can see it tumble down a hill. Now, considering Yellowstone has teased the Duttons standing over someone's grave in Season 3, could this mystery victim be the person in the grave?
After everything that has been happening with Jamie lately and his possible betrayal in selling the land, he arguably has the highest likelihood of being in the grave. I've said it before, and it bears repeating: Yellowstone could be making moves to kill off Jamie. I hope I am wrong, of course, because he brings way too much to the show, but family betrayal calls for large-scale repentance on the Western.
Kayce and Monica Embrace In The Shower
This saucy moment between Kayce and Monica seemed to come on the heels of Kayce's "kill or be killed" speech. But the bigger question is, does it in any way correlate to the bit where Monica is running from someone? There is a hint that it might. Monica usually takes baths, and has been shown going that route more than once on Yellowstone during its run.
So Monica taking a shower is out of character, and could be a sign that she is breaking her patterned routines up for a reason. If she is quickly washing up after having to run for her life, why is Kayce giving his "kill or be killed" speech? Perhaps he is considering killing whoever menacingly chased after Monica and is then lamenting such a dark choice. That would be out of character for Kayce.
Rip Might Shoot Someone
It would not be a Yellowstone trailer without Rip roaring onto the scene in some way. During the teaser, it seems that Rip's spiritual father figure, good ol' John Dutton, is telling him and/or Kayce to "be smart about this," but he's not clear what they're meant to be smart about. I am guessing this has to do with the rival cowboy situation, as Rip is later shown pointing a gun at someone.
Will Rip end up pulling the trigger, though? It is hard to tell. As I mentioned, Rip and Kayce are running point on the whole rival cowboy problem. Hence, Kayce not sharing any scenes with Roarke in Season 3. But it's not even clear if he's aiming at the enemy or if he might actually have Jamie in his crosshairs. Based on the trailer, my guess is the former, but previews are often built on misdirection, so we'll see.
Yellowstone has four more episodes left in Season 3, and they are teeming with possibilities. I am wondering if the fight over the land will bleed into the next season. Remember, Yellowstone is coming back for Season 4, and it would make sense if the Western does not want to cut ties with this storyline yet. See all the hay fly in the trailer below if you still haven't watched yet.
Find out how all of this explosive activity plays out in Season 3 when new episodes of Yellowstone air Sundays at 9 p.m. ET on Paramount Network. Until this fall's premieres arrive, you can check out the action leading up to this season's by binge-watching the first two seasons on NBCUniversal's new streaming service Peacock.
Like a contented Hallmark movie character, Britt happily lives in the same city she grew up in. Along with movies and television, she is passionate about competitive figure skating. She has been writing about entertainment for 5 years, and as you may suspect, still finds it as entertaining to do as when she began.
Your Daily Blend of Entertainment News
Thank you for signing up to CinemaBlend. You will receive a verification email shortly.
There was a problem. Please refresh the page and try again.