Yellowstone Just Took 4 Big Steps Toward The Season 3 Finale, And I'm Worried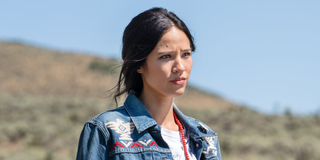 (Image credit: Paramount Network)
Spoilers for Season 3, Episode 8 of Yellowstone entitled "I Killed A Man Today" are discussed below.
My favorite TV western took four big steps towards its highly anticipated Season 3 finale with Episode 8, and creator Taylor Sheridan has me worried about what is coming. In an unexpected turn of events, the fallout from Jamie learning he is adopted did not have a considerable impact on this episode's heightened drama, though it did supply one of its most tender moments.
After Kayce got his welcoming from local ranchers (which was reminiscent of Jon Snow's embrace from the Free Folk on Game of Thrones), he went into a private meeting with Jamie, a.k.a. the Attorney General. Yellowstone did not show it happening on-screen, but someone clued Kayce in on Jamie's adoption. Kayce said that it did not change anything, though, since Jamie is still just as much as his brother as ever. It was a moment that I thought was incredibly poignant seeing as how the Dutton brothers do not get to share a lot of bonding scenes. This one hit, though.
Beyond that conversation, Yellowstone got quite worrisome throughout an episode fraught with a sense of impending doom sure to come in the rapidly approaching finale. Below are the four most foreboding steps taken within the overall narrative, in order of when each storyline concluded.
Colby And Teeter Could Be Dead
What Happened: One of Yellowstone's new will-they or won't-they couples of Season 3 were making serious headway when John Dutton's nemesis Wade Morrow showed up with his son. Colby and Teeter were skinny-dipping when the other two started threatening them, and they went so far as to walk their horses into the water and began trampling Colby and Teeter. Ominously enough, neither character resurfaced before the scene ended.
Why I'm Worried: It is already the second life-or-death cliffhanger of Season 3. Viewers were previously scared out of their minds when Jimmy suffered a severe rodeo accident, but since that ended positively enough, is Yellowstone planning on a less happy ending this time around? There is reason to be worried about Yellowstone killing off either Colby, Teeter, or both.
That said, Colby's portrayer Denim Richards got promoted to series regular this season, and Teeter is one of the most-buzzed-about newbies of Season 3. So, I certainly hope this is another false alarm. But while Richards is in a great position with the show, Jennifer Landon (daughter of Bonanza's Michael Landon) is theoretically in a more vulnerable spot as a recurring member of the series. Either character dying would still be shocking, so I'm definitely worried for both.
Monica Took On A Daring Mission
What Happened: Yellowstone kept viewers on the edge of their seats as Monica took a ride for help from a stranger after her car broke down. I was literally screaming at the TV for her to not to get in the dude's car, and then again Monica failed to lock the doors after he drove off the road and got out of the car. Thankfully, in some ways more than others, it turned out to be a sting operation with Thomas Rainwater's right-hand man Mo standing by, armed with a trusty sniper rifle.
When the man attacked Monica, Mo took him out, leaving Monica in a gruesome bloodbath. She went home and had a well-deserved cry, though she did help bring to lethal justice a serial rapist and murderer for his reign of terror on the Native American Reservation. This was now clearly the inciting incident teased in Yellowstone's midseason trailer when Kayce got into the shower with his wife to comfort her.
Why I'm Worried: Monica seemed to have a new appreciation-of-sorts for what Kayce has been up against taking out bad people. However, she also seemed fairly traumatized by physically taking part in ending the life of a serial killer/rapist, especially since it was through victimizing herself. I am worried that Monica will never fully recover from the act, proud as she can be for helping save others' lives. Is this why fans cannot "breathe easy" about Kayce and Monica? Will she need to seek refuge elsewhere?
Beth Told John It Is Time To Sell
What Happened: During Kayce and Jamie's meeting, the latter laid out the cold, hard facts about the ranch's longevity. Jamie urged Kayce to persuade Beth to take the $500 million deal to sell so that Beth could convince John. She ended up trying to do just that in Yellowstone's latest episode, but John remained unmoved.
As it was teased last season on Yellowstone, John's vow to his father to keep the land has made it impossible for him to agree. Not even a half-a-billion dollars to share with his heirs is enough to change John's mind. Of course, unless he takes it, John is looking at having no ranch and zero money in a few short years.
Why I'm Worried: Considering the facts that Jamie and Beth have now laid out, I do not see how the Duttons can actually win this war in Season 3. Realistically, the only thing making me think they'll come out on top is that the show is called Yellowstone, as opposed to The Duttons. Otherwise, John's more dire fate would sound inevitable. I would love to see David withstand Goliath here, but John does not have much of a slingshot guarantee at this point.
Rip's Nemesis Made A Surprising Return
What Happened: You know how Rip and Kayce fought like brothers last season? Well, we should probably prepare for them to get into fisticuffs again. Walker, the guy that Kayce was supposed to take to the "train station" last season, came back singing. Literally. Right as Yellowstone teased that Rip would survive his past ordeals, in came a massive record scratch.
Rip and Lloyd went to have some cold ones, aiming to celebrate Rip's impending wedding to Beth and Lloyd's best man status. Lo and behold, Walker was most unexpectedly singing on one of the bar stools. Both Rip and Lloyd were shocked, though Rip was quite a bit angrier about the startling sight of the "walking dead." Walker knows way too much, and you could see the consequences resulting from him being alive start flashing before Rip's eyes.
Why I'm Worried: If Walker wants to remain among the living, then he better keep his mouth shut and put on another disappearing act. I thought Kayce told Walker never to come back to Montana or something along those exile-esque lines. However, he came back just in time to ruin Beth and Rip's wedding, and I have a feeling he'll attempt just such an act. Why else would Yellowstone keep him alive? Walker is terrible news for Rip and the ranch, which does not need any more problems at the present moment, so the show presumably kept Walker out there in the vast ethers just waiting to use him when the time was right. It is all getting ready to blow just in time for the Season 3 finale. Strap on your seatbelts, Yellowstone fans!
In some happy news, I have to say that the hit show did ratchet up its sentimentality quite a bit in this episode, and I loved it. Rip choosing Lloyd to be his best man was one of the touches that made the hour sweet. As well as proving how well it knows all of its characters' nuanced behaviors. If it were another more run-of-the-mill drama, Yellowstone would have Rip chosen Kayce, as Lloyd suggested.
In another moving Yellowstone moment, Rip freed the wild horse that John wanted him to sell after running into a tough time finding a buyer. The horse bucked too strong for John, but not strongly enough for prospective interests. In the end, Rip set him free, and as he did, tears unexpectedly welled in my eyes. As the horse ran out and then turned back as if to say "thank you" to Rip amid the gorgeous backdrop of Yellowstone's tremendous setting, and soaring theme music, I was a goner. That is the type of moment you will not see any other show slow down and take the time for, and it is what makes the Paramount Network series so unique. Thank you, Yellowstone.
Find out how these worrying things play out ahead of the Season 3 finale when new episodes of Yellowstone air Sundays at 9 p.m. ET on Paramount Network. After the end happens, this fall's premieres will arrive to keep fans entertained as they wait for Season 4. You can watch some other worrisome moments by binge-watching Yellowstone's first two seasons on NBCUniversal's new streamer, Peacock.
Your Daily Blend of Entertainment News
Like a contented Hallmark movie character, Britt happily lives in the same city she grew up in. Along with movies and television, she is passionate about competitive figure skating. She has been writing about entertainment for 5 years, and as you may suspect, still finds it as entertaining to do as when she began.
Your Daily Blend of Entertainment News
Thank you for signing up to CinemaBlend. You will receive a verification email shortly.
There was a problem. Please refresh the page and try again.