Yellowstone: 7 Questions That Need To Be Answered Before The Finale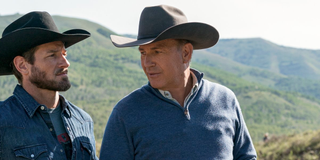 Yellowstone has answered a lot of questions this season after keeping viewers guessing for a long time. After two seasons of suspense, the hit Western revealed why Beth hates Jamie and the possible origins for John's less-than-favorable (if we are honest) treatment of Jamie. As is the case with many mysterious scenarios, there are still more questions that need answers before the finale.
Yes, Season 3 is nearing its endpoint at a rapid pace that has me internally (and externally) screaming "slow down!" These are seven of the questions that need answers sooner rather than later.
How Much Does Kayce Know About His Family?
Kayce was estranged from his family for a while before Yellowstone started, but he is all-in now. Since coming back to the Duttons and taking up residence at the ranch with wife Monica and their son Tate, Kayce has witnessed his share of family scenes.
Most recently on Yellowstone, he walked in as John was confronting Jamie over letting Beth get sterilized without her permission as part of her getting an abortion. Kayce comforted Jamie but seemed clueless about what had happened. Between this incident and some others, I am wondering how much Kayce knows, and how much John wants him too.
Why Did The Duttons Adopt Jamie?
The story goes that John and Evelyn adopted a three-month-old Jamie after his biological father murdered his biological mother. My question for Yellowstone is: why? John is not exactly the compassionate type you would think willing to adopt, and Evelyn did not seem like it either.
John did take in a teenage Rip, but he made him wait a long time before calling him "son." So, it makes John agreeing to adopt Jamie all the more mysterious. He and Evelyn had biological children. Their eldest son, Lee, was older than Jamie. What made John agree to take Jamie in and raise him as one of his own?
What Is Going On With Jamie's Baby?
Yellowstone planted this seed a while ago and has yet to give it any nourishment. Last season, Jamie's ex-girlfriend Christina told him that she was pregnant with his child. She also laid down a pretty extreme ultimatum. Choose his father or his new family. Not too much longer after learning this life-changing news, Beth massively lit into Jamie.
Is that why he is keeping his baby a secret from the Duttons? Maybe. For now, it is as if the bombshell never dropped except for Wes Bentley brilliantly imparting a sense of it in Jamie's scene with John over the Beth situation. What is going on with Jamie's baby, Yellowstone?
How Did Jamie Think What He Did To Beth Was Okay?
Yellowstone made fans wait a long time before explaining why Beth hates Jamie. My question is, how did Jamie ever think that signing off on Beth getting sterilized without her consent was okay? I know he was a teenager, but he was still a smart one. Jamie should have known that Beth would eventually learn she cannot have children.
The traumatic sterilization is a loss that there is apparently no recovering from, since she called it a "hysterectomy." Besides compassion for his sister, you would think that Jamie would know it was a terrible idea out of self-preservation. The long-term cost was too high. Yellowstone has shown him to be capable of thinking under pressure, and his choice was awful. Why make it?
Will Rip Learn The Truth About Beth And Jamie?
As it currently stands on Yellowstone, Rip is in the dark regarding Beth's feud with Jamie, and furthermore what caused it. There is a fairly good reason for that. Beth would have to share that she did get pregnant by Rip when she was 15 and subsequently obtained an abortion. She finally told Rip that she could not have kids in Season 3 while leaving out the reason why.
Will Rip ever find out that was Jamie's doing? Yellowstone has kept Rip ignorant of what Jamie did for a reason, and with Rip and Beth nearing marital bliss, the truth seems bound to come out. Will Rip be okay with Beth keeping everything a secret from him for so long? That is another biggie.
What Happened Between John And Wade?
As corporate powers circle John and his ranch, another rival has reared his head in a significant way. Wade Morrow came to blows with John during last week's episode ("The Beating"). By the end of the confrontation, John had laid out Wade's son, while vowing to get something back from Wade. What is it?
I have no idea. Wade stole something that no cowboy should, so he broke a major code of cowboy conduct. John's angst with Wade seems to go beyond merely breaking the rules. This feud is personal, and Yellowstone has yet to reveal what Wade took, why he pocketed it, and why John did not take Wade to the "train station" years ago.
Does Beth Know That Jamie Is Adopted?
Finally, let's get back to that adoption bombshell for a second. Jamie just learned that he was adopted when he was a baby after years of experiencing a strange distance between himself and his family. It is a strain that Beth has both alluded to and directly mentioned to her brother. Has Beth known the truth for a while now?
Last season, she told her father he would never love Jamie like he does Beth and Kayce. John's response was non-confrontational. He did not strongly disagree or say, "How dare you say that! I love your brother." Either Beth has an incredible sixth sense and realized it, or she learned that Jamie is adopted and kept the truth from him.
Writing this, I realize that Jamie is one of the more mysterious and question-provoking characters on Yellowstone. That makes perfect sense when you consider all of the storylines that he is tied to. The Season 3 finale is rapidly approaching, which means time is of the essence to see if any of these inquiries are resolved.
Find out if any of these Yellowstone questions are answered when new episodes air Sundays at 9 p.m. ET on Paramount Network. The finale is closing in! After it airs, this fall's premieres will arrive to keep fans entertained as they wait for Season 4. You can see some of these clues for yourself by binge-watching Yellowstone's first two seasons on NBCUniversal's new streamer, Peacock.
Your Daily Blend of Entertainment News
Like a contented Hallmark movie character, Britt happily lives in the same city she grew up in. Along with movies and television, she is passionate about competitive figure skating. She has been writing about entertainment for 5 years, and as you may suspect, still finds it as entertaining to do as when she began.
Your Daily Blend of Entertainment News
Thank you for signing up to CinemaBlend. You will receive a verification email shortly.
There was a problem. Please refresh the page and try again.