Why I'm Worried Yellowstone Will Kill Off Rip Soon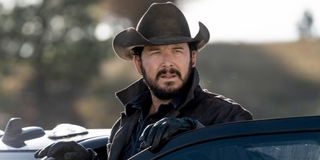 (Image credit: Paramount Network)
It is the question that no Yellowstone fan wants to face or even consider as Season 3 winds down: could the hit Western kill off Rip? Many fans are undoubtedly dreading the possibility that the letters comprising Rip's name stand for Rest in Peace. I fear that Yellowstone may be about to pull a NCIS: New Orleans and "rip" fans hearts out with a twist so dark that it would shake the fanbase to its core.
As much as I hope I am wrong, I think fans may need to brace themselves. The death of Rip would be a game-changer, after all, as he has been an integral part of the show since it began. He is also one half of Yellowstone's most beloved couple, as Rip has earnestly won the heart of John Dutton's wild-hearted and iron-willed daughter Beth. While the two recently became engaged, there is no reason to think they will ride off into the sunset. This is Yellowstone, after all, and here are the reasons I'm worried about Rip's potentially impending death.
Season 3 Is A Turning Point
Yellowstone is arriving at a critical point in its run. Taylor Sheridan has indicated there could only be a few seasons left. That worst-case scenario puts the show ending with Season 5, making Season 3 the halfway point of Yellowstone. There could be no more tragic note to more forward on than Rip's death.
On top of those factors, Yellowstone's pop culture wave appears to be rising, which spells potential shake-ups. The road to mega-hit status is often born out of controversy, and Rip's death would generate just that. There could be no more severe of a turn than losing Rip. He represents John's strongest supporter in the war to keep the eponymous ranch and Beth's most reliable connection to her heartstrings.
Yellowstone Is Due For A Big Death
Is it just me, or does Yellowstone feel like it has been building to something? A major character has not died since Season 1, and last year, the Western took this viewer way off-guard with Beth's brutal attack. It was a turning point for the series that echoed its no-holds-barred approach to storytelling in the post-Game of Thrones television universe.
It was while saving Beth that Rip was shot, only to survive with a few brief grimaces to show for his recovery. Did Yellowstone do that to make viewers further cherish the time they had with Rip, only to shock with his eventual death? It was a reminder of the brutal world Rip lives in, and his time could be running out in it.
Ominous Foreshadowing
Speaking of forewarning, Yellowstone has not been shy about having its characters say some beautiful things to Rip about his survival, which has only increased the volume of the alarm bells. Upon their engagement, Beth told Rip to outlive her so that she would never know life without him. You never want to hear that line while watching a television show. It rarely bodes well for the recipient.
Fast forward to this past Sunday's episode, and Lloyd told Rip that he had survived his past. Again, not good news for everyone's favorite cowboy. Outside of alarming dialogue, the war with Wade Morrow is heating up after Wade's vicious attack on Colby and Teeter. Rip has been more involved in that conflict than the one over the land takeover. I believe Wade could be where Rip's unraveling comes.
Beth Is Too Happy
When a character as usually downbeat as Beth seems happy despite troubling circumstances, that is an eyebrow-raiser. Beth's secret with Jamie consumed her, which has led her excessively hating her older brother. However, Beth's continuously growing love for Rip this season has seen the siblings come to blows a bit less in Season 3. The miracle of love!
Of course, veteran viewers may expect that too much happiness on a TV show can traditionally only lead to one thing: horrific sadness. Hence, I cannot help feeling like Yellowstone has been giving Rip and Beth an early honeymoon phase because it is about to horribly destroy them and their fans. If Kayce and Monica are not safe, no one is.
Darkness Could Be Coming
Why do I keep mentioning Game of Thrones? Partly because Yellowstone's co-creator Taylor Sheridan name-checked the HBO series when teasing how Season 3 would provide a more in-depth exploration of Beth and Jamie's relationship. Could Sheridan be about to give his homage to the HBO hit by killing Rip? In a parallel, Robb Stark seemed to be the Starks' salvation, and Rip appears to be the Duttons'.
Viewers may be in for an abrupt awakening. In another possible connection, Game of Thrones has not only been name-checked by Yellowstone's co-creator. Cole Hauser himself also invoked the series during production on Season 3. At the time, I thought it was foreboding, and now I think it is even more so.
The Return of Walker
While Wade Morrow is a threat to Rip, one of the biggest returned to Yellowstone after Lloyd celebrated that Rip had survived his brutal past. Cue Walker, who is singing in the bar that Rip and Lloyd had retired to for some drinks. Yellowstone enthusiasts will recall that Kayce was supposed to take Walker to the "train station" (a.k.a., catch a ride to the afterlife).
Well, it did not happen. If Rip tries to finish the job that Kayce did not do, I think Rip could be in for a tougher fight than he expects. I do not think that Walker will purposefully kill Rip. However, Walker went to prison for killing a man in self-defense. That said, Yellowstone has brought Walker back for a reason, and it could be for Rip's demise in Season 3.
Adding fuel to the theory that Walker has to do with whatever is coming Rip's way, Yellowstone's Behind the Story did not even address Walker's return. The silence on that front is pretty ominous. My guess is that it matters more than the cast can say. Walker knows the truth about Jamie killing Sarah, so Walker being among the living is huge for the Duttons.
If Rip dies trying to kill Walker so that he keeps his mouth shut about Jamie, that would be the most tragic twist of all. Rip does not know that Jamie is the reason that Beth cannot have kids. There is a reason that Yellowstone is keeping that from Rip. If he knew, he might not go after Walker.
The fact that he does not know about Jamie could lead to Rip tying off that "loose" end. If Rip dies trying to tie it up, there will be hell to pay from Beth. Thus, leading to even more drama between Beth and her brother. As if they needed any help! Regardless, Yellowstone is readying for a reckoning with Rip, and I hope he is still standing by the time the Season 3 finale finishes airing.
Find out if Rip survives Yellowstone Season 3 as new episodes air Sundays at 9 p.m. ET on Paramount Network. Need help coping with whatever happens regarding Rip in Season 3? This fall's premieres will arrive before you know it. You can watch Rip's previous close calls (remember, the bear?) by watching Yellowstone's first two seasons on NBCUniversal's new streamer, Peacock.
Do you think Rip will survive Season 3? Vote in the poll below. Remember, this is not about what you want, but what think will happen. Rip is a fan-favorite after all (and for many good reasons), and I share Yellowstone fans' enthusiasm for him exponentially.
This poll is no longer available.
Your Daily Blend of Entertainment News
Like a contented Hallmark movie character, Britt happily lives in the same city she grew up in. Along with movies and television, she is passionate about competitive figure skating. She has been writing about entertainment for 5 years, and as you may suspect, still finds it as entertaining to do as when she began.
Your Daily Blend of Entertainment News
Thank you for signing up to CinemaBlend. You will receive a verification email shortly.
There was a problem. Please refresh the page and try again.