5 Supernatural Moments From The Final Season Trailer We Want To See More Of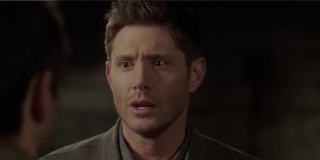 The end is nigh for Supernatural, and the final episodes of the long-running series are on the way before the end of the year. Supernatural Season 15 was cut short earlier in 2020 due to production shutdowns, but the remaining seven episodes are on the way, with the final two still being filmed. Fortunately for fans who have been in Winchester withdrawal since the end of March, a trailer for the final episodes has released, and it promises an emotional run to the series finale, plenty of trouble, and a lot to consider.
The new trailer only features half a minute of new footage, but there is no shortage of moments I'm already prepared to see more of. In fact, considering the final episodes are still in production, I'm assuming that this footage is from the first five episodes back. If things are already this emotional before the finale, imagine what we're in for at the very end!
Read on for a rundown of five moments from the latest final season trailer that could be very big deals.
Sam's Chick Flick Moment
Supernatural delivered an emotional punch right away in the new trailer, with Sam saying to Dean that Dean has protected him for his entire life, and "it's the only thing I've ever known that was true." Ignoring the occasional fisticuffs between the bros, Dean's top priority in life has been protecting Sam, and Sam is crying when he delivers this little speech in the trailer. Dean looks emotional as well, and I'm guessing this scene involves Sam wanting to protect Dean, and Dean resisting. While that's hardly new for the brothers Winchester, the stakes are very high with the series finale fast-approaching. Sacrifices can stick now!
Sam Goes For A Gun... In A Sweater Vest
Another moment in the trailer shows Sam rushing to grab a gun from under his pillow in the bunker. While that's alarming, it's not especially out of the ordinary for Supernatural... except for the sweater vest. Of course, it's possible that Sam was undercover in a role that required a different wardrobe than usual, but perhaps this Sam is actually the alternate world Sam who appeared earlier in Season 15. He and Alternate Dean left the bunker alive and well, so they could definitely come back, and this could be posh Alternate Sam's attempt to replicate Sam's style.
Castiel Is Emotional With Dean
Sam isn't the only one tearing up in this trailer! In what looks like a scene between just Dean and Cas, Castiel emotionally reminds Dean that Dean has "fought for this whole world," and Dean looks more than a little freaked out. Is this Cas telling Dean about his deal with The Empty, or trying to sacrifice himself again for Dean? Saying a final goodbye? A later glimpse of the same scene in the trailer shows a Castiel who has clearly been crying, and Dean has tears in his eyes as he turns away from Cas. I think it's time to start worrying about Castiel!
Young Dean
Supernatural has used flashbacks to the Winchesters' childhoods throughout the series, although the long run of the show has meant that their kid selves have had to be recast. Based on the outfit and necklace this actor is wearing in the trailer, he'll be playing a young Dean, but with a twist. The trailer shows him looking more than a little sinister, and flickering in and out of sight. He can't be a ghost since Dean is currently between deaths, so is he a hallucination? A dream/nightmare? A monster taking young Dean's shape? Whatever is going on, I'm ready to learn more.
Dean In Pajamas
Hey, the last seven episodes won't all be major characters crying and terrible things happening! Dean will for some reason wind up wearing what look like purple Ebeneezer Scrooge pajamas (complete with hat), and nothing underneath based on Sam's reaction to being flashed by his big bro. I'm guessing this means that at least one of the remaining episodes will be comedic, because I don't see Dean in purple PJs happening in the same episode as Castiel's emotional talk with Dean or Sam's chick flick moment. We shouldn't expect another Scooby-Doo crossover or a second Supernatural musical, but there will be more than doom and gloom to close the show.
Check out the full Supernatural trailer in all of its emotional glory below, and read on for the details of when you can expect to see the new episodes and finale!
After this trailer, I'm more worried about Castiel than anything else. Misha Collins appears downright dehydrated from crying in the second look at what seems to be a big Cas/Dean scene, and that deal with The Empty still has to be fulfilled somehow. I wouldn't put it past the show to reveal a change of terms that sees Cas pay the price sooner than he expected, and it would be fitting if his big goodbye is with Dean, considering how he arrived back in Season 4. But would Supernatural say goodbye to Castiel before the final two episodes?
Find out when Supernatural returns from its long midseason hiatus on Thursday, October 8 at 8 p.m. ET on The CW. The series finale will air on Thursday, November 19 at 9 p.m. ET, following a retrospective special called Supernatural: The Long Way Home. This is more or less the same way that The CW wrapped other long-running series Arrow earlier this year, and it does mean that the last two episodes won't air as a two-hour block. With most of The CW's lineup not returning until 2021 and other networks (including CBS and NBC) holding some of their biggest shows until November, the final episodes of Supernatural could be must-see TV.
The silver lining to the end of Supernatural is that fans will still get to see Jared Padalecki and Jensen Ackles on the small screen, if not together playing the Winchester bros. Padalecki is sticking around The CW to star in the updated version of Walker, Texas Ranger. Jensen Ackles is reuniting with Supernatural creator Eric Kripke for Season 3 of The Boys. If you need some viewing options during the wait for Supernatural to return with its final episodes, be sure to check out our 2020 fall TV premiere schedule!
Your Daily Blend of Entertainment News
Laura turned a lifelong love of television into a valid reason to write and think about TV on a daily basis. She's not a doctor, lawyer, or detective, but watches a lot of them in primetime. Resident of One Chicago, the galaxy far, far away, and Northeast Ohio. Will not time travel, but will sneak references to The X-Files into daily conversation.
Your Daily Blend of Entertainment News
Thank you for signing up to CinemaBlend. You will receive a verification email shortly.
There was a problem. Please refresh the page and try again.