Lucifer Star Reveals The Wild Rollercoaster Of The Show Rewriting Its Ending After Netflix Uncancelled It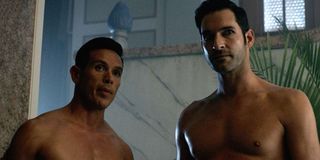 By now you may have gotten through a chunk of the Season 5 episodes that Netflix dropped late in August. Eight were dropped now, but there is a Season 5B coming later on, which will eventually give Season 5 a hefty 16 episodes. Series lead Kevin Alejandro says the season as a whole "didn't hold anything back" and has now revealed that the show had to really be rewritten to accommodate Season 6.
Wait, Lucifer Is Coming Back For Season 6 On Netflix?
If you've been keeping tabs on Lucifer at all, you may already know the show has been renewed for Season 6. Or you may be one of the many people who thought the current season was the end, as Netflix had cancelled Lucifer previously. Well, both are true in a sense. Lucifer was expected to end on Netflix after Season 5, but then the subscription streamer changed its mind. Now, we'll be getting a sixth season.
Obviously, though, this had ramifications for the series at large. In a recent interview with Metro, Kevin Alejandro detailed the wild journey of Lucifer Season 5, the emotions that went into thinking the series was ending and being thrown "for a loop" when Netflix ultimately changed its mind. He noted the surprise and later excitement of that journey, saying,
So what did that mean for Lucifer's Season 5 ending? Well, obviously, given the show was getting more time, the writers had to get cracking and rework the ending. Kevin Alejandro didn't give away any spoilers but did reveal that the end of Season 5 had to be changed so that the show could move forward into Season 6 on Netflix.
Where Lucifer, Amenadiel And The Gang Are At Heading Into 5B
If you've been keeping tabs on Season 5 or are currently powering through, I'm about to mention some spoilers about the ending to the season, so please be forewarned. Basically, Season 5 picked up with Lucifer returning from hell (which happened to be the Season 4 cliffhanger ending). The new season on Netflix featured God showing up (Dennis Haysbert!) after only communicating through Michael, who had been antagonizing Lucifer through the season. Amenadiel was also a part of the showdown between Michael and Lucifer.
Basically, it was another cliffhanger ending for the Netflix series, which is, in fact, rather known for cliffhanger endings. However, as noted prior, the set of episodes Netflix just released were only the first set for Season 5. Season 5B is still forthcoming and then following that we will now be getting Season 6.
It shouldn't be this complicated, but it sounds like Netflx changing its mind about the cancellation, while great news for the fans, wreaked a little bit of havoc on the writing staff, the creative team and other key players. You might even call it hellish.
Your Daily Blend of Entertainment News
Reality TV fan with a pinch of Disney fairy dust thrown in. Theme park junkie. If you've created a rom-com I've probably watched it.