Why Lucifer Showrunner Was 'Nervous' About Introducing God In Season 5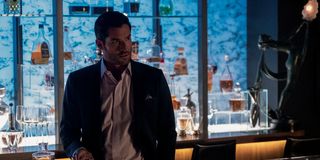 Spoilers ahead for the first half of Lucifer Season 5.
After five seasons of Lucifer being openly angry with his father and feeling betrayed following his banishment to Hell, God finally made his grand appearance in Lucifer Season 5. Naturally, the celestial's arrival was just in time to close out the first half of the fifth season, leaving viewers to wonder exactly why he'd finally decided to show up after all these years. As it turns out, introducing God into the story wasn't the easiest introduction for Lucifer's Ildy Modrovich and co-showrunner Joe Henderson to bring about in Season 5.
As Lucifer would say, "Oh my Dad!" Finally coming face to face with God in Lucifer Season 5 was a big deal for fans and for the creative team. After seasons of build-up, there were expectations many viewers had for such an elusive and omnipotent being. Speaking with TVLine, Ildy Modrovich revealed why bringing in God was such a nerve-wracking decision. In her words:
God really was a "man of mystery" during the first four seasons of Lucifer. (Or an "entity of mystery," at least.) In fact, God was always played up as the bad dad figure for Lucifer to cast blame on. Sometimes the devil even wondered aloud what the intent behind his father's decisions were and whether it was all some test or a big joke at his offspring's expense. God's arrival means that he can now finally speak for himself instead of having his deeds misinterpreted by his sons. And who wouldn't want to hear 24 vet Dennis Haysbert's soothing voice explaining things?
That said, it sure sounds like fans won't get every question answered about why God does what he does, but I think that's fine because the mystery part of it all should still remain somewhat intact. After listening to Lucifer's twin brother Michael go on about how he'd become God's right-hand angel, I do wonder if God's arrival was, at least in part, sparked by Michael's manipulations.
Viewers knew that God would finally be showing up in Season 5 once Dennis Haysbert was cast to play the character. And although the actor was only onscreen for a few seconds, Haysbert's presence was very, well, godly. It's unclear if God and Lucifer will have calm conversations, or if we should expect another celestial family brawl. In any case, God's long-awaited introduction might finally give Lucifer some sort of closure after having a one-sided relationship for so long. The father-son duo have so much to catch up on!
For those worried that the end of Season 5 was changed due to Lucifer's Season 6 renewal, fear not. According to Ildy Modrovich, the current season will end the way it was always intended to end, but that part of Season 5's finale will be extended and further explored as a storyline for Season 6.
Lucifer Season 5 is currently streaming on Netflix. The second half of the season doesn't yet have a premiere date, but stay tuned to CinemaBlend for updates. In the meantime, be sure to check out our 2020 fall TV premiere schedule for more options, or our Netflix 2020 schedule for specific streaming plans.
Your Daily Blend of Entertainment News
Your Daily Blend of Entertainment News
Thank you for signing up to CinemaBlend. You will receive a verification email shortly.
There was a problem. Please refresh the page and try again.