Netflix's Locke And Key Ending Explained: What It Means For Season 2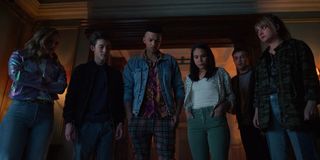 Netflix has had a long string of cancellations this year but one bright spot, especially for Locke and Key fans, was the announcement that Locke and Key will be renewed for a second season. And, if you finished Season 1 (and you should before reading this, because spoilers) then you'll know the ending was a doozy that set up a lot for Season 2. Still, there were some seriously confusing things that went down, so let's talk about what happened and what it means for Season 2.
Sam Lesser Becomes Forever Trapped As A Ghost
In episode 7 – Dissection, Sam visits Key House and holds Nina, Kinsey, and Bode Locke hostage, demanding the Head Key. Tyler Locke uses the Head Key on Sam and confronts him about how he killed Tyler's dad, Rendell Locke. In the end, Dodge appears and stabs Sam in the stomach, taking the Head Key away from him. Sam races over to the door that has the Ghost Key and enters through it, becoming a ghost. Before he can return to his body, police shut the door, forever trapping Sam in ghostly form.
What it could mean for Season 2: There's so much about the Ghost Key we still don't understand, but I have a hard time believing we've seen the last of Sam Lesser. In Season 2, it's very possible the Lockes could meet him again when they use the Ghost Key themselves. Whether or not he helps the Lockes is up for debate, but I think he could prove useful later down the road.
Sparks Fly For Nina Locke And Detective Daniel Matuku
Nina Locke and Detective Daniel Matuku's relationship takes a surprising turn when Detective Matuku asks Nina Locke out for coffee. A once cold and frustrated relationship has turned warm, and by the end of the coffee date, I got the sneaking suspicion that Nina has a thing for Detective Matuku.
What it could mean for Season 2: It's likely they'll develop this relationship further. In a way, it could resemble the relationship Joyce Byers and Jim Hopper have in Stranger Things. Both could fall into a romantic relationship while helping each other solve a mysterious case.
The Echo Of Lucas Caravaggio Is Both Dodge And Gabe
The appearance of Lucas Caravaggio in episode 8 – Ray of F**ing Sunshine felt a little out of nowhere, but it became more clear why as the episode went on. After all, Lucas Caravaggio was killed by Rendell Locke, his best friend. We soon discover that Lucas Caravaggio was possessed by a demon, which is why Rendell killed him. Ellie Whedon, Lucas' love interest, wanted to see Lucas again and used the Echo Key to bring him back. Unfortunately, all that did was bring back the demon that possessed Lucas' body. This echo of Lucas used the Identity Key to take on the female form of "Dodge" and also Gabe, Kinsey Locke's love interest.
What it could mean for Season 2: It means pretty much everything, including the fate of Ellie Whedon (more on that later). More importantly, it means Kinsey Locke, played by Emilia Jones, and the others are in imminent danger since she believes Gabe is one of them and that he is in love with her. It's without question Gabe will use that to his advantage for some sinister plan.
Ellie Whedon Was Thrown Into The Black Door, Not Dodge
For a split second, it feels like the Lockes had successfully defeated Dodge, taken her body down to the Drowning Caves, and thrown it back into the Black Door. However, upon later inspection, it's revealed that Dodge used the Identity Key to change Ellie Whedon's appearance into the female version of Dodge. So, in effect, the Lockes threw Ellie Whedon's body into the Black Door, not Dodge.
What it could mean for Season 2: Possibly, Nina Locke and Detective Matuku could continue to look for Ellie Whedon, but it will likely become very clear to the Locke kids that Dodge is still at-large and tricked them into throwing Ellie Whedon into the Black Door. With that information, they'll likely have to find a way to get Ellie Whedon back while throwing Dodge back into the Black Door for real this time.
Eden Hawkins Was Possessed By A Demon And No One Knows It But Dodge
As the Locke kids and their friends are trying to dispose of Dodge's body into the Black Door, fiery "bullets" fly out of the door. At the time, it doesn't look like they hit anyone. However, at the end of episode 10 – Crown of Shadows it's revealed that one bullet hit Eden Hawkins, possessing her with a demon. Dodge, in the form of Gabe, meets Eden Hawkins at a diner and asks, "So how you feeling?" and she replies, "So hungry." This points back to when Dodge escapes the well that he was in and starts eating like crazy at a diner, too.
What it could mean for Season 2: Two demons are now on the loose, Dodge and this new demon possessing Eden Hawkins, meaning Dodge essentially got what he wanted. I can only see further torment and heartbreak for Kinsey Locke in this scenario. Dodge will use Gabe's form to manipulate Kinsey and since Eden Hawkins is Kinsey's bully, it's not out of the question that she'll double down on tormenting her. To make matters worse, Gabe and Eden Hawkins could form a relationship of their own, breaking Kinsey's heart.
The Locke Kids Are Now The Keepers Of The Keys
Throughout the show, the Locke kids are grappling with what the keys are and whether or not to do anything about them. But, by the end of Season 1, the Locke kids decide to stay in Key House and Bode happily declares they are the new "Keepers of the Keys," pointing back to their dad and his friends.
What it could mean for Season 2: We know the Locke kids have five keys. They gave us a shot of Kinsey Locke keeping the Omega Key, the Matchstick Key, the Ghost Key, and the Head Key in the music box. It's also likely Bode or Tyler has the Mending Key. Unfortunately, Dodge may have six keys, including the Music Box Key that opens the music box with the Lockes' keys, and the Crown of Shadows. Dodge, in this case, seems to have a serious advantage over the Lockes. Since Dodge's main goal in Season 1 was to get the Omega Key to open the Black Door, I can only imagine that will continue to be his goal in Season 2, but now he's equipped with six keys, the Crown of Shadows, a new demon friend, and the element of surprise. Things are going to get real, quick.
It'll be interesting to see what Joe Hill and the other Locke and Key writers come up with for Season 2. They already weaved a mind-bending and clever adventure in the first season with plenty of twists and turns. Hopefully, for the second season, they'll answer a few more questions we have about the Key House's backstory, among other things. Either way, if it's anything like Season 1, it should be great.
Your Daily Blend of Entertainment News
Thank you for signing up to CinemaBlend. You will receive a verification email shortly.
There was a problem. Please refresh the page and try again.