Why The Doom Patrol Won't Actually Acknowledge Their Team Name, According To The EP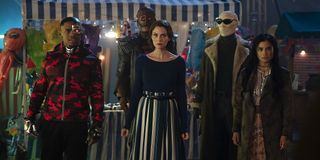 Doom Patrol is unlike most other superhero shows on TV right now. While the group of misfits has saved the day quite a few times, they haven't exactly thought of themselves as heroes. Nor have they officially given their team a name. In that vein, executive producer and writer Chris Dingess explained why the Doom Patrol won't acknowledge their superhero team name on the show anytime soon.
The second half of DC FanDome took place today, and the cast and executive producers of Doom Patrol were on hand to discuss Season 2, as well as answer some fan questions. One fan wanted to know whether the Doom Patrol's name will ever be formally mentioned by the team (the only one who acknowledged it was Mr. Nobody in Season 1 and it was a meta moment). Chris Dingess offered a practical reason for why it probably won't happen. In his words:
It's true that Doom Patrol isn't really a typical superhero show, and the team does tend to grapple a lot with who they are as people and their past traumas far more than most DCTV characters. That leaves them little time to "worry about other people's problems." I personally like that they haven't officially called themselves the Doom Patrol because it keeps the show a lot more grounded that way.
In Season 2, it was revealed that even the townsfolk don't know all that much about the Doom Patrol beyond the fact that the team once saved them. Rita, for example, is merely a blob in their eyes. There's also the fact that none of the team refers to their own superhero names except for Cyborg, who was a public figure before joining the group. Negative Man is simply Larry and Robotman is Cliff, and they're all just people who are trying to find their way.
Luckily, the Doom Patrol will have more time for self-exploration because the series has officially been renewed for Season 3. With Doom Patrol Season 2 leaving off on a cliffhanger, the renewal news is a relief. There will be one big change moving forward, however, and that's the fact that Doom Patrol will now be an HBO Max exclusive.
That means the show will no longer air concurrently on DC Universe, which makes sense now that all the streamer's shows are moving to HBO Max anyway. Stargirl, also a former DC Universe show, will also air exclusively on The CW next season. RIP to most of DC Universe's original TV content.
Doom Patrol Season 3 does not yet have a premiere date, but stay tuned to CinemaBlend for updates. In the meantime, be sure to check out our 2020 fall TV guide for more on what to watch.
Your Daily Blend of Entertainment News
Thank you for signing up to CinemaBlend. You will receive a verification email shortly.
There was a problem. Please refresh the page and try again.