Big Brother Spoilers: Who Won The Veto In Week 6, And Will It Be Used?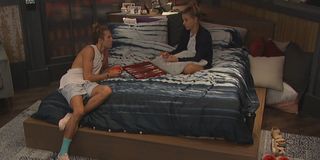 Warning! The following contains spoilers from the Big Brother All-Stars live feeds as of Sunday, September 13. Read at your own risk!
Big Brother All-Stars has had what some would argue is its most exciting week and, in a twist that some may not have seen coming a couple of weeks ago, it's thanks to David Alexander. The "rookie" of the cast triggered his Disruptor Power on an unsuspecting Dani Briones, which removed him from the block and forced a third nomination. Now, it's Tyler Crispen and Kevin Campbell on the block, though there's a chance that could change soon, too.
All this happened ahead of the veto, which of course will give the opportunity for another nominated houseguest to be taken off the block. Dani Briones would obviously rather not nominate a fourth person this week, but will that really be in her control? Here's who won the veto, and what the odds are they'll use it in the coming week.
And The Winner Is...
In what was a bit of Big Brother history, Da'Vonne Rogers has won her first competition ever in her third season playing the game. This week's competition took place indoors and appeared to be some contest that involved shrunken items. The veto was shown in Da'Vonne's hands, and it looks like the size of a wedding ring.
Now, for the first time this season, the ball is in Da'Vonne Rogers' court to make a big play. Will she use the veto in order to further shake up the nominations or hold onto it to prevent Dani Briones from having to nominate yet another person?
Da'Vonne's Stuck Between Two Alliances
She may not know it right now, but Da'Vonne Rogers grabbing the veto is pretty much the worst-case scenario for Dani Briones. Not only was Da'Vonne openly advocating for Kevin Campbell to be off the block before the power was used, but she is now safe from being thrown up on the block herself. Dani Briones wasn't wanting to throw the newest member of her "girl alliance" up on the block to begin with but, with the unexpected re-nomination, I wouldn't be surprised if Dani would've done it had someone else won.
Because they're aligned though, Dani is putting pressure on Da'Vonne to not change the nominations. That puts her in a tough spot with Kevin Campbell and David Alexander, both of whom she solidified an alliance with just ahead of the Head of Household competition. They all understand they're lined up to be the next few people out of the house, thanks to the allegiances within the majority alliance, so helping each other out only benefits keeping them all in the game until things change in the house.
Da'Vonne Rogers has shared some theories that are off the mark from what's actually happening in the house. Her frequent stating that there is an "all-guys" alliance that David Alexander is secretly part of won't go away and could definitely influence her decision if she thinks doing what Dani Briones says puts her in better with the remaining women in the house. Of course, in a season full of wall yellers, I'm almost expecting someone, at this point, to shout Da'Vonne the advice she needs to go against that.
The truth of the matter is Da'Vonne may buy a couple more weeks in the house sticking with Dani Briones' wishes, but that's only if more unexpected things don't happen. "The Committee" alliance has shown they're more about self-preservation than protecting any side alliances. From an audience perspective, it seems better that Da'Vonne uses the veto to save Kevin Campbell, but will she actually do that?
Will Da'Vonne Rogers Use The Power Of Veto?
Though there's still a long way to go and she's being cryptic with other members in the house, Da'Vonne Rogers has expressed to Dani Briones that she's planning to pull Kevin Campbell off the block. Da'Vonne explained that she's aware there's a greater alliance in the house and, despite what some people may be telling her, they're not at all interested in losing Tyler Crispen.
At least, not when Kevin Campbell is on the block next to him. As mentioned earlier, The Committee is all about self-preservation and, even if Tyler is the bigger threat to everyone's game, taking random shots at power players is bad for everyone in this alliance. This Big Brother All-Stars group has been so successful because of their loyalty and, with Dani Briones now able to pull anyone on the block next to Tyler, there's a lot of people who have been coasting that are on their toes.
Tyler Crispen is seen as a major comp threat in Big Brother, so folks like Cody Calafiore and Memphis Garrett have firmly announced they won't vote him out. That's a dangerous stance for some of The Committee's folks lower on the totem pole, who would overall be seen as more expendable in comparison and worth losing. Tyler has only had one HOH win this season but was a power player a couple of years ago in Season 20.
With all of that being said, Dani Briones has a decision to make. She can put someone in her own alliance on the block as a pawn to eliminate Tyler Crispen, which is something she secretly wanted to do at the start of the week. The other safer option would be to put up floater Ian Terry, who is really only being protected by Nicole Franzel.
If by some strange chance Da'Vonne Rogers doesn't use the veto, the outcome is relatively simple. Kevin Campbell will be voted out of the house, and Dani Briones may save a bit of face with The Committee. That's not to say her nomination of Tyler Crispen will be completely forgotten though so, from a game perspective, it may be in her best interest to take the shot and let the chips fall where they may after Tyler's exit.
If there's one thing we know for sure, it's that Big Brother All-Stars is in for an exciting week. Be sure to tune into episodes on CBS this Sunday, Tuesday, and Thursday for all the action, and catch the live feeds with a subscription to CBS All Access. As always, continue to stick with CinemaBlend for all the latest happenings in the franchise, and in television and movie news.
Mick likes good television, but also reality television. He grew up on Star Wars, DC, Marvel, and pro wrestling and loves to discuss and dissect most of it. He's been writing online for over a decade and never dreamed he'd be in the position he is today.
Your Daily Blend of Entertainment News
Thank you for signing up to CinemaBlend. You will receive a verification email shortly.
There was a problem. Please refresh the page and try again.