The 2020 Emmys' 13 Weirdest And Most Awkward Moments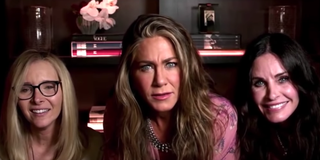 This year's Emmy Awards ceremony was quite a weird one, considering the majority of the celebs that audiences are used to seeing largely showed up remotely, with host Jimmy Kimmel welcoming a round robin of TV stars including Anthony Anderson, Jennifer Aniston and Jason Sudeikis, among others. To be expected, the lack of an audience and a general lack of a straightforward structure led to some weird, wild and unpredictable bits. And yes, some of them were unintentionally awkward AF. So let's talk about a bunch of them, shall we? (Check here to see all the big winners!)
The Opening
We already talked about the opening in full elsewhere, but I'll say here that it was a microcosm of the show as a whole. From the awkwardness of the repurposed audience reaction shots to the excellence of Jason Bateman's random appearance, it was probably the most proper way to introduce this one-of-a-kind telecast.
Setting Fire To The Winner's Envelope
Jennifer Aniston was the night's first presenter, and after an enjoyably cringey joke about Aniston's "sexy feet," the Morning Show star and Jimmy Kimmel sterilized the winner's envelope to the fullest by burning off all the germs, as well as the envelope itself. And it kept burning for just a little too long, no matter how much Aniston used her fire extinguisher. Or not long enough, depending on how you look at it.
Tracee Ellis Ross Sticking Around Only For The Gift Bag
Everybody knows that Tracee Ellis Ross is a team player and would be there for the TV Academy out of dedication. So while her "performance" here was as solid as can be – and she rocked that dress so hard – she probably wasn't the most ideal celeb to use the gift bag gag on.
Shaq Announcing Curb Your Enthusiasm For Outstanding Comedy Series
I liked having rando celebs introducing the bigger awards and talking about what the shows meant to them, but it was unquestionably weird to start that new process off by having NBA legend Shaquille O'Neal introduce Curb Your Enthusiasm. Yes, he cameoed on it for the Season 2 episode fittingly titled "Shaq," but it was still weird to see his grinning mug like that.
David Letterman!
Seeing David Letterman was less weird than it was awesome, but I'm pulling it into this list anyway. First, Letterman looks like a Hermit King with his mostly empty head and gigantic beard. Second, he pulled out index cards and delivered a Top 10-esque rundown of jokes that he supposedly didn't use when he co-hosted the 1986 Emmys, which came complete with the smashed-glass sound effect. Third, he gave a shout out to his longtime buddy Regis Philbin by confirming to the late TV host that he was definitely included in the "In Memoriam" segment. Come back to TV move, Dave!
Jimmy Kimmel's Participation Award
Joking about participation awards is so pre-the-horror-that-has-been-2020, so this was an odd joke to throw out there. It was also strange for this bit to joke about Jimmy Kimmel getting Blu-ray sets for CBS' Young Sheldon, though it might have been their way of acknowledging that show crushing most other scripted programming in the ratings. Regardless, it was a weird acknowledgement.
Jeremy Irons' Still Image
Jeremy Irons wasn't the only celeb to miss out on the ceremony, but for whatever reason, his stoic still frame image stood out as being weirdly amusing to see among other live-action nominees. Probably because that's how Watchmen's Adrian Veidt would do it.
Reese Witherspoon And Kerry Washington's New Year's Party
Of course, there were plenty of moments when the Emmys skewed political, but one of the most surreal examples came when Jimmy Kimmel talked to Little Fires Everywhere stars Reese Washington and Kerry Washington hosting a New Year's 2021 party. They did a countdown and everything. It was odd, as was seeing that Nirvana T-shirt in the background.
David Space as Joe Exotic
The video segment showing what celebs have been doing in quarantine was possibly the most genuinely enjoyable segment of the entire show. (Margo Martindale drinking wine while gardening? Pure excellence.) The weirdest moment in that collection, of course, came when David Space showed up in the end with his impression of Tiger King star Joe Exotic. Spade had previously been hesitant to parody the incarcerated Netflix star, though millions of Joe Dirt fans basically demanded it to be so.
Tracy Morgan As Tracey Ullman
Instead of giving audiences a still frame of Mrs. America nominee Tracey Ullman, the Emmys slotted comedian and The Last O.G. star Tracy Morgan to take her place, and it was predictably ridiculous. Morgan revealed that Tracys stick together, and not only was he there for Ullman, but he also apparently had comic detective Dick Tracy's back, too. And I'm betting he got Tess Truehart pregnant behind a preschool building, too.
Anthony Anderson's Censored "WAP"
black-ish star Anthony Anderson made quite an appearance when he popped up at this year's Emmys, delivering a race-inspired spiel about how this was supposed to be the Blackest Emmys ever – "hot sauce in your purse Black" – but that they couldn't even "get in the damned building." It was normal enough until Anderson brought up Cardi B and Megan Thee Stallion's hit song "WAP," and he said the song's title exactly once before censors cut audio for the rest of the joke. Quite the dry ass move for ABC, I'd say.
The One With The Friends Reunion
After the fire earlier in the show, Jennifer Aniston returned for a more enjoyable standout moment. Acting as if she'd returned home in order to see if she won the Outstanding Lead Actress award for The Morning Show, Aniston was joined by former Friends co-stars Courteney Cox and Lisa Kudrow, who acted as if they had all been living in the same apartment since 1994. And then who else crashed that party? No, not David Schwimmer, Matthew Perry or Matt LeBlanc. It was Jason Bateman! That guy is everywhere!
Sterling K. Brown's Faux Speech
This Is Us' Sterling K. Brown was front and center for the last of many, many Emmy moments that would have at least felt slightly more normal had they been punctuated by live laughter and groans, instead of silence. Brown was all grins as he went through a faux acceptance speech as if This Is Us had won Outstanding Drama Series, before he later acknowledged that the show wasn't even nominated. All in all, it was a decent enough gag that Brown did well with, but it just felt bizarrely out of place in those circumstances, especially for the show-capping presenter.
That's it for this year's Emmys, which ended on Succession's creator giving a rather strange "Unthank You" speech for Outstanding Drama Series. While waiting for next year's awards, check out our Fall 2020 TV premiere schedule to see all the new and returning shows that are on the way.
Your Daily Blend of Entertainment News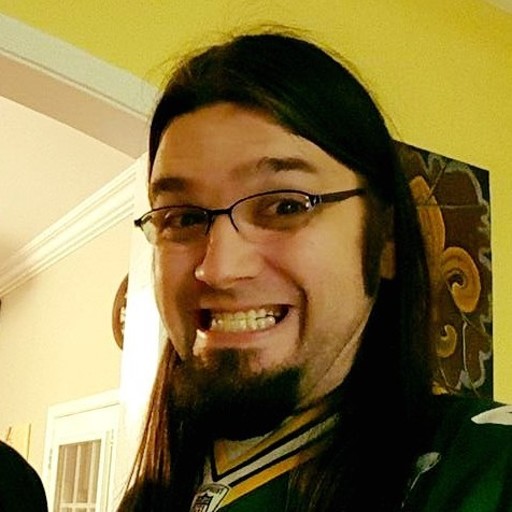 Assistant Managing Editor
Nick is a Cajun Country native, and is often asked why he doesn't sound like that's the case. His love for his wife and daughters is almost equaled by his love of gasp-for-breath laughter and gasp-for-breath horror. A lifetime spent in the vicinity of a television screen led to his current dream job, as well as his knowledge of too many TV themes and ad jingles.