What To Watch On Streaming If You Liked Netflix's Away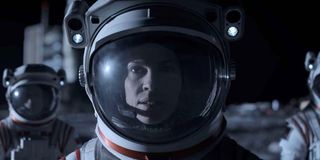 CinemaBlend participates in affiliate programs with various companies. We may earn a commission when you click on or make purchases via links.
The new Netflix science fiction series Away has quickly become one of the most popular shows on the streaming platform since its launch in September 2020, and now that so many people have blown through the Hilary Swank's space drama's 10-episode first season they're probably looking for something to hold them down until a second season is announced. Luckily, there seem to be more movies and television shows based in space or touch on themes of family, sacrifice, and spirituality than stars in the night's sky.
With everything from space epics about an astronaut tracking down his missing father in the depths of the solar system to a dramatization of the early days of America's space program, and even a few options about traveling to the far reaches of the known universe, there's plenty to choose from. But with so many options and so little time, it can sometimes be difficult to find the perfect match. Well, here are just 10 movies and TV shows that you can stream right now if you liked Away and want to continue on your journey to the center of human experience in the vacuum of space.
Ad Astra (HBO Max)
Nearly 30 years after Clifford McBride (Tommy Lee Jones) set off on a voyage into deep space, U.S Space Command believes that the lost astronaut is sending harmful attacks back to Earth. To try and stop the rogue astronaut, SpaceCom sends his son, Roy (Brad Pitt) to track down his long-lost father and uncover the mystery of what happened to his father and the crew of his spaceship.
Why It's A Good Option For Netflix's Away Fans: In addition to dealing with a story that focuses on the impact that extended stays in space have on an astronaut's family back on Earth, Ad Astra is similar to Away in the sense that it features some of the most eye-catching and unbelievable recreations of physics (or lack thereof) in outer space. The scenes involving the ambush on the Moon and the final moments of this exhilarating affair come to mind. If fans of the Netflix space drama loved both of those elements, then this 2019 science fiction thriller is right for them.
Stream it on HBO Max here.
Challenger: The Final Flight (Netflix)
The Space Shuttle Challenger disaster will forever go down as one of the most memorable and tragic moments in the history of NASA, and the later part of the 20th Century for that matter. The new Netflix docuseries Challenger: The Final Flight spends four episodes discussing nearly every aspect of what was supposed to be the mission that took the first teacher to space before it ended in disaster with millions of school-aged children watching from classrooms around the country.
Why It's A Good Option For Netflix's Away Fans: Much like Away, Challenger: The Final Flight focuses on the sacrifices that astronauts are willing to take in order to advance our understanding of outer space and what it means to humanity to do so. If fans of the space drama want to know more about the real-world NASA, its highly-trained astronauts, and the way they inspire millions of young children, then this four-part docuseries will provide more than enough insight, even if it ends with tragedy.
Stream it on Netflix here.
The First (Hulu)
The Hulu original series The First centers around the planning of the first manned mission to Mars, with a focus on the astronauts, their families, and scores of scientists, mathematicians, and support staff who are guiding them on their unprecedented journey to the martian planet.
Why It's A Good Option For Netflix's Away Fans: Although the first (and only) season of The First follows the group of five astronauts led by Sean Penn's Tom Hagerty as they enter Mars' orbit, it does offer a similar approach to Away's approach to the more personal and emotional side of space travel. By including the human element, the show allows the characters to feel more natural and realized opposed to emotionless robots spouting off numbers and terms few people outside of space travel understand.
Stream it on Hulu here.
Contact (HBO Max)
When Dr. Ellie Arroway (Jodie Foster) learns of a mysterious signal coming from a far-off planet, she and other interested parties race to uncover the true meaning of the call and civilization from which it came. Little does she know but an incredible message, one that will send her on the journey of a lifetime, lie hidden in the strange signal.
Why It's A Good Option For Netflix's Away Fans: Throughout Contact, Ellie Arroway is treated like an inferior scientist and not up to the task simply because she is a woman and not because of anything she has or hasn't done. This is a similar treatment to the one Hilary Swank's Emma Green is subjected to in Away, and both titles show what can come from the motivation that lies within their central characters.
Stream it on HBO Max here.
The Path (Hulu)
The Hulu original series The Path follows Eddie Lane (Aaron Paul) as he undergoes a spiritual awakening and begins to question his own beliefs and the structure of the cult of which he and his family belong.
Why It's A Good Option For Netflix's Away Fans: The show has nothing to do with traveling to outer space, but The Path was created by Jessica Goldberg who would go on to serve as the showrunner and one of the writers of Away a couple of years later. If fans of the Netflix series enjoy the numerous discussions on religion and faith in general, then they will surely enjoy this three-season series about a man and his family at a crossroads.
Stream it on Hulu here.
Lost In Space (Netflix)
Set in the distant future, the Netflix series Lost in Space (a remake of the 1965 television show of the same name) follows the Robinson family after they are selected to embark upon an interstellar mission to colonize a far-off star system. But when their ship is damaged, the Robinsons evacuate to a nearby planet where they must survive.
Why It's A Good Option For Netflix's Away Fans: This is just an extremely fun, and strangely poignant space journey involving a family as they come to terms with their new lives. They are forced to put their differences aside, learn about one another, and come up with solutions in order to survive the day and complete their mission. Fans of Away will certainly enjoy the inclusion of family, which provides much-needed warmth to a desolate story.
Stream it on Netflix here.
Tales From The Loop (Amazon)
Tales from the Loop follows the residents in Mercer, Ohio, the home of the Mercer Center for Experimental Physics, which is also known as The Loop. In an attempt to make the impossible possible, researchers and scientists at The Loop uncover and create some spectacular and indescribable things that are beyond our imagination.
Why It's A Good Option For Netflix's Away Fans: You might not think that a show about time loops, physical loops, and half-destroyed machines would have anything to do with Away, but fans of the Netflix series should really check this one out. On the surface, both shows feature strong female leads (Rebecca Hall in Tales from the Loop and Hilary Swank in Away), but both shows tackle the delicate nature of being a parent, especially when time and space separate a mom or dad from their children.
Stream it on Amazon here.
2001: A Space Odyssey (HBO Max)
Stanley Kubrick's 1968 science-fiction epic 2001: A Space Odyssey attempts to tell the story of humanity as the first man evolved from primates all the way to a state of higher consciousness and everything in between.
Why It's A Good Option For Netflix's Away Fans: There are space movies and there is 2001: A Space Odyssey, which takes things to the next level and then some. Fans of Away's space exploration and the drive to push humans to where they've never been before will certainly enjoy this cult classic from the minds of Stanley Kubrick and Arthur C. Clarke (who wrote the must-read novelization).
Stream it on HBO Max here.
The Expanse (Amazon)
Set centuries in the future, The Expanse centers around the story of a missing woman that quickly turns into something much darker and larger than any of the characters could have ever guessed.
Why It's A Good Option For Netflix's Away Fans: The science-fiction series, which originally ran on SyFy before being picked up by Amazon for its fourth season, features a more advanced civilization than the one in Away (present-day), but it does offer a look at the future of space travel and colonization of the solar system and beyond. It has a plot that is a little more out there than the Netflix series, but The Expanse does have its more down-to-earth moments.
Stream it on Amazon here.
From The Earth To The Moon (HBO Max)
The HBO docudrama From the Earth to the Moon tells the unprecedented story of the Apollo space program starting in the 1960s and going all the way to the early 1970s. With each of the show's 12 episodes focusing on a different aspect of the program and the astronauts who carried out its missions, viewers are given an in-depth look at some of the most monumental moments in American history.
Why It's A Good Option For Netflix's Away Fans: In order to truly appreciate where Away's astronauts are going with their mission to Mars, you have to take a look at the history of NASA, especially the Apollo missions that first took man to the Moon. Plus, involvement from Tom Hanks and Ron Howard make this a must-watch for anyone with an HBO Max account.
Stream it on HBO Max here.
Those are just a few of the great movies and TV shows for fans of Away to watch now that the first season is wrapped up. Did your favorite title make the list or is there something you should have been included? Make sure to sound off in the comments and let the world (and solar system) know.
Your Daily Blend of Entertainment News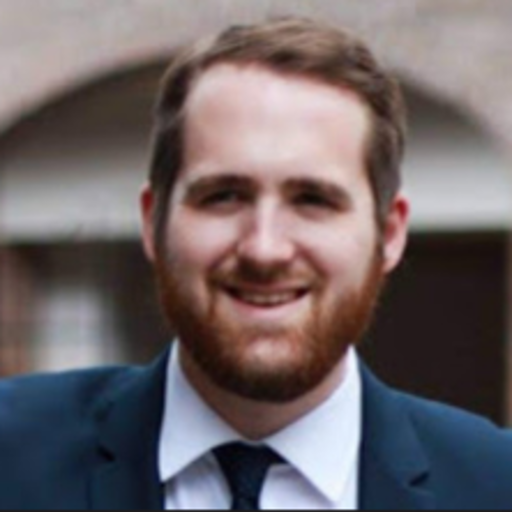 Philip grew up in Louisiana (not New Orleans) before moving to St. Louis after graduating from Louisiana State University-Shreveport. When he's not writing about movies or television, Philip can be found being chased by his three kids, telling his dogs to stop barking at the mailman, or yelling about professional wrestling to his wife. If the stars properly align, he will talk about For Love Of The Game being the best baseball movie of all time.