How Old Is Emily In Paris? The Curious Case Of Lily Collins, A Netflix Show And Some Misinterpreted Facts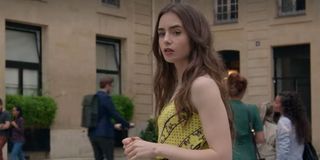 Between the backlash from certain viewers and Lily Collins doing some bad math in recent weeks, Darren Star's new Netflix series Emily in Paris got off to an inauspicious start and not a tres chic one. Still, a lot of people are watching, which leaves us asking just a few short days into Emily in Paris' Season 1 run: How old is Emily during her stay in Paris? And how did this mystery weave such a tangled web?
How Old Emily In Paris Seems To Be, According To The Writers
If you've watched Netflix's Emily in Paris, the show has dropped some hints about Emily's age, though has never been explicit about her exact birth date. First and foremost, we know Emily Cooper is at least a few years removed from college as she mentions in an early episode she has a masters degree in marketing (or communications, if only the powers that be could decide).
Emily Cooper is from Chicago, so if she started college at 18 like most Midwesterners, she would have graduated college at 22. And even if she was on the East/West college schedule of attendance between the ages of 17-21, she also has a Masters in marketing, which would have likely taken her two years to complete following her initial degree.
After the completion of her marketing degree, which would have come around the age of 23 or 24, she went to work for the Gilbert Group in Chicago, where she worked long enough that when her boss Madeleine Wheeler could not longer take a position in Paris, she was offered the gig. Even if she had only been working for for the Gilbert Group for a year (and that's an "if" given how chummy she is with Madeleine), Emily would be around 25 at that point, a point which a lot of fans apparently took for granted until series lead Lily Collins started talking about her character's age…
What Lily Collins Said To Confuse People About Her Age
Earlier this month in an interview with Vogue, Lily Collins did what seemed to be some bad math and told the outlet that she sees Emily Cooper as woman who is 22-ish, noting,
Lily Collins is an actress who did attend college at the University of Southern California, though she told Shondaland in 2019 she hadn't graduated yet. Still, she should seemingly have a gauge for how college and masters degrees work. So, even if she's not up on corporate advancement, she'd sort of be able to figure out Emily Cooper's age. Given her actual answer, one would hope it was not taking into consideration some of the facts Emily in Paris' writers had attributed to Emily, including that Masters Degree. Basically, though, if Collins had forgotten about that bit and doesn't have a ton of experience with office advancement, it's easy to see how she could have imagined Emily Cooper as younger in her mind.
The good news is, the actress has been a good sport about her gaffe. Over the weekend she took to her Instagram Stories to poke a little fun at her mistake via social media. This is something that Emily Cooper herself would probably approve of.
How Old Is Lily Collins Actually?
Outside of starring in Emily in Paris, Lily Collins is actually 31 years of age and has been in the acting business for over a decade now. While I'd certainly declare her a youthful 31, there's a big difference between being 31 and 22. That's practically a 10-year gap and while actors and actresses often play younger, I'm not sure I'd believe Lily Collins was playing a 22-year-old even if her original math had held up. In fact, I think most people watching thought Emily Cooper was in her mid-to-late 20s while watching Netflix's Emily in Paris.
That would have given Emily Cooper time to finish college in the U.S. at 21 or 22 and also time to finish graduate school at 23 or 24. Plus, it would have given her the time to actually gain some corporate experience at 24 or 25, or maybe even until she was 26 or 27, before she was shipped off to Paris to make waves as the new American in the French business world. This is a Netflix rom-com, but it's a show about loving the work you do, having a knack for it, and figuring out who you are as a person as well. It makes sense it would be about a 20-something, but there's just been a lot of drama behind determining Emily's exact age.
If she's 27, though, that whole subplot – and spoilers – where she accidentally hooks up with Camille's brother who recently graduated high school (she thinks he's college-aged) gets a little odder the older Emily Cooper is, however. Plus, I don't know exactly how old her other love interest Gabriel is playing, but in real life actor Lucas Bravo is 32 and similarly aged to Lily Collins. So, if we really look at the storylines too closely, it's all very uncomfortable anyway. Perhaps it's simply better to do as the Netflix series does and think of Emily as a 20-something and move along.
Emily in Paris Season 1 is now available streaming on Netflix. To see what else the subscription streamer has coming up this October, take a look at our full schedule. Or stay tuned, as we wait to find out whether or not Darren Star's latest will get renewed for Season 2.
Your Daily Blend of Entertainment News
Reality TV fan with a pinch of Disney fairy dust thrown in. Theme park junkie. If you've created a rom-com I've probably watched it.
Your Daily Blend of Entertainment News
Thank you for signing up to CinemaBlend. You will receive a verification email shortly.
There was a problem. Please refresh the page and try again.