Grey's Anatomy Reveals Somber First Look At Grey Sloan Facing The Pandemic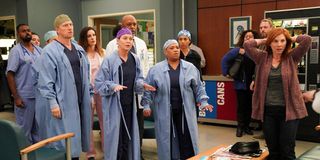 Grey's Anatomy was one of the many shows that had to shut down production in March due to the rise of COVID-19. It's been a longer-than-usual hiatus for TV fans, as they've waited for the show to return following the unintended Season 16 finale. Now that productions have implemented safety procedures and guidelines for casts and crews, Grey's Anatomy was able to return to filming last month. And a new premiere trailer reveals a somber look at the series' pandemic storyline in Season 17.
Prior to Grey's Anatomy's official return to production, it was announced that the medical drama would be tackling COVID-19 on the show. Of course, the doctors of Grey Sloan have seen their fair share of health crises and medical emergencies, but I'd wager that this year's pandemic will likely play out a bit differently considering that it's still ongoing and at the forefront of people's minds. In the Grey's Anatomy and Station 19 crossover trailer, we got our first look at the Grey Sloan doctors wearing protective gear while in the midst of a pandemic emergency. Watch the trailer below:
That looks so very intense. The doctors are seen wearing masks around Grey Sloan, but it also looks like they're decked out in more protective gear like fluid-resistant gowns, full face shields and head covers that are attached to powered, air-purifying respirators (PAPR). The latter is worn by hospital staff when specifically dealing with very sick patients who need extended care. The PAPR is used to filter out contaminated air so that the doctors remain safe while around patients with COVID-19. Talk about realistic.
The pandemic is going to be hard for the fictional doctors, nurses and other medical staff to get through, just as it has been challenging and difficult for the real ones everyday. That said, I have no doubt that Grey's Anatomy will treat the pandemic storyline with the detail and realism that's needed.
As for which of the Grey Sloan doctors may be more equipped to handle the impact of the pandemic, Grey's Anatomy showrunner Krista Vernoff revealed that it was Owen Hunter who's "actually trained" in a way that his colleagues may not be. And lo and behold, Owen is front and center in the Season 17 trailer, looking calm and prepared amidst the hospital chaos.
Upon returning to work for the first time in six months, Ellen Pompeo posted a photo of herself in Meredith Grey's scrubs and dedicated Grey's Anatomy Season 17 to the healthcare workers who are "still standing" and the thousands who have sadly passed away from COVID-19. It wasn't the first post Pompeo made to thank the medical workers who are on the frontlines everyday, and I doubt it will be the last.
Grey's Anatomy Season 17 is scheduled to premiere on ABC on Thursday, November 12 at 9 p.m. ET. For more on what to watch this fall, be sure to check out our 2020 TV premiere guide.
Your Daily Blend of Entertainment News