The Boys Season 3 Will Be Giving Two Characters A Lot More To Do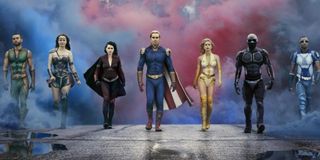 The Boys wrapped Season 2 in early October on more than one cliffhanger following the defeat of Stormfront, and not a whole lot of details were available at the time about how the show would move forward in Season 3 on Amazon. Now, two characters who had significant parts to play in the second season are slated to be around a lot more in the third. Prepare for more of Victoria and Ashley!
Both Claudia Doumit and Colby Minifie, who respectively play congresswoman/Supe villain Victoria Neuman and Vought VP of Hero Management Ashley Barrett, will be series regulars in Season 3, according to Deadline. Doumit's promotion isn't altogether surprising, after the big finale reveal that the congresswoman who seemed to be fighting to regulate Supes is actually a Supe with a penchant for blowing up the heads of people who get in her way, and she'll presumably cause some trouble in the next batch of episodes. Will she be the source of the "payback" teased for the Season 3 premiere?
As for Colby Minifie, she has recurred as Ashley since the first season in a grand total of 13 episodes, but Season 2 saw her promoted after the murder of Madelyn Stillwell. Despite Ashley's nominal position of authority over The Seven, she doesn't inspire the kind of respect (or obsession, in Homelander's case) that Stillwell did, and she was losing hair due to stress throughout the second season.
If the aftermath of Stormfront's Nazi reveal and the potential rise of a new villain become messy for Vought when The Boys returns, I'm already wondering if Ashley will have to wear a wig by the end of the season! Vought itself was in serious trouble after the reveal that Compound V had been used to create Supes for years, but the company is back and fronted by a respected Supe team (including Starlight) again.
All of this said, Victoria Neuman might not actually be the baddie who causes the most trouble for Ashley, Vought, and the general public in Season 3. The Boys boss Eric Kripke is reuniting with yet another alum of his previous shows thanks to Supernatural star Jensen Ackles signing on to play Soldier Boy in Season 3.
Although Soldier Boy is presented as the first Supe hero, Eric Kripke already revealed that viewers won't see Jensen Ackles playing another hero despite his 15 seasons as a good guy on Supernatural, and will be more like a Homelander who came before Homelander. They Boys dropped some teases about Soldier Boy in Season 2, and this character should deliver something fans have never seen before. Is this good or bad news for baddie Victoria Neuman and/or stressed VP Ashley?
Unfortunately, it may be a while before we find out. More than a year passed between the end of The Boys Season 1 and premiere of Season 2. Throw in the complications of the COVID-19 pandemic that has made production very difficult for Amazon Prime's even larger rival Netflix, and fans might want to expect a longer wait for Season 3. For now, you can always watch and rewatch the 16 episodes of the first two seasons. For more viewing options now and in the coming weeks, be sure to check out our 2020 fall TV premiere schedule.
Resident of One Chicago, Bachelor Nation, and Cleveland. Has opinions about crossovers, Star Wars, and superheroes. Will not time travel.
Your Daily Blend of Entertainment News
Thank you for signing up to CinemaBlend. You will receive a verification email shortly.
There was a problem. Please refresh the page and try again.