Glee's Amber Riley Honors Naya Rivera With Emotional Performance on Jimmy Kimmel Live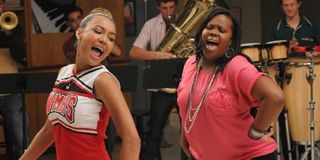 Nearly two months have passed since the tragic loss of Naya Rivera. The late Glee actress was found in the waters of Lake Piru in July and her death was ruled an accidental drowning. Since then, several of Rivera's family, friends, and former co-stars have publicly expressed their grief and shared an outpouring of love for Rivera and what she meant to them. Recently, Glee co-star Amber Riley took the stage to honor Rivera in an emotional performance on Jimmy Kimmel Live.
Amber Riley teamed up with actor Lil Rel Howery to pay special tribute to their friend Naya Rivera through song. Performing on Jimmy Kimmel Live, Riley took to the stage to perform "A Moment." Riley's performance is simple and beautiful. Packed with her strong singing voice, the segment was filmed in black and white, with pictures of Rivera throughout her youth and adulthood appearing off to the side of the stage. You can watch Riley's emotionally powerful tribute below.
Wasn't that incredible and emotional? Amber Riley has always been incredibly talented, and I thought the tribute was indicative of how special and important music had always been to Naya Rivera's life. To honor her memory with a song spoke volumes and I'm sure that Rivera's fans were touched by Riley's performance.
Over on Twitter, Amber Riley revealed that the pictures used in the video were given to her by Naya Rivera's mother. The Glee alum publicly thanked Rivera's mom and asked fans to "continue to uplift and pray" for Rivera's family through this difficult time. In yet another tweet, Riley said that she didn't make it 15 seconds in without being reduced to tears.
On Glee, Amber Riley and Naya Rivera were often paired together for songs, memorably singing a mash-up of Adele's "Rumor Has It" and "Someone Like You," as well as the duet "River Deep, Mountain High" in Season 2. Riley was one of several Glee cast members who joined Rivera's family around Lake Piru before the late actress' body was recovered from the water.
In a post following Naya Rivera's death, Amber Riley wrote that there was nothing but "pure adoration and mutual respect" between them and that she will forever hold Rivera in her heart like she does the late Cory Monteith, who died in 2013. A private funeral was held for Rivera in late July, with only close friends and family in attendance.
Naya Rivera's Glee co-star and close friend Heather Morris shared that she and the late actress were very aware of what their characters' on-screen relationship meant to fans. Morris also opened up about grief, how it "looks different on everybody," and that she wanted people to be kind to themselves during this difficult time.
You can rewatch Naya Rivera's performances on Glee, which is currently streaming on Netflix. For more on what to watch, be sure to check out our fall premiere guide.
Your Daily Blend of Entertainment News
Your Daily Blend of Entertainment News
Thank you for signing up to CinemaBlend. You will receive a verification email shortly.
There was a problem. Please refresh the page and try again.