Naya Rivera's Sister Says Her 'World Is Turned Upside Down' In Touching Message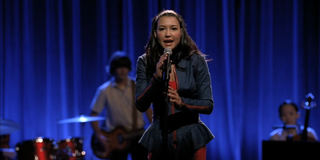 Weeks after Naya Rivera's tragic death, there is still an outpouring of love online from fans, friends and family. Former Glee stars have posted about her passing, in part remembering Rivera's talent and all the light and love she carried with her. Rivera's ex-husband Ryan Dorsey recently broke his silence following her death as well, posting a long tribute to her. Now, the late actress' sister Nickayla Rivera has posted her own touching message to social media, saying that her "world is turned upside down" without her sibling around.
Nickayla Rivera took to Instagram to share a beautiful message in the wake of her sister's passing. The younger Rivera spoke about the bond she and Naya Rivera shared and how she couldn't really put into words what the late Glee star meant to her. Here's what Nickayla wrote:
Nickayla Rivera's post is incredibly emotional and it's hard not to be reminded of the fact that Naya Rivera was taken far too soon. The late actress was only 33 years old at the time of her shocking death. After renting a boat and heading out onto California's Lake Piru with her four-year-old son Josey, Rivera was reported missing, and her body was found five days later on July 13, with the cause of death confirmed to be accidental drowning.
Alongside the message, Nickayla Rivera shared a sweet black and white picture of her and her sister as kids. Take a look below:
When it comes to the death of loved ones, the experience is never really easy. Some people are quick to take to social media to share tributes and memories, while others perhaps need a bit more time to process before speaking about such sensitive topics. The latter seems like the case with Nickayla Rivera, who followed up on the above by posting another picture with her sister as kids together, captioning the image with a simple "I love you." Check out the sweet post below.
Naya Rivera was well-loved by many who watched her and/or worked with her in the past. Several well-known stars took to social media to pay heartfelt tributes to the late actress, including ex-fiance Big Sean, late Glee star Cory Monteith's mother, Amber Riley, Heather Morris, and the trio of Tia, Tamera, and Taj Mowry, among so many more. Meanwhile, the creators of Glee are starting a college fund for Rivera's son.
Here at CinemaBlend, our hearts go out to Naya Rivera's family, friends, and loved ones during this difficult time.
Your Daily Blend of Entertainment News