Looks Like Titans' Starfire Is Going To Have A 'Big' Storyline In Season 3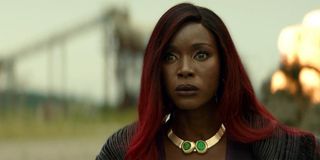 Titans has played out like an origin story for some of its characters. Dick Grayson didn't suit up as Nightwing until the end of Season 2, Rachel still doesn't really go by Raven, and Anna Diop's Kory Anders hasn't fully embraced her identity as Starfire. However, that could very well change in Season 3. Recently, Titans executive producer Greg Walker teased that Starfire is going to have a "big" storyline next season, and it sounds pretty exciting.
The superhero series teased a bit of Kory's home planet of Tamaran during Titans Season 2. But Kory's refusal to return to rule as queen alongside Blackfire, Kory's murderous sister, led to a brief confrontation with Blackfire that set up the exploration of their antagonistic relationship in Season 3. Greg Walker revealed a bit of what's in store for Kory's journey next season. Here's what he told TVLine:
Greg Walker had me at secrets, surprises, and Kory getting hints about her destiny, all of which sounds fantastic! It's great that she'll finally be getting a meaty storyline for Season 3 because there is so much to mine from Kory's backstory, her life on Tamaran, and her complicated relationship with Blackfire. All I ask for is that Titans actually deliver on this storyline for Kory — Season 2 was bogged down by a plethora of new characters, which led to Starfire and her arc getting lost in the shuffle.
In addition to Kory hopefully getting a big Season 3 arc, Titans cinematographer Boris Mojsovski shared a behind-the-scenes photo showing off Anna Diop's new look as Starfire. The character has sported a couple of different looks throughout the show's first two seasons, but Kory's Season 3 hair and costume seems to bear the closest resemblance to Starfire's comics outfit. I'd wager that a new costume and hairdo is also a part of Kory heeding her "true calling as Starfire." Take a look:
Titans' production schedule was delayed due to the ongoing pandemic, but the series is finally filming Season 3 in Toronto. However, Season 3 will not air on the DC Universe streaming service like the first two seasons have in the past. Rather, it will premiere on HBO Max, joining Doom Patrol, Harley Quinn, and the rest of DC Universe's original series (except Stargirl, which will be exclusive to The CW).
Titans Season 3 does not yet have a scheduled premiere date, but you can watch the first two seasons on HBO Max and DC Universe in the meantime. Stay tuned to CinemaBlend for all updates, and be sure to check out our 2020 fall TV guide for more on what to watch.
Your Daily Blend of Entertainment News