Community Ending Explained: What Happened, And How A Movie Could Wrap It Up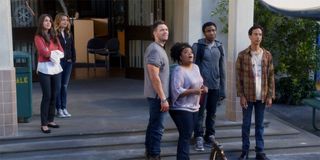 It's now been more than five years since Season 6 of Community came to an end, but it most definitely has not faded from fans' thoughts. Not only have audiences continued to express love for the show, but its existence on various streaming services have allowed it to be discovered by people who never watched a single episode when it was on the air. The desire to see the "Movie" part of #SixSeasonsAndAMovie is still very real, and based on information that has come out of various interviews, the possibility of seeing it happen is also very real.
With that in mind we have put together this feature, with the intention being to both look back at how Community ended, and what could happen in the near future. There's a lot of potential, excitement, and material to reflect on, so let's dive in!
What Happens In The Last Episode Of Community
After years and years of living on the proverbial bubble, Community got the opportunity to go out its own way with the thirteenth episode of its sixth season, titled "Emotional Consequences Of Broadcast Television." The school year ends and the Save Greendale Committee is once again disbanded for the summer, leaving its members to head to a local bar to celebrate.
Influenced by Abed, they begin to look ahead and speculate what a "Season 7" would be, and each take turns pitching their ideas for what their futures could look like. The concepts get a bit outlandish (with approaches like Greendale becoming its own country, and the group adding an animated character), but the undercurrent realization – mostly emanating from Jeff – is that their respective plans don't keep them together as a group. After years of being dependent on one another, they are ready to move on and begin their lives, and this is particularly driven home with the announcements that both Annie and Abed are leaving Colorado for job offers.
Jeff is unable to take the emotional overload of the moment and returns to safe haven, a.k.a. the study room. Annie finds him first, and they have an honest conversation that leads to a kiss – and they are nearly discovered by the rest of the group, who all come in for a group hug. The episode concludes with a montage of the characters saying their goodbyes as they start their lives apart.
It's a sweet, wonderful conclusion to an extraordinary show, and it services both the characters and all of the various themes. But is there room for the story to continue? The answer is a definite "yes."
Where The Community Finale Leaves Its Main Characters
While there is hope for the future of Community (more on that in a minute), the finale does provide a wonderful dose of closure for all of the characters who fans loved watching over the course of six seasons.
Jeff Winger
By the end of Community's series finale, Jeff is forced to confront his worst fear – seeing those that he loves move on without him – but he does so with maturity and grace (well, mostly… it depends on how you feel about his relationship with Annie and the final kiss they share). He seems relatively happy as a Greendale professor, but a return to practicing law doesn't seem like it's totally off the table.
Britta Perry
Britta is perpetually her own worst enemy, and by the end of Season 6 she definitely shows some growth, but also still has a lot of work to do. The finale doesn't give her a specific journey like it does for some of the other characters who will be discussed, but maybe one day she'll actually manage to become a real therapist and legitimately help people (after doing some serious work to help herself, of course).
Abed Nadir
While Greendale Community College clearly doesn't have a good track record when it comes to graduate success stories, Abed at the very least does pursue a career in his field of study. One of the big shocks of the series finale is the revelation that he is moving to Los Angeles to take a job as a production assistant on a new Fox series. Could it actually lead to a serious career in the film business?
Annie Edison
Annie spent her first few years at Greendale studying hospital administration, but after Season 4 she pivoted to forensic criminology, and at the end of the finale she is all set to fly to Washington DC for a summer internship program with the FBI. It's easy to imagine her being successful, as she is one of television history's most driven characters, but how things really turn out is unknown.
Shirley Bennett
Of all the post-Greendale stories, Shirley's is by far the strangest. Due to her father falling ill, she makes the decision to move to Atlanta, and while there she takes a job as a personal chef for a disabled private investigator. Obviously it's designed as a joke about network spin-offs, but it's definitely canon, and that just makes us wonder about all of the crazy adventures that she has quietly been up to in the years since we last saw her.
Troy Barnes
We sadly didn't see the return of Troy in the Community finale, but it's probably for the best when you consider the sendoff that the show gave him in Season 5. Having him set sail with LeVar Burton aboard the Childish Tycoon made for a sweet goodbye, and there is even a nice mystery left hanging thanks to a television chyron in "Analysis of Cork-Based Networking" revealing that his boat was captured by pirates in the Gulf of Mexico.
Ben Chang
Being a ridiculously chaotic individual, Ben Chang is a character about whom we have many, many questions… but we'll just stick with his strange final moment in the series finale in which he confesses while crying that he is gay. Could this bit of self-actualization perhaps be the key that puts him on a real path towards sanity? We wouldn't exactly bet on it, but it's something to consider.
Craig Pelton
Is Craig Pelton a good dean? Most definitely not. But he does manage to keep Greendale Community College functioning and standing, and it's the job he'll probably do until the day he dies (which may or may not be the day that the college stops functioning and collapses on him while he's inside). Maybe he'll someday be able to turn the place around and establish it as a respected school, but, again, we wouldn't bet on it.
Could We See A Community Movie?
Possibly with the understanding that a Community movie would need a bit of distance from the show in order to be really successful, chatter about the potential project died down a bit in the years immediately following the sixth season – but things have most definitely started heating up in the last year and a half.
In June 2019, Alison Brie went on the record saying that she would love to see a Community movie happen at Netflix, and while that initially seemed to just be an extension of her long-standing relationship with the streaming service, the idea gained a lot more weight in the first half of 2020. After a considerable amount of time as a Hulu exclusive, Netflix started hosting the show in April, and it exposed its awesomeness to a whole new audience. This increased interest caught the attention of Joel McHale, who acknowledged publically that the attention could increase the chances of us seeing a feature, and creator Dan Harmon has acknowledged that the behind-the-scenes conversation isn't just a fantasy.
Harmon, who has seen his popularity skyrocket in the post-Community years thanks to having co-created Rick & Morty, was asked about the potential for a movie in May 2020, and he explained,
So for now we continue to play the waiting game, but there is definitely a reason for Community fans to be at least somewhat optimistic.
Your Daily Blend of Entertainment News
Assistant Managing Editor
NJ native who calls LA home and lives in a Dreamatorium. A decade-plus CinemaBlend veteran who is endlessly enthusiastic about the career he's dreamt of since seventh grade.