What The Cast Of Little People Big World Are Up To Now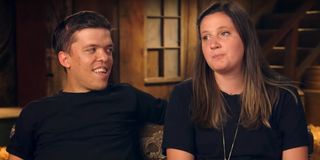 TLC has a lot of successful reality television on its network, but few are as prolific or as well-liked as Little People Big World. For years the network has followed the Oregon family and their lives on the farm living, loving, and learning as a family. The show began as a window into the daily lives of families who have dwarfism in their genetics but has turned into so much more in the years that followed.
For those unaware, Little People Big World is still rolling strong and is currently in production for Season 22. For those who haven't checked in on the family in a long time, here's what the core Roloff clan has been up to since their early years on the show, and their current status on the TLC series.
Matt Roloff
The patriarch of Roloff Farms, Matt Roloff is often characterized as the idea man. He's always got big plans of how things can and should run, and Little People Big World has featured a lot of his plans succeeding over the years. Matt successfully raised all his children to adulthood alongside wife Amy Roloff through a bulk of the series, right up until the couple divorced in 2016.
In the present day, Matt Roloff is together with his longtime girlfriend Caryn Chandler and recently celebrated a successful COVID compliant season at Roloff farms. Matt and Caryn don't currently have plans for marriage, but are living together on the farm and helping his kids with their children whenever they can. With Matt getting on in years, there's obviously talk of him giving the farm over to one of his sons, but no sign of him stepping out of the picture just yet.
Amy Roloff
Amy Roloff is headstrong and strong-willed, and while a lot of her story is the same as Matt's given their long marriage at the start, she really stepped out on her own following the divorce. Amy remained on the farm for quite some time, but in Season 21 finally moved away and accepted a buyout from ex-husband Matt Roloff for a bulk of her share in the business.
With that being said, Amy still has some skin in the game when it comes to Roloff Farms. For example, she and Matt still have control of a chunk of land that would be available to any of their children should they one day want to take up ownership of the farm. She also helped out during the 2020 pumpkin season to support the business, considering her children like Zach are still reliant on the farm's success. She currently lives with her soon-to-be husband Chris Marek, and yes, Matt and Caryn are invited to the wedding.
Zach Roloff
One-half of the Roloff twins, Zach Roloff was the one child of Little People Big World to have dwarfism. Audiences saw him grow up alongside his twin brother Jeremy, which gave viewers a way to compare and contrast the boy's similar but sometimes different experiences. Zach grew up before the world's very eyes and eventually found a wife in Tori.
These days Zach is spending most of his time working on the farm and helping his wife Tori care for their two children (who also have dwarfism) Jackson and Lilah. Zach recently expressed interest in taking on a bigger role on the farm and potentially moving on the property so that he can be more available to take up the slack. The move was a surprise to both Matt and Amy Roloff, but one they're welcoming as discussions are underway for how to make that plan a reality.
Jeremy Roloff
The other Roloff twin, Jeremy Roloff was the one with all the grand plans in Little People Big World. Jeremy had ambitions for a long time to take over Roloff Farms, and it was even Zach's assumption his brother would one day take up the mantle as the head of the operation. Much like Zach Little People Big World fans also saw Jeremy find love on the show, where he eventually married his girlfriend Audrey.
Jeremy Roloff had plans to be on the farm way back when but has since found another successful venture in being an author and influencer. Jeremy eventually left Little People Big World to pursue other endeavors, saying it was a decision he and Audrey had discussed for some time. Since leaving the two have launched a successful podcast, and continue to cultivate their massive social media following where they promote their clothing lines and other business endeavors.
Jacob Roloff
The youngest boy of the Roloff's, and for fans that grew up watching Little People Big World, the quieter one of the bunch. Fans may also remember Jacob Roloff got in a pretty bad accident on the farm when he was hit by a trebuchet as it was launching a pumpkin. The injuries required hospitalization but Jacob ultimately recovered. He stayed on the show for quite some time after, only to leave the show officially when he turned 18.
Jacob has been very public for his reasons for leaving and blamed TLC and the Little People Big World crew for creating storylines and encouraging unnecessary tension (via Good Housekeeping) in the family. These days fans can follow him on social media, where they might catch him getting in an argument with brother Jeremy Roloff about a clash of ideals. Jacob has written a couple of books since leaving and still lives in Oregon with his wife Isabel Rock.
Molly Roloff
The sole daughter of the Roloffs, Molly Roloff was seen on the show quite frequently. She was 12 when Little People Big World started filming, but much like her brothers Jeremy and Jacob, slowly worked her way out of the series as she got older. Unlike her brothers though, Molly has never explicitly given her reasoning for leaving Little People Big World.
Though she's never given a reason for her departure (via Good Housekeeping), it isn't too hard to speculate why Molly Roloff isn't a big part of Little People Big World. She's off living with her husband Joel in Spokane, Washington, which is a healthy drive away from Roloff Farms in Oregon. She still makes occasional appearances, but more often than not Molly can be seen on the Roloff social media pictures when the TLC cameras aren't around, which may signal she's not all that thrilled to be on television if she can help it. She has a successful career as a CPA and doesn't seem to be interested in pursuing the avenues of writing a book or cultivating a large social media following like her brothers.
Little People Big World is currently filming for Season 22 at TLC. Be sure to stick with CinemaBlend for all the latest news happening with the franchise, and for more goings-on in the world of movies and television.
Mick likes good television, but also reality television. He grew up on Star Wars, DC, Marvel, and pro wrestling and loves to discuss and dissect most of it. He's been writing online for over a decade and never dreamed he'd be in the position he is today.
Your Daily Blend of Entertainment News
Thank you for signing up to CinemaBlend. You will receive a verification email shortly.
There was a problem. Please refresh the page and try again.
<