C'mon Disney+, Stop Teasing Us With Just A Few Seconds Of Falcon And The Winter Soldier Footage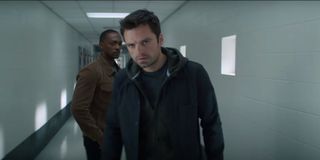 It has been a year since Disney+ opened its metaphorical vault doors, with the promise of delivering legacy and original content from the many Disney brands straight to the streaming device of our choice. With everything from Once Upon a Snowman to The Mandalorian enriching the lore of landmark franchises in the studio's lineup, we're all still waiting for those Marvel series like Falcon and The Winter Soldier to bring the MCU's next phase into our homes. Which is why I have a special plea to the folks in charge of Disney+: stop teasing us with a small morsel of footage, and give us a full damned trailer already!
I'm not just pulling this request out of thin air either, as a recent event brought attention back to the fact that we don't have anything more than roughly 13 seconds of footage showing us what The Falcon and The Winter Soldier holds for the future. With Disney+ launching in Latin America as of next week, a new promotional special made its way to the internet showcasing the past, present, and future content that will be available on Disney's proprietary streaming service. Sure enough, there was a small morsel of footage from The Falcon and The Winter Soldier included inside that reel, but not the morsels we were looking for.
Even if you haven't seen that specific footage for yourself, you have technically already seen it. Anthony Mackie and Sebastian Stan's big moments that were shared there were already revealed to the public a few months ago, with Disney+'s big Super Bowl commercial also teasing everything else that was pulled for this recent promotional push, and even a little more. For reference, here's that very TV spot, showing off the most of what we've seen from Falcon and The Winter Soldier so far.
With the exception of a few moments at the tail end of the Disney+ Super Bowl spot, the footage we saw above was repeated in the Latin America promo for the November 17th launch of the service. Surely, there's enough footage that has been shot, edited, and in the can from The Falcon and The Winter Soldier that a more full look at the series' action can be revealed to the public. In absolute fairness, this request doesn't come without respect for the unprecedented circumstances that have visited the world throughout 2020, but it's been a while.
Even the production on Falcon and The Winter Soldier was affected by the scourge of the COVID-19 pandemic, which in turn delayed the show's debut, putting it in 2021 instead of its planned 2020 premiere. So it's not like I'm asking Disney to hurry up with the actual production of Anthony Mackie and Sebatstian Stan's follow-up to their adventures in a post Avengers: Endgame climate. Rather, I think it's time we're allowed to see a new, more substantial reel of what's to come, and soon. Even a 30-second teaser would be better than nothing.
It was only today when Disney+ revealed the premiere date for the first post-S.H.I.E.L.D. Marvel Cinematic Universe tie-in series, WandaVision, and we've already witnessed a wacky trailer for Elizabeth Olsen and Paul Bettany's mind-bending odyssey, though nothing full-length. Of course, under normal circumstances, the debut of a full trailer for The Falcon and The Winter Soldier would probably wait for when that series starts to unfurl on the streaming platform, which would have likely happened already.
And yet, 2020 has shown us that this year is definitely not one operating under normal circumstances. People have been in varying levels of restrictive lockdown for a good portion of the year, and streaming entertainment is one of the leading pathways to new and exciting content in this brave new business world. With the anniversary of Disney+'s domestic launch hitting today, it feels like a good time to throw a little something extra to the folks at home, with a wink and a smile.
It's certainly a marketing tool worth considering, as there's only so many episodes of The Mandalorian that can run before folks are tempted to cancel their subscriptions until the next batch are released. A new, full trailer for The Falcon and The Winter Soldier would not only motivate current Disney+ members to stick it out with their subscriptions, it might even win over folks that aren't on the bandwagon just yet. If The Mandalorian or even WandaVision hasn't worked on those remaining holdouts, seeing Sam Wilson and Bucky Barnes taking the fight to Baron Zemo, and whomever else is lurking in the shadows, could be that golden ticket to a wider market share.
Realistically, the WandaVision strategy is probably what we'll see come to pass, at the very least. But if anyone at Disney+ is wondering what they can do to put some extra smiles out into the world, releasing a trailer showcasing the continuing adventures of heroism against propaganda in the world that Captain America helped build would be one of the quickest shortcuts to doing just that. Here's hoping that someday, in the near future, Disney+ pops up out of metaphorical left field with a nice surprise in store.
WandaVision will break the walls between Marvel's cinematic and televised universe in new and exciting ways in January, which leaves both The Falcon and The Winter Soldier and Loki waiting for release dates of their own. Should we have any movement on any of these fronts, you can count on CinemaBlend to break the news as it happens. Though if you want to see what's debuting throughout the TV and streaming firmaments, you can check out our 2020 release schedule to see what's happening and when.
This poll is no longer available.
Your Daily Blend of Entertainment News
Senior Movies Contributor
CinemaBlend's James Bond (expert). Also versed in Large Scale Aggressors, time travel, and Guillermo del Toro. He fights for The User.