The Mandalorian's Sasha Banks Fangirling Out Over Her Huge Star Wars Moment Is All Of Us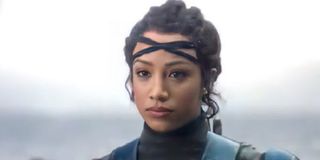 In The Mandalorian's third episode, Sasha Banks made her debut as Mandalorian resistance fighter Koska Reeves, appearing alongside Katee Sackhoff's previously animated Bo-Katan Kryze. The WWE star — whose real name is Mercedes Kaestner-Varnado — kicked ass and helped save Mando, who was in a very tight spot. When asked about The Mandalorian recently, Banks fangirled about her big Star Wars moment and her enthusiasm was very relatable.
Prior to her debut in The Mandalorian's "Chapter 11: The Heiress," very little was known about Sasha Banks' role or how she would cross paths with its titular character. As it turns out, Koska Reeves was created as an original character for The Mandalorian and she fought as a warrior in Bo-Katan's Nite Owls, a group dedicated to taking back their home planet of Mandalore. The scope of the role wasn't lost on Banks and she recently explained why it meant so much to her. Here's what she told Variety:
Sasha Banks' fangirl energy is, honestly, how many folks probably feel just watching The Mandalorian. For the WWE star to have gotten an actual role on the series is incredible and I can see why she's still not over the fact that she was on the Disney+ series at all. It's quite the accomplishment!
I would imagine that landing a coveted role on The Mandalorian is actually quite difficult. However, Sasha Banks added that she didn't have to go through the audition process at all and wound up getting a call directly from The Mandalorian's series creator about the role. Here's how Banks recounted the story:
It sounds like Sasha Banks made quite the impression on Jon Favreau. Here's hoping that we haven't seen the last of Banks' Koska Reeves, either. My guess is that Baby Yoda will probably need to be saved again at another point in Season 2 and there's no one better than Koska and Bo-Katan to come swooping in for some of his rescuing needs.
New episodes of The Mandalorian Season 2 air every Friday on Disney+. For more on what to watch in the meantime, be sure to check out our updated fall TV guide and our 2021 winter and spring TV schedule.
Your Daily Blend of Entertainment News
Your Daily Blend of Entertainment News
Thank you for signing up to CinemaBlend. You will receive a verification email shortly.
There was a problem. Please refresh the page and try again.