The Family Chantel: Who Is Lying In The TLC Show's Latest Drama?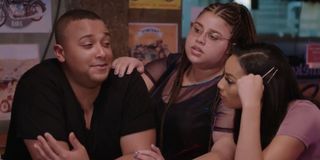 Warning! The following contains spoilers for The Family Chantel episode "A Royal Mess" that aired on November 23. Read at your own risk!
The Family Chantel has a lot of drama brewing at the moment, with several key people in Season 2 telling a different story. As Royal and Angenette Everett attempt to salvage plans for their second marriage in the Philippines, there's a reckoning happening with mother Karen Everett and sister Chantel Jimeno who are convinced they need to protect Royal from the scheming Angenette and her family.
Lots of stories have been told these past couple of episodes, but who is the one lying, and what are they lying about? Let's break down everyone's story so far, what they've said, and any motivation they'd have to lie.
Chantel Jimeno
Chantel has claimed she was Royal's shoulder to cry on during these troubling times with Angenette and has spread the news of Royal's alleged suspicion of his wife's intentions throughout the entire family. According to Chantel, Royal told her he was one of many American men who Angenette was chatting with at the time they met, and that he implied to her this marriage was just a convenient way for her to come to America.
Based on what we've seen so far in Season 2 of The Family Chantel, it doesn't appear like Royal is close enough with his sister to be that forthcoming about his relationship. Royal openly stated as much in the recent episode, to which Chantel challenged him by asking what her motivation would be for lying. Not saying this is the case, but it's no secret TLC is filming a show here. If the goal is for a third season, then more drama could be only a good thing. Could Chantel be playing up or stretching the truth of past conversations to spice up a storyline?
Karen Everett
The matriarch of the Everett family has largely been in her son Royal and his wife Angenette Everett's corner in Season 2, though the script was flipped when they arrived in Manilla. Karen seemed to turn on Angenette when she learned about the incident where she confronted Royal in the bar about their pregnancy, and Karen decided to drop the knowledge that Angenette's mother had reached out to her single brother. The Family Chantel fans were left to assume that Angenette's married mother was trying to seduce Karen's brother, and potentially come over to the United States as well.
The validity of that statement is still up in the air, as Chantel Everett called her uncle (at 4:00 a.m. back in America) to clear up the dispute. It turns out that the woman was from the Philippines, but apparently not Angenette's mom. While there was a tease in a preview for next week's episode that might not be entirely true, it very much seems to be bunk in the latest episode. Karen's odd story seemed to support the alleged talk that Chantel Jimeno heard from Royal about Angenette wanting to come to America. Truthfully, Karen's lie sounds more like confusion on her end, though her continuing to push on it after it was cleared up doesn't make her innocent in this whole situation.
Angenette Everett
Royal's wife has certainly looked like the confused victim in The Family Chantel Season 2 so far, but the Jimeno/Chantel clan seems to suspect she's up to something. As for Angenette, we know that marriage with Royal has not been easy as of late, and she has talked about his temper and lack of trust has made her afraid of him. When she had a miscarriage, Angenette was particularly wounded when Royal accused her of cheating with another man as opposed to consoling her about the lost child.
Truth be told, Angenette feels like the least suspicious person in this lineup, which could mean she's the one that The Family Chantel fans should be on the lookout for the most. This is a 90 Day Fiancé spinoff after all. Of course, Angenette is already married to Royal, so the Everett family is a little late to ring that bell. Even so, is it true she was talking to multiple men in America prior to shacking up with Royal, and she's now deflecting with other issues to keep the family off her trail?
Royal Everett
The one common denominator between all these people, Royal Everett has had some trouble keeping his stories straight in The Family Chantel Season 2. In the latest episode, Royal told his family they needed to leave Manilla so his marriage can heal, while at the same time admitting no fault to the accusations Angenette has lodged against him in their marriage.
The bottom line is that Royal has been lying to someone. Did he lie to his family about how things were going with Angenette, perhaps to mask his own wrongdoings or vent any lingering insecurities he may have? Or was he telling the truth, and now Angenette has flipped the script with cameras rolling and he genuinely does not know how to respond? It doesn't seem likely or possible that both things are true, so maybe Royal would best be served to set the record straight so that The Family Chantel fans can begin to unravel this increasingly tangled web.
Is It Possible Everyone Is Lying A Little Bit?
Everyone has their own truth, so yes, there is a scenario in which everyone on The Family Chantel is telling some sort of lie. It's also best to remember this is a reality television show, and that the events that happened are edited to tell a story that may or may not truly represent the actual events of what went down. The point being, we as an audience are already being somewhat led, which ultimately makes it harder to distinguish who is lying and who isn't.
The Family Chantel airs on TLC Mondays at 9:00 p.m. ET. Continue to stick with CinemaBlend for more on the franchise, and for the latest news happening in television and movies.
Mick likes good television, but also reality television. He grew up on Star Wars, DC, Marvel, and pro wrestling and loves to discuss and dissect most of it. He's been writing online for over a decade and never dreamed he'd be in the position he is today.
Your Daily Blend of Entertainment News
Thank you for signing up to CinemaBlend. You will receive a verification email shortly.
There was a problem. Please refresh the page and try again.