Kelly Clarkson Shares The Hardest Thing About Her Divorce From Brandon Blackstock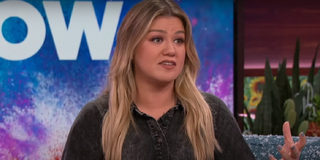 Kelly Clarkson has been keeping busy hosting her talk show The Kelly Clarkson Show, as well as serving as a coach in Season 19 of The Voice. Behind-the-scenes, however, the American Idol alum has been going through divorce proceedings with her ex-husband Brandon Blackstock. While she hasn't been in constant conversations about that side of her personal life, Clarkson did open up to her audience and a recent guest concerning what the hardest part about her divorce has been over the last several months.
Divorce isn't easy, obviously. The legal process takes a lot of time and effort, and it can be made even worse when certain aspects of the divorce proceedings are made public. Kelly Clarkson officially filed for divorce from Brandon Blackstock in June and she's now in a legal battle with her former father-in-law and her management company as well. All that said, Clarkson candidly spoke about what's been most difficult about the divorce process in particular. Here's what she told Alicia Keys and author Glennon Doyle this week on The Kelly Clarkson Show:
You can't help but feel for the singer, who has previously touched upon wanting to protect her children's hearts throughout the divorce proceedings. Kelly Clarkson doesn't share too much information about her divorce, but it's always a bit heartbreaking when she does, because it seems clear that it's taking a toll. However, I'm glad that Clarkson was able to open up to Alicia Keys and Glennon Doyle, both of whom have gone through their own publicly-eyed divorces.
Kelly Clarkson recently welcomed a big legal win when a judge granted her primary custody of both her kids, 6-year-old River and 4-year-old Remy. That means that Clarkson will reportedly have the kids living with her in her home in Los Angeles while Brandon Blackstock will have them for multiple weekends during the month, with them traveling to his ranch in Montana for at least one of those weekends.
However, the singer and her ex-husband still have a ways to go before the divorce is finalized. While Kelly Clarkson now has primary physical custody of her children, Brandon Blackstock is requesting that Clarkson pay spousal and child support that would amount to nearly a half a million dollars a month if a judge were to approve. In Clarkson's words, "2020 has been a dumpster fire."
Kelly Clarkson remains a coach on The Voice Season 29 while filming episodes of her talk show, which airs in syndication, so be sure to check your local listings to see when and where it plays in your area. Stay tuned to CinemaBlend for updates on this story and more. In the meantime, be sure to check out our fall TV guide and our 2021 winter and spring premiere schedule for more on what to watch.
Your Daily Blend of Entertainment News