Tiger (King) Strikes As Carole Baskin Volunteer Nearly Loses Arm In Attack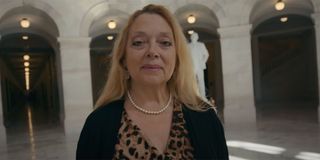 Working with wild animals means a lot of unknowns. We saw this previously in 2020 when Tiger King first hit Netflix and shared the story of Joe Exotic's G.W. Zoo staffer Saffery and how she lost her arm during a gruesome accident in the now-defunct park. Now, Exotic's rival Carole Baskin saw a volunteer deal with a tiger attack in a similar manner at her Big Cat Rescue in Tampa, Florida.
News broke this week that Big Cat Rescue saw a tiger take a bite out of one of Carole Baskin's longtime volunteers at Big Cat Rescue. According to reports, Candy Couser stuck her hand into Kima the tigers' enclosure in order to open the cage for feeding time and Kimba decided her hand looked like a better meal.
In fact, per TMZ, Kimba bit down hard on Candy Couser's hand and then began "thrashing," a move which caused Candy Couser's arm to nearly get "torn off at the shoulder." Three employees were on hand after the accident happened and were able to apply a tourniquet and staunch the bleeding until Hillsborough Fire Rescue was on the scene about 15 minutes after they got the 8:30 a.m. call.
As noted prior, this isn't the first time that a tiger at one of the animal sanctuaries spotlighted during Netflix's popular Tiger King docuseries has gotten violent. During the events of Tiger King itself, G.W. Zoo staffer Saffery also suffered a similar injury. When he went to the hospital, Saffery was given the choice to go through two years of surgery or amputate, ultimately choosing the latter so he could get back to work. Tiger King spoke with Saffery and goes deep into the story during the Netflix doc.
At Carole Baskin's rescue center, most of the people working under Baskin and her husband -- the one who's not missing -- are volunteers. As detailed in the documentary, volunteers who have been around for different periods of times wear different colored shirts. Candy Couser seems to be a "green shirt" member of Carole Baskin's staff, which means she is a "Senior Keeper," according to the lingo the staff uses.
This means she volunteers regularly, has experience at the zoo and has been working at the Big Cat Rescue for at least four years. Green shirts are trained and allowed to work with the big cats, while people with less experience often work with animals like lynxes or in the gift shop.
According to a statement from Big Cat rescue, the volunteer does not want Kimba harmed, though she will be quarantined for 30 days as a precaution. The reason the attack allegedly happened, according to the Baskin family, is because safety protocols were not properly regarded and Candy Couser was not abiding by rules about unclipping a second gate when Kimba latched onto her arm:
In this case, it sounds like Candy Couser may keep her arm and her life, which sounds like a lucky break. Being the victim of a tiger attack is no joke and we hope she recovers in good spirits in the coming weeks.
Amazing Race & Top Chef superfan with a pinch of Disney fairy dust thrown in. If you've created a rom-com I've probably watched it.
Your Daily Blend of Entertainment News
Thank you for signing up to CinemaBlend. You will receive a verification email shortly.
There was a problem. Please refresh the page and try again.