5 Times 90 Day Fiance Cast Members Said The Show Was Faked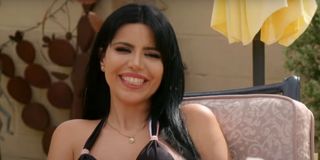 Almost all reality television shows have been accused of being scripted or fake at some point in their run and 90 Day Fiancé is no exception. The TLC drama and its spinoffs have been a staple on the network for many years now, and have consistently entertained audiences with its couples trying to take a long-distance relationship and spin it into a full-blown marriage in a few months. As one may expect it can make for some big drama, though if some cast members are to be believed, not all drama is as naturally occurring as viewers are lead to believe.
While there are many former and current castmembers of 90 Day Fiancé who assert the show is real, there's also a healthy number who have said certain elements of their stories have been altered or flat out scripted in order to keep their story more interesting than the reality may be. Below are some of the popular accusations, which may show that if the drama is too wild to be true, there's a chance it possibly is.
Larissa Dos Santos Lima Says Eric Never Paid For Her Plastic Surgery
Larissa Dos Santos Lima was with the 90 Day Fiancé franchise for a long time, and audiences have seen plenty of real stuff happen to her character that can be backed up by real court documents. With that said, Larissa's final season with the franchise on Happily Ever After? contained a storyline that the former star now claims was faked. Larissa reconciled with her ex-boyfriend Eric Nichols, who then agreed to loan her $70,000 for plastic surgeries she wanted to transform her body. Eric's agreement came with special "privileges" which weren't disclosed in the season.
Shortly after Larissa's TLC contract was terminated, Eric and Larissa broke up. When fans asked if she'd be repaying him for the plastic surgery, Larissa revealed that Eric never paid for anything. Apparently, the money came from Larissa's own pay for doing the show as well as money she made with side gigs, but TLC believed Eric being on the line for the money would make for a more interesting storyline. Eric has stayed silent on the issue, as has TLC, so it's certainly possible that TLC fudged that part of the storyline to make routine plastic surgery a little more entertaining.
David And Annie's Friend Says TLC Manufactured The Poolside Massage Story
Annie and David Toborowsky have become one of the darling couples of 90 Day Fiancé, especially now that they're staples on the commentary show Pillow Talk and have an online cooking show. The two have had quite a glow-up from their first season on the show, in which a struggling David had to rely on the gratitude of friends to successfully make a home for him and Annie in America. David's friend Chris and his wife Nikki were more than willing to house the two while they transitioned to life in America, though Chris had an odd request. In return for his gratitude, Chris requested pool-side massages from Annie.
The request, which Chris made in front of David as well as his own wife Nikki, made the man look sleazy. The couple later appeared on a private Facebook channel for the show to defend themselves (via Reality Blurb), saying the scene in question was done with lines being fed to them by producers and was filmed multiple times because Chris couldn't deliver the line naturally. Chris said he never felt comfortable saying the line, but because he knew how hard David had worked to try and get back into America and on his feet, was willing to take the bullet and do the scene on behalf of his friend.
Jay Says He And Ashley Agreed To Scripted Tinder Scandal
Jay and Ashley Smith were certainly one of those 90 Day Fiancé couples where it seemed like things were doomed from the start, and their story was marred with cheating controversies and lots of drama. While the couple's drama and issues weren't manufactured, Jay went on the record once his contract was up and confirmed that some of the specific controversies highlighted on the show were created for the sake of making drama in their storyline.
Jay Smith told InTouch Weekly that the entire incident, where Ashley discovered he was on Tinder days after their marriage, was faked. Everyone was in on the scene, and willing to do it because, at the end of the day, both of them knew it didn't actually happen. Following the couple's split, however, Jay wanted to set the record straight and didn't want fans to get the wrong impression of the person he may be in reality. Ultimately Jay regretted being a part of the series and wished he'd never participated, to begin with.
Deavan Says TLC Edited Footage To Recreate Drascilla Running Into The Street
Deavan Clegg and Jihoon Lee's troubles in 90 Day Fiancé have had a real spotlight as of late due to the couple's public airing of grievances post-breakup. Deavan has also taken some shots at TLC for the way it portrayed their lives there, specifically saying the editing distorts the narrative of events or doesn't portray them the way they actually happened. One specific incident she mentioned was when her daughter Drascilla ran into the street, and Jihoon stopped to yell at Deavan rather than get Drascilla.
Fans later criticized Deavan Clegg for telling a completely fabricated breakdown of the events, but according to Deavan, it's TLC that fabricated things. Deavan explained that the footage shown of Drascilla running into the street was spliced together footage and that the crew was packing up their cameras when the incident occurred. 90 Day Fiancé producers just edited some scenes together to show something similar but didn't disclose that in the parts where Deavan described the event to cameras later. This warped the view of how serious the situation may have been from an audience perspective, and maybe would've made Deavan appear more sympathetic had audiences known.
Michael And Sarah Say Entire Prenuptial Storyline Faked
Michael and Juliana Jessen's love story was presented as questionable on 90 Day Fiancé, with Michael's ex-wife Sarah being one to question Juliana's motives in the relationship. Much of their story included talk of a prenuptial agreement, in order to protect Michael's money that would eventually go to him and Sarah's children. It was a complicated and multi-faceted storyline, and according to most everyone involved, entirely made up.
Sarah and Michael have since gone on the record to call the prenuptial storyline a complete fabrication, and Sarah added (via Soap Dirt) that she never once suspected Juliana was in a relationship with Michael for the wrong reasons. All three say they were coerced by TLC to film the scenes and that none of them ever really felt comfortable doing it. As for TLC, they didn't appreciate their lives being edited to manufacture drama, some of which could've been misconstrued to create actual drama in their lives outside 90 Day Fiancé.
Catch 90 Day Fiancé and all its spinoffs on the TLC network. As always, continue to stick with CinemaBlend for more on the franchise, and for the latest news happening in television and movies.
Mick likes good television, but also reality television. He grew up on Star Wars, DC, Marvel, and pro wrestling and loves to discuss and dissect most of it. He's been writing online for over a decade and never dreamed he'd be in the position he is today.
Your Daily Blend of Entertainment News
Thank you for signing up to CinemaBlend. You will receive a verification email shortly.
There was a problem. Please refresh the page and try again.