Miley Cyrus Shares Hilarious Explanation For Why She's Rocking A Mullet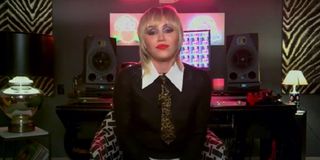 Miley Cyrus is currently making her press rounds to discuss her latest album, Plastic Hearts. The singer has sported a multitude of hairstyles throughout the years, but she's been rocking a mullet lately. Fans and media have noted the change, with some comparing the new hairdo to that of father Billy Ray Cyrus, who has long sported the same style. Recently, Cyrus shared a pretty great explanation for why she decided to don the mullet hairstyle this year.
The global pandemic has shut down a lot of businesses over the year, and we've all had to make due without certain things because of it. That includes opting to avoid hair salons, which requires that you be in too close a proximity to the stylist. For me, that means having to forego on a haircut entirely. For Miley Cyrus, it means getting her hair cut in a mullet style. Here's what she said about her mullet's origin story during an appearance on Jimmy Kimmel Live!:
It's pretty awesome that Tish Cyrus can cut hair at all, and the fact that she's the one who gave Miley Cyrus her mullet hairstyle makes the story even better. Jimmy Kimmel was pretty impressed with the singer's explanation as well. The Cyrus family seems like a close-knit bunch, and the "Prisoner" singer gets to join her brothers and father in the mullet club now.
I'll go on record and say that Miley Cyrus' new hairstyle is a bit edgier than the mullet her father usually sports, but maybe I'm biased. Jimmy Kimmel went on to ask whether Billy Ray Cyrus was impressed with his daughter's latest look. The singer said he was, but added that the mullet is just naturally a Cyrus thing. Here's how she put it:
Along with dropping a new album, Miley Cyrus released a music video for "Prisoner," her single with Dua Lipa. At the end of the video, Cyrus made it pretty clear that her exes could "eat shit," and the singer explained that the message was a "perfect bookend" to the song, among other things.
Stay tuned to CinemaBlend for updates on Miley Cyrus and other news. In the meantime, be sure to check out our 2021 winter and spring TV schedule to find out what's premiering in the next few months.
Your Daily Blend of Entertainment News
Thank you for signing up to CinemaBlend. You will receive a verification email shortly.
There was a problem. Please refresh the page and try again.