Gabriel Iglesias Reveals His Netflix Character's Job Was Changed For Being A Racial Stereotype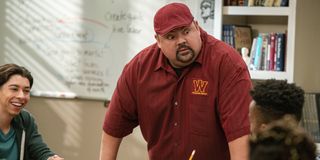 We can all use a good laugh, especially this year, and Netflix's Mr. Iglesias starring Gabriel "Fluffy" Iglesias is delivering them line by line. The comedy series is about a good-natured high school history teacher who helps out his misfit students and colleagues. In an interview with CinemaBlend, Gabriel Iglesias shared the original idea for his character's job and why it was changed to avoid being a racial stereotype.
After binge-watching the first three parts of Mr. Iglesias, it's hard to imagine the titular character as anything but a teacher. The fantastic cast including Sherri Shepherd as the school's principal and Jacob Vargas as Gabe (Iglesias)'s fellow teacher and best friend works so well and feels totally natural. The young cast (Cree Cicchino, Fabrizio Guido and Coy Stewart, to name just some of the students) is just as skilled as the seasoned. But as I learned when I got the opportunity to sit down with Gabriel Iglesias, high school wasn't the original idea for the story or the setting. Here's what he told me:
So Mr. Iglesias was almost about a mechanic! Imagine the show without the amazing kids and teachable moments. While I'm sure it would've still been hilarious, I'm glad they decided to go the teacher route, both to avoid perpetuating a stereotype and also because the concept just works. Beyond seeing the character Mr. Iglesias teach his students, friends and co-workers both school and life-related lessons, the series has become an educational platform for viewers as well.
Mr. Iglesias tackles subjects like race, class, relationships and culture, to name a few. It provides an inside look at how the world is perceived from multiple perspectives. The show is a comedy through and through, but also has well placed heart-to-hearts and teachable moments for both the characters and the audience. Gabriel Iglesias credits this to the writing team. In his own words,
To correct my earlier point, Mr. Iglesias contains teachable moments for the characters, audience and cast. Sounds like Gabriel Iglesias has learned a lot himself working on the show, and stepping outside of his comfort zone is part of what has helped make the series so fantastic. Let that be a lesson to us all: growth doesn't happen in the comfort zone, people.
Part 3 of Mr. Iglesias is now available on Netflix (opens in new tab). If you like stand-up comedy, Gabriel Iglesias has two specials titled Gabriel Iglesias: I'm Sorry For What I Said When I Was Hungry and Gabriel "Fluffy" Iglesias: One Show Fits All. Here at CinemaBlend we also have recommendations for those of you looking for something a little darker that still makes you laugh.
Your Daily Blend of Entertainment News
Obsessed with Hamilton and most things Disney. Gets too attached to TV show characters. Loves a good thriller, but will only tolerate so much blood.
Your Daily Blend of Entertainment News
Thank you for signing up to CinemaBlend. You will receive a verification email shortly.
There was a problem. Please refresh the page and try again.