Kim Kardashian's Grinch Outfit Inspired All Kinds Of Hilarious Internet Comments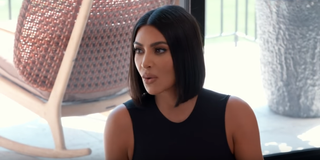 The holidays are a time when many people typically like to dress up and look a little bit fancy for any number of parties and other events. This year, of course, there has been a lot less gathering and partying in person, meaning that it's been a much more subdued time of year than usual for a lot of folks. But, as we know well, Kim Kardashian is not like "a lot of folks," so she took this time of year as another opportunity to get all gussied up as her version of The Grinch, but it's inspired some hilarious comments from the internet about her outfit.
In general, Kim Kardashian is not known for her ability to be super casual and dressed down. So, it's not a surprise that the Keeping Up with the Kardashians star would post a series of holiday photos that do not include her sitting by a tree, surrounded by discarded wrapping paper, and wearing a brightly-colored onesie covered in jovial Santa faces. Instead, it appears that she took the time to cosplay as The Grinch. Take a look at her Instagram post, and we can see what the internet thought of the outfit after:
Oooooh. Sexy, right? I doubt that anyone else would have assembled this outfit and thought to label it even remotely Grinchy, though, given that thigh-baring slit and hard shell top. While I am mostly concerned about the apparent weight of those earrings that Kim Kardashian is sporting, and how her poor lobes fared after taking them off, there were a lot of comments on the photo here and on Twitter, which suggest that a lot of us have some hilarious thoughts about her look. And, speaking of that hard shell, corset-esq top:
I mean, truly, this Instagram comment isn't wrong. If Kim Kardashian had simply removed her red-wearing younger sister Kylie Jenner from the picture and grabbed a giant slice of pizza, I don't think any of us would have trouble seeing her as a hotsy-totsy Teenage Mutant Ninja Turtle. Could any of us doubt that Kardashian is skilled enough in the art of fancy clothes-wearing to bust out some ninjutsu moves in that outfit?
In case you're wondering, Kardashian's Grinch dress inspired one follower to see her as an entirely different green mutant superhero:
OMG. You guys? This could be a total She-Hulk look, correct? I mean Jennifer Walters does have a milder form of Hulk-ism than her cousin, Bruce, so she's a lot more like herself when she transforms. While I don't see the new She-Hulk series employing a costume like this for the character (she is a lawyer, after all, and this is a bit too showy for the courtroom), I would love it if Jennifer Hulked out while wearing an evening gown and ended up looking basically like this, with fake abs and fake boobies!
Though, I do have to admit that this particular commenter makes a very good point about this getup:
Yeah, man. I cannot imagine that Kardashian's top, especially, is even remotely comfortable. She's used to squeezing her body into supremely form-fitting clothing, so it might work just fine for her, but most of us would not be able to handle this for the amount of time it takes to put it on and stand around for a photo, even. I'm sure it was made to fit her (no way any of this came from Party City), but...still.
While superheroism was the overriding theme of many of the comments, there may have been some people who did not get to binge enough comfort food over the holidays and had edible visions dancing in their heads when they spotted Kardashian and Jenner in their Christmas finery:
I like the idea of this. I really, really do. All we actually need to make this observation a reality is to have Kim Kardashian and Kylie Jenner don some pepper stem hats, which is something I would enjoy watching no matter the occasion or what else they may be wearing.
While much of the internet was on board with this as some kind of glam Hulk / TMNT outfit idea, there were several folks who were just over the whole thing immediately:
Well, there's nothing like a precious eye-roll from a precocious child to tell us all how you really feel, right?
Kim Kardashian will surely be back with more outrageous outfits before long, so make sure you stay tuned to CinemaBlend for the latest in everything TV, movies, and pop culture!
Yennefer's apprentice, Gilmore Girl; will Vulcan nerve pinch pretty much anyone if prompted with cheese...Yes, even Jamie Fraser.
Your Daily Blend of Entertainment News
Thank you for signing up to CinemaBlend. You will receive a verification email shortly.
There was a problem. Please refresh the page and try again.