Baby, It's Cold Outside, But For Kylie Jenner And The Kardashians It's Still Bikini Season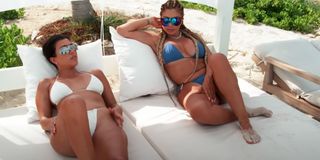 It's that time of year when early snows have started hitting and the temperatures creep into frozen territory overnight. That is, in most parts of the United States. In the Hidden Hills/Calabasas area outside of Los Angeles -- an area where a slew of Kardashians live -- it's still cold for California but not cold enough for Kylie and her Kardashian sisters to give up on their bikinis completely.
These days, Kylie and Kendall Jenner, momager Kris Jenner and Khloe, Kim, and Kourtney Kardashian are a little more spread out in California than they used to be. However, if we're keeping the basic homebase of the Calabasas/Hidden Hills area in mind, it's still hitting the 60s or 70s most days for a window of a few hours, which could be when bikini selfies such as Kylie Jenner's latest have been taken.
To give you a gauge of what the weather is like all day though, right now it's in the forties in southern California, which is a little nippy for wearing just a couple of small scraps of cloth. However, it's also worth pointing out that since Kim Kardashian was the victim of a Parisian robbery, the images she and her sisters post online are not always totally current and don't show her location. Still, when I go outside and see frost and come inside and see Kim Kardashian looking like she's dealing with a heat wave, I do get a little jealous.
Even Kourtney was in the mood to lounge around in her swimwear a few short days ago and rocked a cute lavender top with pants before deciding to take a trip away from the sun.
In fact, this week Kourtney Kardashian headed to a place where there is snow and colder weather; she even took some fun shots wearing wintry gear. So, it looks like she's joining the rest of us in feeling the effects of dry air on our hair, chapped lips and all the other 'fun' stuff winter brings with it. On a brighter note for all you winter folks out there, the Kardashians do seem to love taking a wintry retreat each year.
The next few days it actually looks like Kylie Jenner, Kendall Jenner and the Kardashians will be putting away their bikinis as they are on a wintry trip in a currently undisclosed location. (Wherever they are, there definitely is a fire pit.) When they get back later in December, we'll have to see if they bust out the swimwear again. By then, baby, it'll really be cold outside.
Amazing Race & Top Chef superfan with a pinch of Disney fairy dust thrown in. If you've created a rom-com I've probably watched it.
Your Daily Blend of Entertainment News
Thank you for signing up to CinemaBlend. You will receive a verification email shortly.
There was a problem. Please refresh the page and try again.