Yep, That's Tim McGraw And Faith Hill Dressed As Game Of Thrones' Tormund And Night King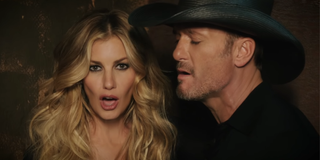 Let's not mince words: 2020 has mostly been a heaping pile of trash which was set ablaze by the fires of hell. But! Within that mess, many of us have seen some bright spots, even if we had to aggressively find and create such lightness and joy all on our own. Now that we are deep into a truly weird holiday season, a lot of folks are still working hard to make sure that they can eke any enjoyment possible out of their free time and whatever family time they manage to have. And, apparently, country music superstars Tim McGraw and Faith Hill figured the best way to do that was to dress as Game of Thrones characters for Christmas. Yeehaw!
Most people have been stuck at home (literally just in their houses 24/7) for the better part of 2020. We've all been trying to find ways to keep things fun, fresh, and interesting, because, 1) having four walls to call your own is great but they can get kinda boring after a few months, and 2) we cannot allow this year to lead us toward a descent into madness.
I can get behind pretty much anything anyone wants to do to help themselves out, which is why I'm glad to see that long-time marrieds Faith Hill and Tim McGraw convinced their kids to join them as they engaged in some Christmas cosplay as The Night King and Tormund Giantsbane. Take a look at the photos McGraw posted to Twitter, and we can further discuss this event below!
Merry Christmas, indeed! I have so many pressing queries that I may need a moment to order them appropriately! OK, first off: what in the name of the Free Folk is happening here? And, second: why do I love this so much?!
With everything some people are doing to increase their holiday spirit, like mainlining Lifetime and Hallmark romances day and night (which I might know a little something about), I'm sure a lot of you have thought, "Hey, you know what would be cool for the holiday this year? Dressin' like some Game of Thrones characters and eating our Christmas feast!" Oh...you say you haven't thought that? Well, color me totally unsurprised!
Honestly, the main reason I love what Tim and Faith (Yeah, we're on a first name basis now. Deal with it.) did with their daughters a few days ago is that literally no one else is doing this. Dressing up for Christmas dinner either involves putting on the best clothes you also don't mind probably spilling some ham juice on, or wearing goofy holiday pajamas covered in cartoony reindeer or some such.
These two? They decide to pull out their Halloween-level creativity and do Christmas like they would have done it in the Seven Kingdoms. Oooh, my sincerest apologies to Queen Sansa. I meant to say, the Six Kingdoms and The Kingdom of the North. Well played, McGraw-Hill clan. Well played!
Faith Hill cuts an impressive figure as The Night King; crown, painted face and hair, and all. She seems to have forgotten to make her hands silver, but I can't even be mad at that, seeing as how dedicated she is to giving us a Night King-worthy death stare. Meanwhile, their daughters Gracie, Maggie, and Audrey have done some major takes on Sansa, Jaime, and Joffrey, though I'm not sure which daughter is portraying which character, or how they chose their Game of Thrones character.
Not that those details really matter, because they are all serving lewks worthy of Game of Thrones characters, while Tim McGraw is perfectly dad-goofy in his fake Tormund beard and...whatever is on his head, because I doubt it's an actual wig. Did he glue some straw together and spray paint it a reddish hue? Possibly, but I didn't even have the energy to decorate my house this year, so I have no way to complain about the level of effort Tim put into his costume. Tormund he is and always shall be!
Wow, special thanks to Faith Hill, Tim McGraw and their kids for brightening our days with this Game of Thrones holiday display. Of course, if you want to watch the genuine articles fight for dominance, you can stream Game of Thrones on HBO Max right now. For some holiday inspiration, check out our schedule of Christmas specials and movies, and see what's coming in the new year with our 2021 premiere guide!
Bachelor Nation, Gilmore Girl; will Vulcan nerve pinch pretty much anyone if prompted with cheese...Yes, even Jamie Fraser.
Your Daily Blend of Entertainment News
Thank you for signing up to CinemaBlend. You will receive a verification email shortly.
There was a problem. Please refresh the page and try again.