Katee Sackhoff And Other Battlestar Galactica Stars Shared Support After Michael Hogan's Tragic Accident, And Now There's A Hopeful Update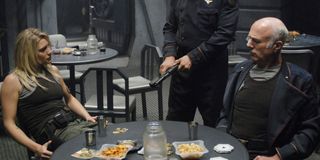 It's been several months since we heard about Battlestar Galactica star Michael Hogan's tragic accident and nearly a year since the slip and fall incident actually happened. Hogan's co-stars, including Starbuck actress Katee Sackhoff, Tricia Helfer and more rallied around him in the aftermath of his subsequent hospitalization, and now we finally have some hopeful news to share.
Back in February of 2020, Michael Hogan slipped and he fell at dinner following an appearance at a Battlestar Galactica convention. The actor went to bed thinking nothing much of the incident, but it led to a brain bleed that caused "paralysis on his left side, memory loss, cognitive impairment and an inability to swallow." The actor had a feeding tube inserted and has been hospitalized for an extended period, but even if he is able to return home, there has been both a financial and spiritual toll on his family, and extenuating medical costs will be great. This is why hearing hopeful news now is so important.
First and foremost, his wife Susan has now shared an update about the positive direction Michael Hogan's health has also gone in in recent weeks. After nearly a year, things are starting to really finally look up.
At the time of the initial posting in September, the Battlestar Galactica cast shared posts like this one to get the fanbase involved in Michael Hogan's recovery story that really did help to get the ball rolling in terms of helping out the Hogan family.
Now, donations have poured in. In fact, the GoFundMe that a friend funded for Michael Hogan and his wife Susan in the fall did reach its goal of raising $350,000 dollars for the actor, though donations are still being accepted and welcomed. If he does go home, this will help them with home care and adding things like wheelchair ramps and perhaps a lift to help the actor to get to multiple levels in his home. This may not have been possible without the Battlestar Galactica fanbase and Hogan's co-stars rallying around the actor.
It's still unclear if Hogan will be able to work his way back into some semblance of normalcy, but according to Susan, "everyone sending him prayers and good wishes" is what is keeping him going from day to day. Every little bit of positive momentum helps.
Your Daily Blend of Entertainment News
Reality TV fan with a pinch of Disney fairy dust thrown in. Theme park junkie. If you've created a rom-com I've probably watched it.