Showtime's Dexter Revival: 9 Quick Things We Know About The New Dexter Limited Series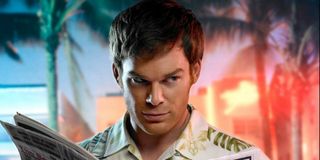 When Dexter concluded on Showtime, it didn't end on the best terms. The series finale is often derided as an embarrassment to the show's legacy, failing to match one iota of its original potential. If it's not the worst way to end the series, it certainly felt like it. Alas, while disgruntled fans have been stewing with their resentment of Dexter's final hour for years, the creatives were listening. And they've decided it's time to try it again.
That's right; the serial killer drama isn't dead after all! Rather, the titular character will return for an upcoming limited series return that'll (hopefully) provide a more proper, honorable conclusion than what we got. Maybe the second time will be the charm.
While details are currently limited, we do know some key bits of information about this Dexter revival, which is set to star Michael C. Hall once more in the role that made him famous (apologies to Six Feet Under fans). Here's what we know about Dexter's revival.
The Revival Will Be A 10-Part Limited Series
Dexter is back, but don't expect him to stay for long. The Showtime series is returning only in a limited fashion, as the press release notes that this revival will be a 10-part limited series. When describing the project to ET, Michael C. Hall noted that this new season will serve as a "10-hour movie" that'll try to serve as a more fitting farewell than the previous series finale. While Dexter fans will get a chance to spend some more time with the serial killer, it'll only last a little while. He'll be gone again before you know it.
Michael C. Hall Is The Only Original Cast Member Announced To Return (So Far)
It's hard to have Dexter without Dexter. There wouldn't be much of a show without our titular serial killer, memorably played by Michael C. Hall. Sure enough, the Emmy-nominated actor will reprise his most famous character in this mysterious new revival. While Hall initially showcased reluctance to come back, the showrunners must have convinced him that it was worth his while, because he sounds enthusiastic to return.
Thus far, Michael C. Hall is the only original cast member confirmed for this revival, which makes sense based on how Dexter (originally) concluded. That said, the possibility of a few other characters coming back into the fold isn't out-of-the-question. But we (probably) won't learn about any cameos until after this revival's fall premiere.
Clancy Brown Plays The Main Antagonist In This Dexter Revival
You might know him from The Shawshank Redemption, Highlander, Starship Troopers, Thor: Ragnarok, or, most recently, Promising Young Woman. You may know him as the voice of Lux Luthor in Superman: The Animated Series, Doctor Neo Cortex in the Crash Bandicoot franchise, or Mr. Krabs in SpongeBob SquarePants. No matter how you know the veteran character actor, you've seen — or heard — his work over the years, and it's a credit to his immensely versatile and distinguished talents that he's capable of playing so many different personalities throughout his expansive career. Now, Clancy Brown has landed one of his most high-profile parts yet. He's set to play the main antagonist in Dexter's revival.
Certainly, while he can also be soft and mild-mannered, Clancy Brown is best known for his looming, imposing presence as an actor, capable of bringing intense menace with even one long stare. He's an excellent pick to play Dexter's adversary, and it'll certainly be another great performance.
The Dexter Revival Will Take Place Close To A Decade Later, Following The Events Of The 2013 Series Finale
It has been a little while since Dexter was on television. The show wrapped up in 2013, nearly eight years ago, and it saw our titular character on his own, miles away from where we once saw him, living a much quieter life than he once led. The finale was a whimper, but now that some time has passed, the showrunners can reflect on what went wrong and make a revival season that's more appropriate for the show's legacy.
But Dexter's finale is still what it is. There's no going back on it. Rather than follow the events shortly thereafter, according to Michael C. Hall, this revival will take place several years after this previous conclusion, with the lead character almost a decade older, mastering a different trade, and filled with brand new life (and death) experiences that we'll discover soon enough.
Michael C. Hall Hopes This Revival Will Right Some Wrongs
When Dexter aired its final hour, the reactions weren't kind, to say the least. Following a stellar early run, the Showtime series started to lose its way in its later seasons, resulting in a series finale that was largely panned by critics and fans alike. In fact, for many TV lovers, the ending is called the absolute worst series finale in television history, which is an awfully bold statement. While this revival might not reach the same heights as the first four seasons, it's hard to imagine it being much worse than the finale we already got, and Michael C. Hall is hoping the revival will fix the finale's faults.
During an interview with ET, Michael C. Hall admitted that he understood why Dexter's series finale wasn't well-received, and the actor claims that the revival's genesis was inspired — at least in part — by this underwhelming conclusion.
Hopefully the revival will give the writers a chance to redo the faulty finale and provide a finish that's more befitting, but we'll have to wait and see.
Original Dexter Showrunner Clyde Phillips Is Also Returning
For many fans, Dexter's fourth season is considered its high point. It had the best dramatic stakes, the most shocking surprises, and the best villain with John Lithgow's Emmy-winning guest star role. But in order to spend more time with his family, showrunner Clyde Phillips left the series, and it wasn't long after his departure that Dexter started to lose its way. The later seasons are often considered inferior to what came before, to say the least, and the last two seasons, in particular, are among the weakest in the series' run. Suffice to say, Dexter didn't end on a high note. But if you groaned at the prospect of a revival, you'll be encouraged to know that Clyde Phillips will return once more to oversee the story.
Now, just because Clyde Phillips is back doesn't automatically guarantee that Dexter's revival will be great. But it's a promising start, certainly, and it suggests that this reboot might return the once-acclaimed series to its original high standards.
Julia Jones, Alano Miller, Johnny Sequoyah, David Magidoff, And Jack Alcott Fill Out The Supporting Cast
In addition to Michael C. Hall and Clancy Brown lending their established talents, this Dexter revival will feature a number of familiar or fresh-faced supporting stars, including Julia Jones (The Mandolorian), Alano Miller (Sylvie's Love), Johnny Sequoyah (Believe), David Magidoff (The Morning Show), and Jack Alcott (The Good Lord Bird). Expect some more names to be announced in the weeks ahead as production gears up.
Dexter Is Expected To Start Shooting In February And Premiere This Fall
Dexter's return is nigh. According to Michael C. Hall, the revival will start shooting in February. Filming will continue for a few months after that, but since it's only ten episodes, the production won't last as long as a normal season. With that in mind, the goal is to premiere this revival in the fall, maybe around October. It's a very quick turnaround, especially in COVID times, but nothing is official yet. That's the plan, though.
Dexter's Plot Is Vague But It's Considered A 'Worthy' Return To The Character, According To Showtime's Gary Lavine
It's easy to be apprehensive about the return of a popular show. Even though Dexter didn't end flawlessly, there's still the danger of exploiting any goodwill left in the brand and denigrating the integrity of the program's earlier seasons. But despite any reservations that fans might have about this television return, Showtime's Gary Lavine is certainly optimistic about this revival, believing that it will be a "worthy" return to the serial killer character.
Here's what he said in a press statement:
Are you excited to see Dexter's return? Let us know in the comments!
Will is an entertainment writer based in Pittsburgh, PA. His writing can also be found in The Playlist, Cut Print Film, We Got This Covered, The Young Folks, Slate and other outlets. He also co-hosts the weekly film/TV podcast Cinemaholics with Jon Negroni and he likes to think he's a professional Garfield enthusiast.