Promising Young Woman Cast: Where You've Seen Them Before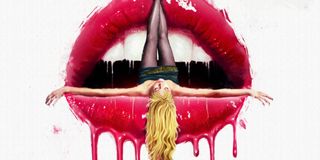 This past Christmas, Carey Mulligan continued to shine in Promising Young Woman, a twist-heavy revenge thriller that served as a feature screenwriting and directorial debut of Killing Eve's Emerald Fennell. With an all-star cast that includes Bo Burnham, Alison Brie, Jennifer Coolidge, Clancy Brown, Max Greenfield, Laverne Cox, Alfred Molina, Connie Britton, and Molly Shannon, the movie was among the splashiest titles at 2020's Sundance Film Festival, and it has only continued to inspire chatter with its VOD debut.
Now that more people have a chance to watch this buzzy title, you might be wondering how you recognize its high-profile ensemble. If that's true, we're here to help! Here's where you've seen the Promising Young Woman cast before.
Carey Mulligan (Cassie Thomas)
As Cassie Thomas, a medical school dropout who spends her evenings confronting predatory men, Carey Mulligan gave another exceptional lead performance in Promising Young Woman. Most notably, Mulligan is known for her breakthrough Oscar-nominated performance in 2009's An Education. Her other notable film credits include Inside Llewyn Davis, Drive, The Great Gatsby (2013), Shame, Never Let Me Go, Wall Street: Money Never Sleeps, Wildlife, and Pride & Prejudice (2005), as well as Public Enemies, Far from the Madding Crowd, Mudbound, Suffragette, The Greatest, and Brothers.
Additionally, on television, Carey Mulligan appears in Netflix's Collateral, Bleak House, The Amazing Mrs. Pritchard, and Doctor Who. Currently, the actress stars in Netflix's The Dig, which is playing theatrically in limited release and streams later this month.
Bo Burnham (Dr. Ryan Cooper)
In the role of Dr. Ryan Cooper, a pediatric surgeon who forms a relationship with Cassie, Bo Burnham plays the love interest in Promising Young Woman. A prominent YouTuber-turned-comedian, Burnham is the co-creator and star of MTV's Zach Stone Is Gonna Be Famous. Also, as an actor, he appears in The Big Sick, Rough Night, Hall Pass, and Funny People. Burnham's other TV credits include Kroll Show, Parks and Recreation, and We Bare Bears.
Outside of acting and performing, Bo Burnham received copious acclaim for his feature screenwriting-directorial debut, 2018's Eighth Grade. He also directed Jerrod Carmichael: 8 and Chris Rock: Tamborine. Next, Burnham's writing songs and expected to star in Sesame Street.
Alison Brie (Madison McPhee)
Playing the part of Madison McPhee, one of Cassie's former classmates, Alison Brie has a notable supporting role in Promising Young Woman. Most notably, Brie is known for GLOW, Community, and Mad Men, as well as her voice work in BoJack Horseman.
On the big screen, meanwhile, Alison Brie can be seen in Sleeping With Other People, Scream 4, How to Be Single, The Post, The Disaster Artist, The Little Hours, Get Hard, The Five-Year Engagement, The Kings of Summer, The Rental, and Happiest Season. She can co-wrote and starred in Netflix's Horse Girl, and she can be heard in The LEGO Movie and The LEGO Movie 2: The Second Part.
Jennifer Coolidge (Susan Thomas)
As Susan Thomas, Cassie's mother, Jennifer Coolidge plays a concerned maternal character in Promising Young Woman. Most notably, Coolidge is recognized from the American Pie franchise and the Legally Blonde movies. And she appears in Best in Show, A Mighty Wind, For Your Consideration, Date Movie, Mascots, A Cinderella Story, Gentlemen Broncos, Click, Like a Boss, Bad Lieutenant: Port of Call - New Orleans, and Alexander and the Terrible, Horrible, No Good, Very Bad Day. Additionally, Coolidge is heard in Robots, Igor, The Emoji Movie, and Bobbleheads: The Movie.
Meanwhile, on television, Jennifer Coolidge was in the main cast for Joey, and she appeared in The Secret Life of the American Teenager and 2 Broke Girls. She's also heard in The Fungies! Next, Coolidge will be seen in Swan Song and the upcoming mini-series, The White Lotus. She'll also be heard in Arlo the Alligator Boy and Pierre the Pigeon-Hawk. And she's expected to return for Legally Blonde 3.
Clancy Brown (Stanley Thomas)
In the role of Stanley Thomas, Cassie's father, Clancy Brown is prominently seen throughout Promising Young Woman. Most notably, Brown is known for The Shawshank Redemption, Highlander, Starship Troopers, and HBO's Carnivale. Additionally, he plays Mr. Krabs in SpongeBob SquarePants. Brown also lent his voice to Superman: The Animated Series, Crash Bandicoot, Thor: Ragnarok, and Detroit: Become Human.
Additionally, in film, Clancy Brown appeared in The Ballad of Buster Scruggs, Hail Caesar!, The Informant!, Flubber, The Adventures of Buckaroo Banzai Across the 8th Dimension, Blue Steel, Pet Sematary Two, The Hurricane, Cowboys & Aliens, and Stronger. Next, Brown plays the main antagonist in Dexter's upcoming revival. He'll also be seen in Last Looks and heard in Invincible and The SpongeBob Movie: Sponge on the Run.
Chris Lowell (Al Monroe)
Playing the part of Al Monroe, Cassie's former classmate with a dark history with Nina, Cassie's lifelong friend, Chris Lowell has an antagonistic character in Promising Young Woman. Most notably, Lowell is known for Veronica Mars. He also played prominent parts in Private Practice, Graves, GLOW, and Life As We Know It. His other television credits include Enlisted, Halt and Catch Fire, and iZombie. Outside of TV, Lowell appears in The Help, Up in the Air, Brightest Star, Love and Honor, Graduation, Spin, Katie Says Goodbye, Veronica Mars (2014), and Complete Unknown.
Next, Chris Lowell stars in Breaking News in Yuba County, which comes out on February 12th. Away from acting, he also wrote and directed Beside Still Waters and he's a vocalist and a harmonicist for the acoustic band, Two Shots for Poe.
Max Greenfield (Joe Macklemore III)
As Joe Macklemore III, one of Al's best friends, Max Greenfield plays an eventful character in Promising Young Woman's third act. Most notably, Greenfield is known for his Emmy-nominated performance in New Girl. He also played recurring roles in Ugly Betty and Veronica Mars. Currently, the actor stars in CBS's The Neighborhood. His other television credits include Greek, American Horror Story: Hotel, The Assassination of Gianni Versace: American Crime Story, and A Series of Unfortunate Events.
Additionally, Max Greenfield appears in They Came Together, Hello My Name is Doris, The Big Short, A Futile and Stupid Gesture, The Oath, What Men Want, About Alex, The Glass Castle, and Shot Caller. Greenfield also made a cameo in Veronica Mars (2014). Furthermore, he's heard in Ice Age: Collision Course and Cats & Dogs 3: Paws Unite.
Laverne Cox (Gail)
In the role of Gail, Cassie's boss at Make Me Coffee, Laverne Cox plays another notable supporting character in Promising Young Woman. Most notably, Cox is known for her Emmy-nominated performance in Netflix's Orange Is the New Black. She later won an Emmy for Laverne Cox Presents: The T Word. Her other TV credits include Doubt, I Want to Work for Diddy, TRANSform Me, The Mindy Project, and The Rocky Horror Picture Show: Let's Do the Time Warp Again. Additionally, her other film credits include Grandma, Freak Show, Can You Keep a Secret?, Charlie's Angels (2019), 36 Saints, Musical Chairs, and Bad Hair.
Outside of acting, Laverne Cox was heavily involved with Netflix's documentary, Disclosure: Trans Lives On Screen. Next, she'll be seen in Jolt, Senior Entourage, and Inventing Anna.
Connie Britton (Dean Elizabeth Walker)
Playing the part of Dean Elizabeth Walker, whom Cassie confronts midway through the film, Connie Britton has an extended cameo in Promising Young Woman. Most notably, Britton is known for her Emmy-nominated roles in NBC's Friday Night Lights, ABC/CMT's Nashville, and FX's American Horror Story. Her other TV credits include 9-1-1, Spin City, Dirty John, 24, The West Wing, and The People vs. OJ Simpson: American Crime Story.
Outside of TV, Connie Britton appears in Friday Night Lights (2004), The Brothers McMullen, This is Where I Leave You, Me and Earl and the Dying Girl, The To-Do List, and The Land of Steady Habits, as well as Bombshell, The Mustang, Professor Marston and the Wonder Woman, American Ultra, Beatriz at Dinner, Conception, A Nightmare on Elm Street (2010), and Seeking a Friend for the End of the World. Next, she'll appear in Joe Bell. Also, Britton stars in the mini-series, The White Lotus.
Sam Richardson (Paul)
As Paul, one of Jerry's friends, Sam Richardson appears in two early scenes in Promising Young Woman. Most notably, Richardson was a writer, co-creator, and star of Comedy Central's Detroiters. Additionally, he played a main role in HBO's Veep and starred in YouTube Premium's Champaign ILL. His other TV credits include The Second City Project, Rise of the Teenage Mutant Ninja Turtles, The Fungies!, and The Office. His other film credits include Mike and Dave Need Wedding Dates, Neighbors 2: Sorority Rising, Ghostbusters (2016), Good Boys, Game Over Man!, The House, Office Christmas Party, Horrible Bosses 2, Spy, We're the Millers, Hooking Up, and Superintelligence.
Next, Sam Richardson will be heard in M.O.D.O.K. and Housebroken and seen in The Tomorrow War, Werewolves Within, Shoot the Rooster, and The Afterparty.
Adam Brody (Jerry)
In the role of Jerry, Cassie's first target, Adam Brody plays a key character in Promising Young Woman's opening. Most notably, Brody starred in The O.C. and StartUp. He also appears in Gilmore Girls, The League, House of Lies, Single Parents, and Mrs. America. Outside of television, Brody is seen in Jennifer's Body, In the Land of Women, Cop Out, Scream 4, Mr. & Mrs. Smith, Ready or Not, Thank You for Smoking, Sleeping with Other People, Think Like A Man Too, and Shazam! He also recently starred in The Kid Detective.
Christopher Mintz-Plasse (Neil)
Playing the part of Neil, another one of Cassie's targets, Christopher Mintz-Plasse has a talky cameo in Promising Young Woman. Most notably, Mintz-Plasse is known for his role as McLovin in Superbad. He also appeared in Role Models, Kick-Ass, Kick-Ass 2, Neighbors, Neighbors 2: Sorority Rising, Year One, Fright Night (2011), Pitch Perfect, This is the End, The To-Do List, and Movie 43. Additionally, Mintz-Plasse is heard in Trolls, Trolls World Tour, the How to Train Your Dragon movies, ParaNorman, and Marmaduke.
Outside of film, Christopher Mintz-Plasse's TV credits include The Great Indoors, Flaked, and Stan Against Evil. He's also heard in DreamWorks Dragons and Sanjay and Craig.
Alfred Molina (Jordan Green)
As Jordan Green, Al's former lawyer, Alfred Molina plays a remorseful supporting character in Promising Young Woman. A veteran performer of the stage and screen, Molina is a Tony and Emmy-nominated thespian, though he's best known for Spider-Man 2. He also appears in Boogie Nights, Chocolat, The Da Vinci Code, Love is Strange, Frida, Dudley Do-Right, Magnolia, Prick Up Your Ears, Enchanted April, and An Education, which also starred Carey Mulligan, and he's heard in Rango, Ralph Breaks the Internet, Monsters University, and Frozen II.
On television, Alfred Molina gained acclaim for Feud: Bette and Joan, Show Me a Hero, Law & Order: LA, Bram & Alice, and Angie Tribeca. Next, he'll be seen in The Water Man. He's also currently playing Doc Ock in the MCU's Spider-Man 3.
Molly Shannon (Mrs. Fisher)
In the role of Mrs. Fisher, the mother of the late Nina, Molly Shannon plays a somber supporting character in Promising Young Woman. Most notably, Shannon is known for Saturday Night Live, as well as her starring role in Superstar. She also gained acclaim for Other People. Her other film credits include Private Life, Happiness, A Night at the Roxbury, Never Been Kissed, How the Grinch Stole Christmas, Osmosis Jones, Talladega Nights: The Ballad of Ricky Bobby, Me and Earl and the Dying Girl, My Boss's Daughter, Wet Hot American Summer, The Santa Clause 2, Shallow Hal, Serendipity, Analyze This, Marie Antoinette, Wild Nights with Emily, and Horse Girl. She's also heard in Igor and the Hotel Transylvania movies.
Additionally, on television, Molly Shannon received an Emmy nomination for her guest appearances on Will & Grace and Enlightened. She also had a main role in Divorce and appeared in The Royal Wedding Live with Cord & Tish, The Other Two, and Kath & Kim.
Did you love Promising Young Woman? Let us know below!