What Fans Can Expect From Season 2 Of Tyler Perry's The Oval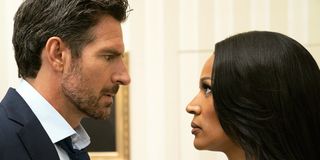 Tyler Perry's The Oval made quite the impression when it debuted on the BET network in the fall of 2019. Starring Ed Quinn and Kron Moore as the President and First Lady, the drama follows the First Family and the White House staff and the lengths they go to to keep the scandals inside out of the public eye. Kron Moore and Ed Quinn gave a spoiler-free tease of Season 2, airing February 2021.
Written, directed and executive-produced by Tyler Perry, The Oval gives us Scandal vibes with even more drama. The focus is the relationships between the residents and staff of the White House and the trouble these characters get into is off the charts. I got to sit down with the leading couple, Ed Quinn (Hunter Franklin) and Kron Moore (Victoria Franklin), for an interview with CinemaBlend and they both revealed what fans can expect from Season 2. Here's what Moore said:
Throughout Season 1, Victoria Franklin is one of the strongest personalities on the show. She's the no-nonsense type, very matter of fact, and shows little vulnerability. When catching her husband cheating, she chastises him for where and with whom, but shows no pain if she feels it from being betrayed. Kron Moore's answer has me thinking we're going to get to see more of Victoria's soft side in Season 2, as the Season 1 finale cracked the surface of.
But Kron Moore also said the side of Victoria shown in Season 2 will be something we didn't expect, which is intriguing. Perhaps it will not be her vulnerable side. Tyler Perry is a master of twists, so I could see him giving this character a mental breakdown or contracting some type of illness that would cause a shift in personality. We'll have to wait and see!
Ed Quinn shared a very specific moment to look for in Season 2, and fans are not going to want to miss this. One of the many jaw-dropping moments of The Oval's Season 1 finale was when the Franklins' son, Jason, sexually assaulted and murdered a woman on the White House staff. This apparently leads to therapy for Jason, because Quinn said the following of Season 2:
You heard it here first - that family therapy scene will be one of the best scenes in the history of The Oval. Well, Ed Quinn has me convinced, and I can't wait to see it. Season 2 of The Oval premieres on the BET network Tuesday, February 16 at 10:30 p.m. eastern time.
Your Daily Blend of Entertainment News
Obsessed with Hamilton and most things Disney. Gets too attached to TV show characters. Loves a good thriller, but will only tolerate so much blood.