Tyler Perry's Sistas Cast Talks Celebrating Diversity On The BET Show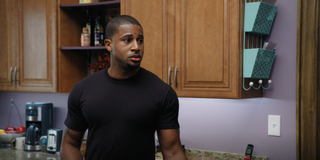 There are wild stories being told on Sistas. Tyler Perry delivers exactly what we've come to love about his writing, from the laughs to the shocking twists to the cliffhangers that keep us coming back for more. But beyond that, Sistas has a lot of heart, with dynamic multi-dimensional characters that are pulling in a diverse audience that doesn't typically get to see themselves portrayed on television. The leading men of Sistas have shared the importance of celebrating diversity on the show.
Devale Ellis plays Zac, an ex-con, on the show. I had the opportunity to talk with him about his experience, and he disclosed that this role in particular was one he had previously vowed not to take. After his son's reaction to seeing him in Power, Devale Ellis told his management team he wouldn't play another ex-con. Here's what he said:
I'm certainly glad Devale Ellis took on this role because he is excellent. He delivers a dynamic performance as Zac Taylor, one that gets a lot of laughs but also for me he's the character who earns the most sympathy. He's the one that, as a viewer, I'm truly invested in seeing succeed. I'm excited to see more of Zac's story unfold as Season 2 continues.
Brian Jordan Jr. also shared the challenges and rewards of playing his character, Maurice. Maurice is a proud gay man who serves as a voice of reason on Sistas, helping other characters to identify their biases and come to terms with how they see the world and others and how they may go about working to have a more open mind and broader perspective. Here's what Brian Jordan Jr. told me:
Sistas has many appealing aspects. It's had me in tears from laughing, screaming at the TV, and dropping my jaw to the floor, but I agree that the variety of people displayed on this show is one of the best things about it. It's obvious the cast is working hard to do right by the communities they represent. As summed up by leading man Anthony Dalton who plays Calvin:
Sistas is currently airing Wednesday nights on BET. If you haven't started, you can catch up on all the drama from Season 1 and Season 2 on the BET app. If you're all caught up on Sistas, check out our fall TV schedule to find your next addiction.
Your Daily Blend of Entertainment News
Obsessed with Hamilton and most things Disney. Gets too attached to TV show characters. Loves a good thriller, but will only tolerate so much blood.