Star Trek Picard Season 2: 7 Quick Things We Know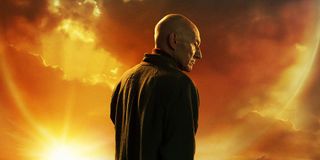 After an 18 year gap, Star Trek fans were delighted to see Patrick Stewart slip back into the role of Jean-Luc Picard in his titular solo series for CBS All Access. Like with most television this past year, Star Trek: Picard Season 2 has been delayed by coronavirus after a proposed summer 2020 start. Let's take a look at what we know so far about the Season 2 Paramount+ streamer.
Production Has Been Delayed Several Times Due To COVID-19, But Appears To Finally Be Under Way
After facing a number of COVID related delays, production on Season 2 is in full swing. Michelle Hurd, who played Picard's former first officer Raffi, posted a picture to her Instagram on February 17th of her script and PPE mask with the caption "Back to work, and it feels so good!!" Production was to begin over the summer, but production was delayed as Southern California, where Picard shoots, has seen some of the largest COVID-19 numbers across the country. While replying to a fan question back in December 2020, Star Trek: Voyager and Star Trek: Picard actress Jeri Ryan revealed production was to begin at the start of February.
In a now deleted tweet from mid-February, Terry Matalas shared that Season 2 had officially begun production, before deleting it and replacing it with a nod to Star Trek's clandestine organization, Section 31.
Terry Matalas Is Reportedly Taking Over As Showrunner
When THR reported the news of Star Trek Picard's Season 2 renewal, the site noted that their sources say Terry Matalas will be taking the reins as Star Trek: Picard's showrunner. Known for the SyFy Channel reboot of 12 Monkeys and as co-showrunner of the CBS hit, MacGyver. Matalas' Trekkie bonafides check out, too. Matalas got his start working Star Trek: Voyager as a production assistant and eventually went on to write for Star Trek: Enterprise, all the way back in 2003.
Star Trek: Picard Season 1 showrunner, Michael Chabon, will remain on the writing staff, but is focusing his efforts showrunning the upcoming Showtime adaptation of his Pulitzer Prize winning novel, The Amazing Adventures of Kavalier and Klay.
Star Trek: Picard's Core Cast Is Expected To Return
CBS hasn't made any official casting announcements for Season 2, but if social media is anything to go off of (when isn't it?), the crew we see aboard the La Sirena in the closing shots of the Season 1 finale, "Et in Arcadia Ego", is who we should expect to see along for the ride in Season 2. As mentioned above, here's the post Michelle Hurd shared on her Instagram, celebrating her return to work.
Besides Michelle Hurd and Jeri Ryan's posts, Season 1 cast member Isa Briones was spotted commenting on Hurd's post saying she can't wait to be in space with her.
Whoopi Goldberg Is Joining Star Trek: Picard In Season 2
Whoopi Goldberg is set to reprise her fan-favorite role as Guinan, the sagely bartender aboard the Enterprise-D. While promoting Season 1 of Star Trek: Picard on the daytime talk show The View, Patrick Stewart extended an invitation to return to Star Trek, which she gladly accepted. Reported by TrekMovie.com, Goldberg gave an interview to SFX Magazine to promote the reboot of The Stand for CBS All Access, the Oscar winner told them:
Expect A 'New, Reinvigorated, Reborn, Essential' Picard In Season 2
We're still in the dark about official plot details for Season 2 of Star Trek: Picard, but we can piece together some ideas based off of some comments from the producers have made during interviews. Picard spent Season 1 battling a terminal illness (and Romulans) introduced all the way back in the series finale of Star Trek: The Next Generation. After having his consciousness put into a synthetic body, death is no longer the final frontier for our captain. According to what executive producer Akiva Goldsman told the official Star Trek: Picard Podcast (via Trekmovie.com),
Jonathan Frakes Will Be Back To Direct in Season 2
Jonathan Frakes, the actor-turned-director best known as Commander William Riker, Picard's trusted first officer, has had a long directing career post Star Trek: The Next Generation, including 22 TV episodes across the Trek franchise and two of the feature films. With the recent renaissance Star Trek is experiencing, Frakes has been busy directing Star Trek: Discovery and Season 1 of Star Trek: Picard. In a recent interview with Trekmovie.com, Frakes revealed he's been tapped again for the director's chair for Star Trek: Picard Season 2. Frakes was a little less sure if he'll be donning a uniform again for more on screen appearances, however.
We've Seen The Last Of Data
Star Trek: Picard's first season ended with the death of Data (for the second time. It's a long story). Having played the character for over 20 years, you might think Brent Spiner would have some complicated feelings putting Data out to pasture. Think again. In a March 2020 interview with TV Guide, Spiner shared:
In the same interview, however, Spiner says he would be game to return as Arik Soong, a human descendant of Data's creator, who Spiner also played in Season 1.
Now that production appears to be underway we should start seeing news about new casting and plot details. CBS All Access hasn't announced a date for Star: Picard Season 2, but it'll move to Paramount+ whenever it does premiere. Keep you tractor beams on CinemaBlend for the latest updates!
Your Daily Blend of Entertainment News
Never not rewatching Mad Men. Lover of comic books and all things related. I spend most of my free time giving medicine to my geriatric cat.