What The Star Trek: The Next Generation Cast Is Doing Now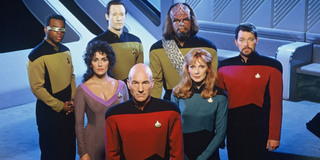 Space may be the final frontier, but for the cast of Star Trek: The Next Generation, it was the beginning of several long and prosperous careers. Of course, I am not counting Sir Patrick Stewart, who had previously found success as a Shakespearean actor on the stage and screen, or LeVar Burton, who had already acquired Emmy-nominated fame as the star of Roots in 1977. Yet, the acclaimed sci-fi TV hit would remain a defining era of their working lives, not only for those aforementioned esteemed performers, but their gifted co-stars as well.
Once again coming from the mind of creator Gene Roddenberry, the Emmy-winning cultural landmark chronicled the continuing adventures of Starfleet, but with a new crew aboard a new starship (also dubbed the Enterprise) and set nearly a century after the exploratory mission led by Captain James T. Kirk. The sequel series was, in fact, so successful (lasting seven seasons, from 1987 to 1994) that it would inspire a civil war among the most loyal of Trekkies regarding which iteration of Star Trek is superior: The Next Generation or William Shatner and TOS company's run in the late 1960s.
Well, unless you are someone who prefers J.J. Abrams' cinematic updates, we may never see the end of that debate, which is at least less combative than the fight between Trekkies and Star Wars fans (or Star Wars fans and Star Wars fans, even). Nevertheless, one thing that is for certain is how the cast of Star Trek: The Next Generation have all since been cemented as pop culture icons, as the following careers prove. Let's engage in a deeper dive into their current whereabouts, starting with one whose journey to go where no one has gone before is not yet over.
Patrick Stewart (Capt. Jean-Luc Picard)
Succeeding in the captain's chair on Star Trek: The Next Generation skyrocketed the theatre-trained Patrick Stewart into the mainstream, and the hearts of sci-fi fans everywhere. That appreciation would only increase when he was cast as Professor Charles Xavier in the first of seven X-Men films. In addition to working often with fellow Star Trek vet Seth MacFarlane, playing a neo-Nazi in Green Room, and supposedly poking fun at the Star Wars vs. Star Trek debate in an Uber Eats ad opposite Mark Hamill, the 80-year-old, knighted Englishman has also returned to the role of Jean-Luc Picard in Star Trek: Picard, which has been greenlit for Season 2 on CBS All Access at some point in near-ish the future.
Jonathan Frakes (Cmdr. William Riker)
Patrick Stewart's spin-off has already brought back a few other series veterans, such as Jonathan Frakes. The actor/director followed his tenure as William Riker with more TV roles (such as voicing a Gargoyles villain and showing up as Riker many more times), and directing films like Clockstoppers, and even a few of the Star Trek movies that he also appeared in. The 68-year-old still acts (most recently on the Nickelodeon sci-fi series The Astronauts), and is a prolific TV director whose credits include episodes of NCIS, The Orville, and many Trek spin-offs, including TNG and the recently announced upcoming prequel series, Star Trek: Strange New Worlds.
Brent Spiner (Lt. Cmdr. Data)
Despite his previous claims that he never wanted to reprise the character, Star Trek: Picard also saw Brent Spiner's return as the Soong-type android Data - his best known role and the first of many notable sci-fi and fantasy projects. These include Independence Day and its 2016 sequel, Robert Kirkman's horror series Outcast, and even the animated Star Wars: Rebels series (which you might want to keep quiet about around some TNG fans). The 71-year-old also had a recurring role on Patrick Stewart's Starz comedy Blunt Talk, has voiced several comic book characters (most recently Riddler on Justice League Action), and played a veteran police detective on Penny Dreadful: City of Angels in 2020.
LeVar Burton (Lt. Cmdr. Geordi La Forge)
This multi-talented Emmy-nominee has playing Geordi La Forge on Star Trek: The Next Generation, Kunta Kinte on the groundbreaking miniseries Roots, Kwame on Captain Planet and the Planeteers, and hosting Reading Rainbow as his claims to fame. Outside of TV directing and executive producing a Roots remake in 2016, LeVar Burton is best known lately for playing himself to hilarious effect on shows like Community and The Big Bang Theory. And, in addition to fans demanding a Star Trek: Picard cameo, others have been pulling for him to succeed Alex Trebek as the new host of Jeopardy!
Marina Sirtis (Counselor Deanna Troi)
Fans did not have to demand a Star Trek: Picard appearance from Marina Sirtis, who also reprised Deanna Troi on the animated Star Trek: Lower Decks in 2020. Sirtis payed homage to her Star Trek: The Next Generation days the previous year in a cameo on The Orville, and even earlier by voicing the Enterprise on the fan-made, 1960s-inspired spin-off, Star Trek Continues. The 65-year-old British actress is also starring in the upcoming London-set crime thriller The Benzoians with Vinnie Jones, and is one of the four female Star Trek veterans appearing in the crowdfunded series about New Orleans' red-light district called Storyville.
Michael Dorn (Lt. Worf)
Unless you count his Ted 2 character's convention cosplay choice, Michael Dorn still has yet to reprise his Klingon character, Worf, since 2002's Star Trek: Nemesis - not that he really needs to, though. The 68-year-old Texan already has more geektastic credits under his belt than most actors can even dream of with several voice roles, including video games like Mass Effect 2, an uncredited recurring spot as Prometheus on Arrow, and the upcoming Amazon Prime original animated series Invincible, based on a comic book by Robert Kirkman.
Gates McFadden (Dr. Beverly Crusher)
If you really want to get technical, Michael Dorn last played Worf in a Family Guy video game, which was also the last time Gates McFadden played the Enterprise-D's chief medical officer, Beverly Crusher. Much of the 71-year-old actress' work since Star Trek: The Next Generation has been smaller recurring roles and guest appearances on TV shows like NCIS, or the legal dramedy Franklin & Bash. But, she also revisited her legacy as Beverly by acting as narrator (and one of the subjects) of the third installment of the documentary franchise, That Guy.. Who Was in That Thing, which focuses on lesser-known Star Trek stars.
Wil Wheaton (Wesley Crusher)
Playing Beverly Crusher's teenage son Wesley was Wil Wheaton, who joined the cast of Star Trek: The Next Generation after rising to fame in Stand By Me, and going on to a steady career that would later consist primarily of voice acting, such as playing Aqualad on Teen Titans and Teen Titans GO! More recently, he played himself in 17 episodes of The Big Bang Theory as Sheldon's on-and-off nemesis, appeared on the CW's Crisis on Infinite Earths crossover event, and currently hosts the Star Trek after-show The Ready Room.
Colm Meaney (Chief Miles O'Brien)
Irish actor Colm Meaney technically played three characters on Star Trek: The Next Generation, but Miles O'Brien was the only one with a name, and would go on to have a more prominent role on Star Trek: Deep Space Nine. It was during that time when he also appeared in the 1997 actioner Con Air, and much later landed a starring role on AMC's Hell on Wheels opposite future Star Trek: Discovery and Star Trek: Strange New Worlds star, Anson Mount. The Gangs of London actor has a number of film projects currently in post-production, such as Ireland-set horror flick The Little People and the crime thriller Confession, with True Blood and fellow UK-based actor Stephen Moyer.
Whoopi Goldberg (Guinan)
With an Oscar nomination for The Color Purple and worldwide success as a comedian already under her belt, Whoopi Goldberg joined the cast of Star Trek: The Next Generation in the recurring role of clairvoyant bartender Guinan, whom she would reprise thrice more in two movies and the Family Guy: The Quest for Stuff video game. The Academy Award winner is busy these days as a regular co-host of The View, since 2007, and plays yet another all-knowing figure on CBS All Access' new miniseries adaptation of Stephen King's The Stand. She's also preparing to star in a third installment of the Sister Act franchise for Disney+.
Majel Barrett (Enterprise Computer Voice)
Fans of Star Trek: The Next Generation will likely recognize the face of Majel Barrett as Lwaxana Troi (mother to Deanna), whom she would play again on DS9, but most will definitely recognize her as the voice of the ship's computer - not just in that series, but in several video games and every small screen and big screen spin-off until her death. That being said, a fan of the original Star Trek series should surely recognize the actress as Nurse Christine Chapel, as well as the wife of the franchise's original creator, Gene Roddenberry. Barrett would also play the computer in J.J. Abrams' 2009 update, which, sadly, was released one year after her death from Leukemia at the age of 76.
What do you think? With all of the known recordings of Majel Barrett's unmistakable voice available in stock, should the franchise try to bring the late Mrs. Roddenberry back to voice Starfleet computers at least once more? Let us know if you think they should make it so in the comments, and be sure to check back for additional information and updates on past and present actors in the Star Trek universe, as well as even more insight into the current whereabouts of your favorite celebrities, here on CinemaBlend.
Jason has been writing since he was able to pick up a washable marker, with which he wrote his debut illustrated children's story, later transitioning to a short-lived comic book series and (very) amateur filmmaking before finally settling on pursuing a career in writing about movies in lieu of making them. Look for his name in just about any article related to Batman.
Your Daily Blend of Entertainment News
Thank you for signing up to CinemaBlend. You will receive a verification email shortly.
There was a problem. Please refresh the page and try again.