Deadpool And Cobra Kai Writers Are Bringing A Classic Video Game To TV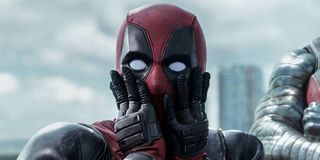 PlayStation fans can prepare to nerd out, as a major old school video game franchise is about to get its own TV series. Twisted Metal, the large-scale demolition derby game where players use insanely tricked-out murder vehicles as weapons, is going into development via Sony TV and Playstation Productions. Not only is that amazing in and of itself, but the project will be crafted by the writers behind awesome action-packed projects such as Cobra Kai, Deadpool, and Zombieland. Thankfully, it sounds like Twisted Metal's TV adaptation will have the same action/comedy vibe we are used to from all the writers involved.
While Twisted Metal fans may have expected this dark video game series to be adapted into something more horror-driven – these characters might not be so out of place in a Purge movie – the action/comedy angle makes sense coming from Deadpool and Zombieland writers Rhett Reese and Paul Wernick, who developed the initial pitch. Meanwhile, Cobra Kai writer and producer Michael Jonathan Smith will actually be the writer for Twisted Metal, as well as an executive producers. Considering the Karate Kid continuation series is less over the top as the previously mentioned movies, we can probably expect the comedy to have a darkness to it, and that the classic game's crass characters will be adapted in interesting ways.
Instead of starting off straight out of an insane asylum or focusing on a literal demon from hell, the new project will center around a character who needs to deliver a package in order to gain a better life. Sounds easy, right? If you've played the games, you know how dangerous getting into any of these cars can be, and we can pretty much guarantee the main character will come into contact with some not so nice travelers on the road.
It sounds like the new Twisted Metal project will take some liberties with the storyline, but fans of the game will see some familiar faces as the main character navigates his way through a post-apocalyptic wasteland. According to Variety, we'll be able to meet everyone's favorite ice cream truck driving, homicidal clown: Sweet Tooth.
The Twisted Metal franchise consists of 9 video games released over the course of just under 20 years. Over the various games, very dark and disturbing backstories have come out about the playable characters within the franchise. Some would say characters of Twisted Metal aren't exactly the main component of the destroy-them-all games, so it will be interesting to see them brought out to a different platform with a creative team that knows both pop culture adaptations and how to bring classic content to the modern era.
Although the project has been greenlit by the studios, there is no telling if or when we will be able to see the TV adaptation of the classic video game. Some more good news for video game fans, though, is there there are several video game adaptations coming. Uncharted is getting a film, with Tom Holland starring as Nathan Drake. Also, Sony and PlayStation are also partly behind HBO's The Last of Us series, to star The Mandalorian's Pedro Pascal and fellow Game of Thrones vet Bella Ramsey. If this video game adaptation movement we are seeing becomes an even bigger trend, we are here for it, just maybe behind lots of protective barriers.
Constantly thinking about books, coffee, and the existential dread I feel from Bo Burnham's Inside. While writing I'm also raising a chaotic toddler, who may or may not have picked up personality traits from watching one too many episodes of Trailer Park Boys.
Your Daily Blend of Entertainment News
Thank you for signing up to CinemaBlend. You will receive a verification email shortly.
There was a problem. Please refresh the page and try again.