Nailed It! And More Fun Streaming Originals Coming To Netflix In March 2021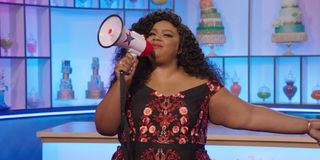 Dang, this year is already flying by because spring is just around the corner and we have another exciting month of fresh Netflix originals coming our way. As usual, the streaming service has delivered with giving subscribers a wide variety of content to indulge in this March, with topics all across the board for all walks of life, and from some big properties like Pacific Rim to boot!
This includes something for the sports lover who wants even more basketball between the March Madness tournament, as well as the kaiju lover who celebrates the made-up holiday I just invented called "March Monsters." There's also much ado about marriage and a series that will slander the good name of a classic literary character. Let's dive in, and peel back all the spectacular Netflix originals that will debut in March.
Pacific Rim: The Black- 3/4
The celebrated Pacific Rim franchise is heading to Netflix in a unique anime adventure that takes the franchise to the Outback. As a kaiju tears through Australia, two teens will pilot a Jaeger in an attempt to track down their parents. Their journey will bring them face to face with new creatures, allies, and even a few enemies as well. With all the chatter as of late about the Pacific Rim franchise and whether or not we'll see a third film in said franchise, this is something fans can appreciate in the meantime.
Last Chance U: Basketball- 3/10
Audiences who watched the Netflix original Last Chance U have a chance for even more fun now that the acclaimed football series is getting involved in basketball. Last Chance U: Basketball follows community college team the East Los Angeles College Huskies as they look to get a state championship in California. It's a team loaded with former Division 1 talent that, as usual, will make one final run in an effort to claw their way into the upper levels of professional competition. This series is always a great one for sports buffs or just people who like a good docuseries.
Marriage Or Mortgage- 3/10
Marriage or Mortgage takes the classic formula of HGTV's Love It or List It, but with about the greatest twist on the premise I've heard. Couples that are soon to be wed will be wooed by both a real estate agent and a wedding planner, and be tasked with whether to spend their money on a dream wedding or their dream home. I certainly know which one I would choose if put in that situation, though I'm not entirely sure I would've made the same decision on my wedding day.
Paradise PD (Part 3)- 3/12
There are some adult-animated comedies that are perfectly fine for a family to view together. Paradise PD is absolutely NOT one of them. Netflix's original animation has taken irreverence to the highest level in Part 3, which means lots of flab, flatulence, and things of a phallic nature. Just watching the trailer may overwhelm some, and I think it's fair to say this kind of comedy isn't for everyone. Those that do like it though, will no double appreciate the misadventures of Paradise PD as they deal with increasingly insane consequences.
The One- 3/12
What if there were a test that could determine with genetic certainty who your soulmate was? It certainly would make love easier to find for some, though this is exactly the kind of premise a series like Black Mirror has warned me about. The One is not Black Mirror, but it does seem as though it will seem to explore one scientist's unique discovery from many different angles and all the potential downsides that would be associated with matching for genetic certainty. I'm excited to watch this one and then be terrified in a decade when the concept associated becomes a reality.
The Lost Pirate Kingdom- 3/15
We're all familiar with The Pirates Of The Caribbean film franchise, but I would wager many people aren't all that knowledgeable on the actual pirates who resided in the area during that era. Well, that could soon change with the release of the Netflix docuseries The Lost Pirate Kingdom, which will highlight these pirates and presumably what they were all about. One thing I already learned is that these pirates ran a "surprisingly egalitarian" republic, so I can only imagine what other facts will blow my mind.
Zero Chill- 3/15
What happens when a family has two equally gifted children who play different sports? Well, ideally, parents work to cultivate both children's interests equally, but the reality is that doesn't always happen. Such is the case in Zero Chill, where figure skater Kayla is forced to leave her friends behind in order to follow her family set on sending her brother Mac to a major hockey academy. This family series may hit a little close to some siblings who have had to take a backseat for an athletic sibling, but it should make an entertaining watch all the same.
The Irregulars- 3/26
If you're familiar with the Sherlock Holmes books, you may be familiar with the Baker Street Regulars. This upcoming Netflix original features a take on those characters, although they're doing all the heavy lifting solving supernatural mysteries around London at the behest of Dr. Watson. Sherlock Holmes is featured in the series, though I'll warn any fans of the character he's portrayed in a far less glowing light in this series than other works. I'm not sure I can handle a credit-stealing Sherlock who isn't all that good at his job. That would make him so unlikable!
Nailed It!: Double Trouble- 3/26
There's been enough Nailed It! spinoffs that audiences know what to expect by now, but that doesn't make it any less entertaining. Double Trouble, this latest incarnation, changes up the formula a bit, adding teams of two contestants to the mix for even double the chaos. Personally, I think I'd rather do the show with a teammate in order to disperse the embarrassment of failing between the two of us. With that said, I will be curious to see if having two people tackle one task will make things any easier or more chaotic.
Catch all these shows and more on Netflix (opens in new tab) during the month of March. For a more comprehensive look at all that's arriving in the month of March in regards to Netflix, be sure to check out our other list here.
Mick likes good television, but also reality television. He grew up on Star Wars, DC, Marvel, and pro wrestling and loves to discuss and dissect most of it. He's been writing online for over a decade and never dreamed he'd be in the position he is today.
Your Daily Blend of Entertainment News
Thank you for signing up to CinemaBlend. You will receive a verification email shortly.
There was a problem. Please refresh the page and try again.