The Main Problem With Kim Kardashian And Kanye West That Reportedly Led To Their Divorce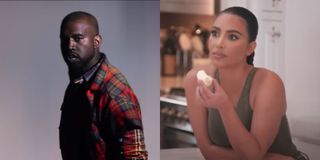 We've all been witness to the slow downfall of Kim Kardashian and Kanye West's marriage with its big homes and stunning vacation locations, not to mention their adorable brood of kids. Over the last year, Kanye West has seemingly struggled with his mental health, leading to some odd life choices and plenty of scrutinized comments on the internet. Now, if reports hold true, Kardashian is still "disappointed" that Kimye didn't work out, but there's a big reason she ultimately decided to file for divorce.
Insiders have been reporting a lot on what's seemingly been going on with Kim Kardashian and Kanye West's splits. What keeps cropping up again in report after report is that they just could not get on the same page about a lot of things: their life, their marriage, raising their kids. One report on People bluntly mentioned, "Kanye is not willing to do the hard work and compromise." A second, softer report "What they want in life and for their kids doesn't always match."
What it all boils down to is that they are just "not on the same page." They tried counseling, but that didn't get them anywhere. They seemingly tried space as well, as both led busy lives and have taken different trips and gone down different career paths as the pandemic raged over the past year. At the end of the day, Kanye West ended up taking his shoe collection and holing up in Wyoming as Kim took a vacation to Turks and Caicos before deciding it was time. She ultimately filed for divorce earlier in February after six years of marriage.
Now, the real question is: What does the future look like for Kim and Kanye? The two will undoubtedly work to co-parent their two kids. However, both are in a huge transition period in their lives right now. In their careers, Kanye West spent part of the last year running for president, which also didn't pan out. On a more economically-minded note, he definitely has more Yeezy stuff on the way, as he signed a collaboration deal with Gap mid-year last year.
Kim Kardashian obviously has a deal she and the rest of the gang signed with Hulu coming up she's previously been said to be "excited about." She still also has her SKIMs line, though Kim previously called Kanye West the "ghost creative director" of her shapewear line, so that's an interesting sidenote. From a career standpoint there are things that are expected to happen or continue to happen for both. However, the romantic front is a much different beast and we'll have to wait and see how long it takes for the two celebrities to make new leaps in their personal lives.
For now, their high-profile divorce is going to be certain to pique the interest of people as it moves forward. Doubtless, whatever ends up being shown on the final season of Keeping up with the Kardashians is also going to have people laser-focused and will doubtless be a topic of interest in the coming months. Those episodes start hitting on March 18.
Reality TV fan with a pinch of Disney fairy dust thrown in. Theme park junkie. If you've created a rom-com I've probably watched it.
Your Daily Blend of Entertainment News
Thank you for signing up to CinemaBlend. You will receive a verification email shortly.
There was a problem. Please refresh the page and try again.