The UK's Most Rewatched TV Shows Include Gavin And Stacey, The Inbetweeners And Some That Are Huge In The US Too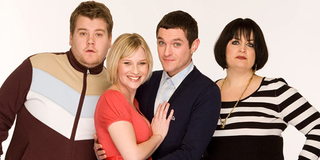 Thank goodness for streaming, right? There was a time, not so very long ago, that rewatching your favorite shows required either getting loads of DVDs from your local library on a regular basis, spending money on rentals of physical copies of said show, or just plain shelling out hundreds upon hundreds of bucks so you could spend as much time as needed with your shows after buying several full series. For several years, though, rewatching has been a gentle art made all the more easier with streaming services. While UK fans love shows like Gavin & Stacey and The Inbetweeners for such efforts (and both are excellent choices), it turns out that they also adore some US shows when they decide to rewatch, as well.
I remember well the early 2010s and waiting on a couple of red envelopes in my mail so that I could revisit HBO's The Wire. Sure, seeing those DVDs when they showed up was a joy, but sending them back and waiting for two more to arrive was a true pain in the tuches. But, for many blessed years we've been able to rely on services like Netflix to make sure we can get our daily doses of beloved shows, and it looks like many TV fans in the UK love some US series just as much as we do.
According to a recent streaming survey by U switch, here are the Top 10 rewatched shows in the UK, by the percentage of respondents who rewatched these shows more than once:
The Simpsons (54%)
Friends (53%)
Gavin & Stacey (45%)
The Inbetweeners (44%)
The Big Bang Theory (42%)
The Office (36%)
South Park (36%)
Game of Thrones (35%)
Downton Abbey (33%)
Friday Night Dinner (32%)
Alright UK television viewers; we see you! I don't think there are many people in the US who would be especially taken aback by this list. Even probably lesser-known UK favorites like Gavin & Stacey and The Inbetweeners have very happy followings in the states, due to their time on streaming services in the years before such things were literally everywhere. Though you can currently watch the former on HBO Max, and the latter on Amazon, as each are included with your subscriptions.
It's incredibly likely that several of these shows are on the personal top 10 rewatch lists of many of us in the US of A. The Simpsons and South Park are prime adult animation examples, which have each been going strong with new seasons for so long that if you were a baby when either debuted, you've been of legal drinking age for years already.
Meanwhile, I doubt anyone is surprised by Friends coming in at number two, or The Big Bang Theory rounding out the top five. Both are long-running hits with dedicated fans who've been known to rewatch as a comfort viewing to laugh away their worries when life gets hard. And, life has been very hard in many previously unforeseen ways in the past year for a lot of us.
On top of that, you will likely remember the fan uproar when it was revealed that Friends would be leaving Netflix for HBO Max. Audiences were especially displeased that they would have to wait five months before being able to stream Friends again, and laugh until their stomach hurts while Monica dances around with that turkey on her head.
The Office scored a big win on the total list, with the original UK version being the one which hit number six, and the US version coming in at number 18, with 23% of respondents enjoying a good bliss-out session as they watch Jim and Pam fall in love for the umpteenth time. Something that US fans were very unhappy to find out that they'd have to do over on Peacock when this sitcom also left Netflix.
I can also imagine why Game of Thrones and Downton Abbey are near the bottom of the Top 10, as it seems pretty clear that getting very far away from things like beheadings and intense familial drama are pretty important for a lot of people when they decide to watch a show several times.
Whatever your needs when heading into a rewatch, there are certainly several streaming services out there to help you fill your viewing time.
Your Daily Blend of Entertainment News
Yennefer's apprentice, Gilmore Girl; will Vulcan nerve pinch pretty much anyone if prompted with cheese...Yes, even Jamie Fraser.