What The Fringe Cast Is Doing Now, Including Joshua Jackson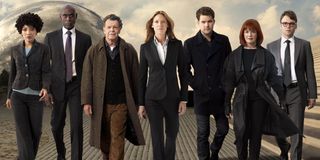 Following five seasons, over 100 episodes, and a number of twists and turns, Fox's sci-fi/supernatural drama series, Fringe, came to a close in 2013. It's hard to believe that nearly a whole decade has passed since this J.J. Abrams-created series — which was considered an inspired mix of Lost, The X-Files, and The Twilight Zone — concluded its multi-universe story. But now that the show's finished, what is the Fringe cast, including Anna Torv, Joshua Jackson, John Noble, and Lance Reddick, doing now? Let's find out!
Anna Torv (Olivia Dunham)
As Olivia Dunham, a young FBI agent assigned to a multi-agency government task force known as the "Fringe division," Anna Torv played the lead in Fringe. Following her time in this Fox show, Torv starred in Netflix's acclaimed Mindhunter. Her other TV credits include Young Lions, Deadline Gallipoli, Secret City, Mistresses, McLeod's Daughters, The Secret Life of Us, and The Pacific. Away from TV, Torv can be seen in The Daughter, Travelling Light, The Book of Revelation, Love is Now, and Stephanie. Additionally, she was heard in the video game, Heavenly Sword, and its film adaptation. Also, the actress is known for her voluminous stage work. Next, Torv stars in the Australian drama, The Newsreader.
Joshua Jackson (Peter Bishop)
In the role of Peter Bishop, the son of mad scientist Walter Bishop, Joshua Jackson plays the male lead in Fox's Fringe. Most notably, Jackson is known for his starring role in The WB's Dawson's Creek. The actor also starred in the Mighty Ducks movies and Showtime's The Affair. Additionally, Jackson appeared in Netflix's When They See Us. His other major TV roles include Unbreakable Kimmy Schmidt, The Outer Limits, and Champs. Furthermore, he can also be heard in Gravity Falls, Cubix, and The Simpsons.
Additionally, in film, Joshua Jackson can be seen in Cruel Intentions, Shutter, The Skulls, One Week, Andre, Apt Pupil, Urban Legend, Cursed, Lay the Favorite, Inescapable, Sky, Gossip, The Safety of Objects, Americano, Aurora Borealis, Bobby, Battle in Seattle, The Laramie Project, Scream 2, and Ocean's Eleven. Most recently, Jackson starred in Hulu's Little Fires Everywhere. Next, the actor will appear in Peacock's limited series, Dr. Death.
John Noble (Walter Bishop)
Playing the part of Walter Bishop, a former government researcher with a nearly 200 IQ, John Noble plays one of our leads in Fox's Fringe. Away from this sci-fi series, Noble is known for The Lord of the Rings trilogy. He can also be seen in Fox's Sleepy Hollow and CBS' Elementary, as well as the Australian medical drama, All Saints. Furthermore, as a voice actor, Noble can be heard in Batman: Arkham Knight and L.A. Noire. His other TV credits include The Blacklist, Salvation, Legends of Tomorrow, Devil's Playground, Rake, The Good Wife, 24, Pirate Islands: The Lost Treasure of Fiji, Home and Away, and The Lost World. The actor can also be seen in films such as Fracture, One Knight with the King, Risen (2010), Running Scared, The Mule (2014), and The Monkey's Mask. Additionally, Noble's voice can be heard in The Last Airbender and Superman: Unbound.
Most recently, John Noble was seen in Amazon Prime's Hunters and The Boys. Next, he'll appear in Home Invasion, as well as Nameless and the short film, Call Waiting.
Jasika Nicole (Astrid Farnsworth)
As Astrid Farnsworth, an FBI Junior Agent who serves as Olivia's assistant, Jasika Nicole was a main character throughout Fringe's five seasons. Away from this Fox series, Nicole is known for her starring role in ABC's The Good Doctor. Her other TV credits include Scandal, Key & Peele, Law & Order, Major Crimes, Station 19, Underground, and The Return of Jezebel James. The actress can also be heard in Adventure Time, Danger & Eggs, We Bare Bears, and Justice League Action, as well as podcasts such as Alice Isn't Dead, Welcome to Night Vale, and The Bright Sessions.
Additionally, Jasika Nicole did voice work for video games like Law & Order: Criminal Intent and Alt-Frequencies. She also appeared in She's Out Of My League, Take the Lead, Suicide Kate (which she also produced), A New York Christmas, Get Faamous, and Secondhand Love. Away from acting, Nicole designs and makes her own clothes. Also, the actress works as an illustrator. Currently, Nicole appears in Peacock's Punky Brewster revival. Also, as a voice actress, she can be heard in Netflix's Trash Truck.
Lance Reddick (Phillip Broyles)
In the role of Phillip Broyles, the head of the Fringe division, Lance Reddick plays a professional, by-the-books character in Fringe. Most notably, Reddick is known for The Wire, Oz, Lost, Law & Order: SVU, and the John Wick movies. Currently, he appears in Bosch. He also recently played recurring roles in DuckTales and Corporate. The actor's other film credits include The Guest, Oldboy (2013), Jonah Hex, Little Woods, Angel Has Fallen, Faults, Won't Back Down, White House Down, The Siege, and Don't Say a Word. Reddick also appeared in CSI: Miami, American Horror Story: Coven, and Apocalypse.
Most recently, Lance Reddick was seen in Amazon Prime's One Night in Miami ... and Sylvie's Love. He also starred in Faith Based. Additionally, he was heard in From Now, Chrysalis, Castlevania, and Paradise PD. Next, Reddick will appear in Godzilla vs. Kong and the short film, Man of Fire. Soon, the actor will be heard in the video game, Horizon: Forbidden West. Also, Reddick stars in Danny DeVito's long-delayed film, St. Sebastian.
Blair Brown (Nina Sharp)
Playing the part of Nina Sharp, the executive director of Massive Dynamic, Blair Brown was a main character throughout the majority of Fringe's run. Following her work in this Fox series, Brown was most notably seen in Netflix's Orange Is the New Black. Additionally, the actress was Emmy-nominated for her starring role in The Days and Nights of Molly Dodd, where she also directed. Furthermore, Brown received a BAFTA nomination for portraying Jacqueline Kennedy in 1983's Kennedy. Her other TV credits include Limitless, Elementary, Jack Ryan, Person of Interest, Falling Skies, The Affair, Forever, Law & Order: SVU, ER, Law & Order, Smallville, CSI: Miami, Ed, Frasier, Kojak, Touched by an Angel, and The Rockford Files. Also, she narrated American Experience.
Away from TV, Blair Brown was Golden Globe-nominated for her role in Continental Divide. Her other film credits include Altered States, One-Trick Pony, The Paper Chase, The Astronaut's Wife, Dogville, The Sentinel, Space Cowboys, A Flash of Green, Loverboy, The Treatment, and Dark Matter. Her next project hasn't been announced.
Mark Valley (John Scott)
As John Scott, an FBI Special Agent who was once Olivia's partner and lover, Mark Valley played a big part in Fringe's first season. He was also briefly married to Anna Torv. Away from this series, Valley is known for Boston Legal, Harry's Law, Human Target, and Body of Proof. His other notable TV credits include Days of Our Lives, Once and Again, ER, CSI, Keen Eddie, The 4400, Law & Order: SVU, Girlfriends' Guide to Divorce, Bloodline, The Romanoffs, Feud: Bette and Joan, Hawaii Five-0, and The Flash.
Additionally, away from TV, Mark Valley can be seen in films like The Next Best Thing, The Siege, Zero Dark Thirty, Stolen, The Innocent, and Gun Shy. Additionally, as a voice actor, he can be heard in Shrek the Third and Batman: The Dark Knight Returns: Part 2. Recently, Valley was a guest star in Blood & Treasure and Emma Fielding Mysteries.
Kirk Acevedo (Charlie Francis)
In the role of Charlie Francis, an FBI special agent with a close connection to John and Olivia, Kirk Acevedo was part of the main cast of Fringe for the first two seasons. Elsewhere, Acevedo starred in Oz, Band of Brothers, and Syfy's 12 Monkeys. The actor also played main roles in Arrow, Prime Suspect, The Black Donnellys, and Law & Order: Trial by Jury. Additionally, Acevedo had a recurring role in Kingdom.
Furthermore, his other TV credits include White Collar, Cold Case, The Mentalist, Person of Interest, The Walking Dead, Grimm, Blue Bloods, Agents of S.H.I.E.L.D., Numb3rs, 24, and NYPD Blue. Away from the tube, Acevedo appeared in The Thin Red Line, Boiler Room, The New World, Invincible, Dawn of the Planet of the Apes, and Insidious: The Last Key.
Most recently, Kirk Acevedo was a guest star in ABC's Stumptown. Also, Acevedo appeared in the short film, Exit Package. Additionally, the actor is attached to the indie horror-thriller, Don't Look There, though developments remain slow on the project.
Seth Gabel (Lincoln Lee)
Playing the part of Lincoln Lee, a team leader within the parallel universe Fringe division, Seth Gabel has a mind-melting character in this sci-fi Fox series, particularly in Season 4. Elsewhere, Gabel is known for WGN America's Salem and FX's Nip/Tuck.
Seth Gabel's other television credits include Dirty Sexy Money, United States of Tara, Arrow, American Horror Story: Hotel, CSI, Sex and the City, Gothica, and The Closer. Also, he appeared in Genius: Einstein, along with its follow-up, Genius: Picasso. Additionally, Gabel can be seen in Jonah Hex, The Da Vinci Code, Take Me Home Tonight, Good Dick, Forever, Tadpole, A Beautiful Mind, and Allegiance. Most recently, the actor guest-starred in Billions. He was also heard in the video game, Maquette.
Michael Cerveris (September/The Observer/Donald)
As September, often referred to as "The Observer," Michael Cerveris played a mysterious supporting character throughout Fringe's run. A renowned stage performer, Cerveris is a two-time Tony-winning actor for his work in 2004's Assassins and Fun Home. Additionally, the award-winning star is acclaimed for his lead roles in Sweeney Todd, Road Show, The Who's Tommy, Hedwig and the Angry Inch, and Passion.
Away from the stage, Michael Cerveris played recurring roles in The Good Wife, Treme, and The Tick. He was also in the main cast for Netflix's Mindhunter Season 2. His other TV credits include The Equalizer, CSI, Law & Order, Elementary, Gotham, Person of Interest, Madam Secretary, 21 Jump Street, Quantum Leap, and The Knick. Additionally, Cerveris' film credits include The Mexican, Tokyo Pop, Cirque du Freak: The Vampire's Assistant, Brief Interviews with Hideous Men, Detours, Rock 'n' Roll High School Forever, and Ant-Man and the Wasp.
Most recently, Michael Cerveris made guest star appearances in HBO's The Plot Against America and CBS's Evil. Next, the actor will be seen in HBO's The Gilded Age.
Stream Fringe on IMDbTV here.
Will is an entertainment writer based in Pittsburgh, PA. His writing can also be found in The Playlist, Cut Print Film, We Got This Covered, The Young Folks, Slate and other outlets. He also co-hosts the weekly film/TV podcast Cinemaholics with Jon Negroni and he likes to think he's a professional Garfield enthusiast.
Your Daily Blend of Entertainment News
Thank you for signing up to CinemaBlend. You will receive a verification email shortly.
There was a problem. Please refresh the page and try again.