How The Mighty Ducks TV Show Is Bringing More OG Movie Actors Back For Disney+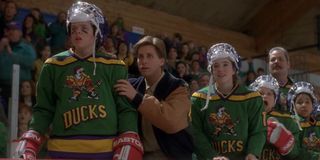 Nearly 30 years since the release of Disney's The Mighty Ducks, the ducks will still be flying together. This time, however, it will be for a Disney+ original series, The Mighty Ducks: Game Changers. We've heard about how some of the original cast was coming back, but the number of OG actors on the list is growing, and here's how Disney Plus is making it happen.
In fact, most of the stars of the original film will be returning for an episode of Disney+'s upcoming revival series, The Mighty Ducks: Game Changers. The reunion is set to happen in Episode 6 and will feature characters from all three films including Elden Henson as Fulton, Matt Doherty as Averman, Vinny La Russo as Adam Banks, Marguerite Moreau as Connie, Garrett Henson as Guy and Justin Wong as Kenny Wu. Creator Steven Brill teased the reunion to EW and how it's reminiscent of the early days. Brill said:
Emilio Estevez also revealed that Fulton invites Bombay to a smaller, more casual Ducks reunion at a pizza parlor and that the scene reunites Bombay with his old players. However, the scene then gets dark and Bombay ends up splitting from the gang because of miscommunication. Estevez said the beginning of the sequence is positive and exciting but then it goes off the rails.
The Mighty Ducks: Game Changers will pick up 25 years after D3: The Mighty Ducks and Bombay is apparently a lot different now from how the old Ducks remember him as. Meanwhile, Fulton will always be a Bash Brother at heart, Connie is a Democratic state senator in Minnesota, Guy is her husband and they have three kids together, and Kenny made a lot of money in a tech startup in California and sings in a cover band. Steven Brill wouldn't reveal what Averman does since it's a big part of the story, but mentioned that Averman is Averman.
To note: Two notable former missing Ducks include Joshua Jackson's Charlie and Kenan Thompson's Russ "Knuckle Puck" Tyler. Steven Brill said that Jackson was too busy working and after the pandemic hit, it wasn't possible with his schedule. Brill didn't rule out Jackson returning and hopes he could make a reappearance in the future. And with Thompson filming Saturday Night Live and busy with new sitcom Kenan, not appearing on Disney+ also makes sense.
The Mighty Ducks franchise revolved around a Twin Cities ice hockey team that was composed of young players who stuck together throughout various challenges; later franchise movies involved some of them joining Team USA and going to college together. The new series will feature Lauren Graham and you can see more of what she brings to the table in the first trailer. The Mighty Ducks: Game Changers will premiere on Friday, March 26 on Disney+. All three movies can currently be streamed on Disney+ in case you want to get ready for the return of the Ducks.
Passionate writer. Obsessed with anything and everything entertainment, specifically movies and television. Can get easily attached to fictional characters.
Your Daily Blend of Entertainment News
Thank you for signing up to CinemaBlend. You will receive a verification email shortly.
There was a problem. Please refresh the page and try again.