The Mighty Ducks' Goldberg Actor Shaun Weiss Is Out Of Rehab Now, So Could He Appear In The Disney+ Show?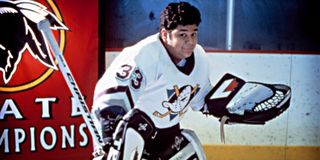 As Disney's The Mighty Ducks is getting ready for a triumphant return, this time in the format of the Disney+ series The Mighty Ducks: Game Changers, O.G. trilogy star Shaun Weiss continues to work on his own triumphant return to sobriety. Although filming has wrapped on the first season of the follow-up series, is it possible Weiss could still return to the role of goalie Greg Goldberg?
According to TMZ, Disney never officially reached out to Mighty Ducks vet Shaun Weiss about including him in the TV series revival, though he claims that other actors told him director and franchise creator Steven Brill had plans to bring him back in some capacity. Sources also said that Weiss doubted he'd be welcomed eagerly, due to his criminal history, such as his arrests for meth possession and burglary, as well as his struggles with drug addiction. However, the actor recently celebrated one year of sobriety and cleaned up his act in a big way after some problematic years.
It was recently revealed exactly which of the OG Mighty Ducks stars would return and in what capacity. Episode 6 will serve as the big reunion episode which will see the return of many fan-favorites like Elden Henson as Fulton, Matt Doherty as Averman, Vinny La Russo as Adam Banks, Marguerite Moreau as Connie, Garrett Henson as Guy and Justin Wong as Kenny Wu. There was no mention at all of Shaun Weiss either returning or even being reached out to about returning, and now it appears the story behind that situation has been revealed.
Alas, while Goldberg won't be around for Season 1, there is still potential for the future. TMZ also reported that Shaun Weiss is holding out hope that Disney could still possibly give him a call if the series gets picked up for Season 2. In any case, he's apparently ready for it now more than ever. The actor is said to have gained all of his weight back and that he looks more like Goldberg again. He's also been working on other scripts in the meantime.
Besides The Mighty Ducks, Shaun Weiss also starred in childhood favorites such as Heavyweights and Freaks and Geeks, and his character Goldberg was a fan-favorite from the hockey trilog. It's a wonder how the reunion episode in the new series will handle the absence of Goldberg, as well as the lack of Charlie (Joshua Jackson) and Russ (Kenan Thompson), since they both were unable to be part of the reunion due to their schedules.
A Mighty Ducks TV show was first announced back in 2018 with Emilio Estevez, who played beloved Coach Bombay, being announced to make a return last year. Estevez's return was just the first step for a larger Mighty Ducks reunion to happen on the pond, as it were. Although not every single Duck will return, it will be nice to see most of them come back together again 25 years after the events of the third and final movie in the franchise. Hopefully Disney will renew the series and give Shaun Weiss a chance to come back seeing that he is on board to playing the goalie again.
The Mighty Ducks: Game Changers premieres on Friday, March 26, and the first (opens in new tab), second (opens in new tab), and third (opens in new tab) movies are also available to stream on Disney+ right now!
Passionate writer. Obsessed with anything and everything entertainment, specifically movies and television. Can get easily attached to fictional characters.
Your Daily Blend of Entertainment News
Thank you for signing up to CinemaBlend. You will receive a verification email shortly.
There was a problem. Please refresh the page and try again.