The Mighty Ducks: Game Changers: 8 Quick Things We Know About The Disney+ Mighty Ducks TV Show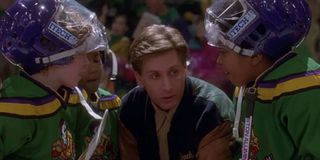 The Mighty Ducks is the favorite film series of many adults who grew up in the '90s, and not just those who enjoy watching or playing hockey. The film is a classic underdog tale, where we meet a group of kids (and an adult) who haven't quite realize their greatness but find their way throughout the story. The original Mighty Ducks movie and its sequels star Emilio Estevez as Gordon Bombay, and include a cast of future stars, like Joshua Jackson, Jussie Smollett, and Kenan Thompson. This is one of those classic nostalgic films that ties many people to their childhoods, and often offers a fun escape. So, it surprises no one that Disney plans to reboot it in series form for Disney+, with The Mighty Ducks: Game Changers.
If you're like me, you can't wait to meet the new generation of Ducks, and maybe see a few familiar faces on The Mighty Ducks: Game Changers. To get ready for the potential nostalgia overload of this series, let's look at some information already revealed about the upcoming Disney+ show.
Emilio Estevez Returns As Coach Gordon Bombay
Coach Bombay is a very critical part of the Mighty Ducks franchise, so it's no wonder that Disney+ made sure to bring him back for Mighty Ducks: Game Changers.Emilio Estevez and Disney announced in February 2020 that the actor would reprise this role. Estevez's last major TV appearance was in 2008 on Two and A Half Men.
Estevez seems to be playing a major role in the series, as opposed to just giving fans a cameo appearance. In the original Mighty Ducks, Coach Bombay only coaches the Ducks because he's sentenced to community service for drunk driving. While working with the team, he develops a strong bond with the kids, especially Charlie Conway (Joshua Jackson).
Lauren Graham And Brady Noon Star In The Mighty Ducks: Game Changers
Though Estevez plays a huge part in The Mighty Ducks: Game Changers series, Lauren Graham is slated to star. She plays Alex, the mother of 12-year old Evan (Brady Noon), who is kicked off the Ducks squad, so she creates her own hockey team full of misfits. We don't know much about Alex and Evan beyond those few details, but she seems to, at least, be a dedicated mom to take on the task of forming her own team.
I suspect Bombay will be a sort-of mentor to her, as she learns how to turn these misfits into winners, or at least just teach them how to play hockey.
The Mighty Ducks: Game Changers cast also includes Swayam Bhatia, Taegen Burns, Julee Cerda, Bella Higginbotham, Luke Islam, Kiefer O'Reilly, Maxwell Simkins, and De'Jon Watts.
Original Mighty Ducks Writer Steven Brill Will Executive Produce The Disney+ Series
Steven Brill wrote or co-wrote the screenplay for all three Mighty Ducks films, and also had cameos in each production. When Disney made the official announcement about The Mighty Ducks: Game Changers, it was revealed that Brill would executive produce the series along with Michael Spiller, Josh Goldsmith, James Griffiths, Jordan Kerner, George F. Heller, and a few other producers. Josh Goldsmith will also be a showrunner, along with Cathy Yuspa, and that duo also co-created the series. Having Brill involved should guarantee that the series keeps some of the spirit of the original franchise.
The Mighty Ducks: Game Changers Turns The Ducks Into The Bad Guys
Per the show's description, the Ducks have now become an ultra-competitive hockey team, and cut Evan "unceremoniously." This seems to imply that the Ducks are kind of becoming like those teams that they used to face off against. It will be interesting to see if the whole team is now one mighty jerk, or if there are still some good eggs in the bunch. I am also curious to see how fierce they've become as hockey competitors.
I also wonder if we'll discover that the ruthless Mighty Ducks will be coached by a former player? Right now, we have no word on if any other former Mighty Ducks actor will appear in the series, but I wouldn't be surprised if a character we've seen before shows up with some ties to the new Ducks.
Emilio Estevez Will Reportedly Direct Some Of The Mighty Ducks: Game Changers Episodes
The Mighty Ducks: Game Changers is set to have ten episodes, and The Ronin exclusively revealed that Estevez also plans, reportedly, to direct an episode or two, along with appearing in the series. Estevez has directed several TV shows and movies in the past, including episodes of CSI: NY, Cold Case, The Guardian, Men at Work, and The Public.
The Disney Insider revealed that Anya Adams is also set to direct multiple episodes of The Mighty Ducks: Game Changers. Adams has directed episodes of American Housewife, Speechless, Charmed, Glow, The Good Place, Black-ish, Fresh Off the Boat, and of the recently canceled shows Bless This Mess and Single Parents.
The Mighty Ducks: Game Changers Filmed In Vancouver
Like the original movies, The Mighty Ducks: Game Changers will be set in present-day Minnesota. However, the new series is being filmed in Vancouver. Shooting originally began in the spring of 2020, but due to Covid-19 delays, it had to halt production for a while. According to Deadline, filming resumed in September for the Mighty Ducks TV series.
According to The Hollywood North, The Mighty Ducks was originally supposed to restart in August and go until mid-December. But, because it sounds like that timeline is incorrect, the series may still be filming and might not finish until early 2021.
The Mighty Ducks: Game Changers Teaser Has Been Floating Around
As far as we know, Disney+ has not released an official Mighty Ducks teaser online, but after Disney's Investor Day presentation in December 2020, several accounts posted it to their social media pages. In the teaser, we see some overly-involved parents, Graham's character Alex, and her son Evan, who's being shamed by the Ducks for not being a better player.
We then see a series of images of the new misfit hockey team. The teaser also shows Bombay and him not wanting to be involved with this new team, but Alex and Evan both trying to get him to help the new team. The teaser seems to have the same heart as the original franchise. It definitely feels like the same Ducks, but more in the style of modern Disney.
Mighty Ducks: Game Changers Premieres In 2021
Disney announced that The Mighty Ducks: Game Changers premieres in 2021, but they didn't specify the exact date. Since there is already a teaser, and filming should wrap soon, I would assume that it will probably premiere within the first six months of 2021. If I wanted to make an even bolder guess, I would say in the Spring of 2021.
Whenever Mighty Ducks: Game Changers does premiere, I'll be watching it and screaming, "Quack, quack, quack!" You can get ready for the new series by streaming The Mighty Ducks franchise, which is available on Disney+. Stream it here (1 (opens in new tab), 2 (opens in new tab), 3 (opens in new tab)).