Watch Kim Kardashian Awkwardly Grill Addison Rae About 'Hooking Up' With Kourtney On KUWTK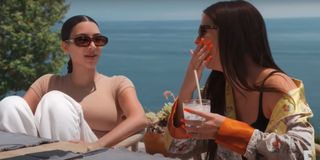 (Image credit: Keeping Up with the Kardashians)
Anyone with big families can tell you that outsiders can be instant bait to be grilled. It's like open season to make your sibling squirm under the pressure. The same is just as true for the Kardashian-Jenner brood. Except instead of your mom giving your rumored significant other the third degree, it's Kim Kardashian and the rest of their family on Keeping Up with the Kardashians interrogating mega-influencer Addison Rae if she is "hooking up" with Kourtney Kardashian.
It's definitely not a question that a newcomer might expect to get from a sister as part of a barrage of questions, but the Kardashian family doesn't tend to do things the expected way. Check out the awkward exchange in the video here:
The lunch (sans Kourtney Kardashian) quickly nosedives when the reality star family starts getting to the bottom of Kourtney and Addison Rae's close friendship, which burgeoned after she was invited to the birthday party for the POOSH creator's son Mason last year. It starts innocently enough, with a little banter about sunglasses on Keeping Up with the Kardashians. But as they eat, the family asks Addison Rae everything from "Have you ever been arrested?" to "What the fuck did you do to Kourtney to make her so happy?" (Khloe never minces words). It only got more awkward when Kim Kardashian point-blank asked,
Addison Rae's frozen smile of horror could say it all, but her nervous reply of "No, we're not…that's weird that's what the impression was" laid their questions to rest. Playful banter and pranks are often a staple of Keeping Up with the Kardashians – heck, Khloe Kardashian (who recently released a revealing video) went so far once as to dress up as Kris Jenner and have fake paparazzi photos taken of her peeing in a back alley. But implying that their 41-year-old sister is having a sexual dalliance with her 20-year-old TikTok gal pal was so awkward it's practically painful.
The Kardashians aren't the only ones who have raised eyebrows about Kourtney Kardashian and Addison Rae's seemingly odd pairing. Ever since it was reported that the two are very close, close enough to even have sleepovers, many have speculated that perhaps the two are more than friends.
Addison Rae set the record straight on what is the final season of Keeping Up with the Kardashians. Besides, we and all the Kardashians now know that Kourtney Kardashian is dating Blink-182 drummer Travis Barker. Now there's the most uncanny match-up if I ever saw one. Apparently, Barker even revealed that he got Kardashian's name as a tattoo…how could Addison Rae even compete with something like that?
The TikTok superstar has had enough problems to contend with anyway after that whole Tonight Show mess. So it's probably good that Addison Rae is attempting to just focus on herself and her newly debuted music as she wades out of those waters, and apparently straight into reality show silliness.
Kim Kardashian and Co. certainly had their fun grilling older sister Kourtney Kardashian's BFF. But based on mounting speculation, it will only get juicier from here on Keeping Up with the Kardashians. Tune in on Thursdays at 8 p.m.!
Your Daily Blend of Entertainment News
Movies and TV News Writer
Freelance writer. Favs: film history, reality TV, astronomy, French fries.
Your Daily Blend of Entertainment News
Thank you for signing up to CinemaBlend. You will receive a verification email shortly.
There was a problem. Please refresh the page and try again.