The Best New Girl Guest Appearances, Ranked, Including Josh Gad And Taylor Swift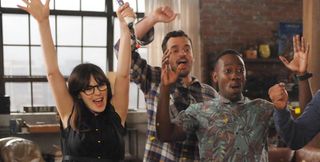 (Image credit: (FOX))
So, here's the thing. I'm not sure we fully appreciated the star-power of New Girl while the FOX series was on the air from 2011 to 2018. Sure, we'll never forget Zooey Deschanel's Jess going full-on quirky girl or Jake Johnson's Nick Miller being the lovable doof he was, Max Greenfield's Schmidt with his lotus pear conditioner or Lamorne Morris' Winston and his misadventures with Ferguson. But, what also makes a sitcom as good as it was the New Girl guest stars who often managed to be super memorable and added a ton of laughs to the series. I'm talking about Taylor Swift, Prince, Dylan O'Brien and Jamie Lee Curtis.
Following my recent rewatch of the series and a few years removed from its series finale, I figured its time to rank the best guest appearances during New Girl's seven season run. But first, I want to get a notable honorable mention out of the way:
New Girl's Guest Of Honor: Megan Fox
Megan Fox had a 15-episode guest arc while Zooey Deschanel's Jess was on jury duty and the actress took maternity leave on the show. Although it didn't seem fair to rank her with the others because she had significantly more screen time, I wanted to highlight Fox's part in the series. Writing your star out of their series for a while is supposed to be a disaster, but it wasn't thanks to the Transformers star. Fox's Reagan brought a completely different flavor to the series, as a closed-off and suave temporary roommate to the New Girl cast. In the process, the actress showed off her comedic chops in a new way and provided a really interesting arc to the series. New Girl took a big swing and it paid off here. Anyway, on to the ranking!
11. Dylan O'Brien - Virgins - Season 2
Remember the time when the loft recalled how they lost their virginities? In the Season 2 episode, each of the roommates told their own stories of their first times and as it turns out Jess' story involved The Maze Runner's Dylan O'Brien. The actor struts into the show with style after an ill-fated prom night for Jess. He only strums a song for her on the guitar, but as the story goes, years later they meet each other at a bar and the results are absolute chaos.
Dylan O'Brien's guest spot is incredible because we expect him to be the rom-com heartthrob of Jess' past, but nope… we were played in the best way.
10. Taran Killam - What About Fred - Season 5
One of the funniest aspects of New Girl continues to be its dating stories, and one Season 5 treat gave us Taran Killam's Fred. In the episode, Jess is going out with the SNL alum's character, who plays a hilariously boring oddball that feels like someone we've all met somewhere. What happens is she ends up sticking around with him because she loves hanging out with his parents more than him (played by Julie Hagerty and Henry Winkler). Killam is having fun playing around with his boring boyfriend bit and it really shows. Not to mention that amazing break dance moment with Winston.
9. Linda Cardellini - Sister - Season 3
Megan Fox wasn't the only "anti-Jess" to shake up the FOX show throughout New Girl. In Season 3, Linda Cardellini's character of Jess' rebel sister was introduced into the show. You really can't help but laugh and cringe at the wacky storyline Cardellini's character goes through as she uses her and her roommates, most memorably by dating Schmidt just so she can have a place to stay. It's just about the worst match ever when Abby Day gets with Greenfield's character, but it's fun to watch play out.
8. Jessica Biel - The Last Wedding - Season 4
We really don't get to see Jessica Biel in enough comedy roles these days, but in Season 4 of New Girl, she did a hilarious guest spot as the other woman in the way of Jess going home with the best eligible bachelor of the wedding she and the loft is attending. Throughout the episode, Jess and Biel's character Kat end up following a man around (played by Ben Feldman) to crazed levels. Biel has solid chemistry with Zooey Deschanel in the episode and her character swept us off our feet in the matter of 20 minutes.
7. Adam Brody - Exes - Season 3
The OC and Shazam! actor Adam Brody also joined New Girl as a guest star to play another one of Jess' former lovers in a Season 3 episode that tackles the question of whether one can be friends with exes. In the episode, Jess attempts to convince Nick that he can remain friends with his ex Caroline (played by Mary Elizabeth Ellis), but in the process she learns that she has been leading on Adam Brody's Berkley for years. Adam Brody plays an adorable new dad who seems harmless, but then really mixes things up in a sharply funny way.
6. Fred Armisen - No Girl - Season 5
Another gem that came out of the time New Girl was without Zooey Deschanel is when SNL funny man Fred Armisen played one of their strange live-in roommates early on. Armisen played a reserved and mysterious housemate that kind of just hangs around the house with nothing to say until the very end when he does a 180 and shows up dressed as Jess Day, and even acts like her. It's an odd anomaly since he hadn't met Jess during his stay, but that's kind of why it's so hilarious and a great guest appearance.
5. Taylor Swift - Elaine's Big Day - Season 2
A truly great celebrity guest appearance is a surprise one, and that's what happens in the Season 2 finale of New Girl with Taylor Swift. The pop singer's role in the series might actually have the shortest screen time on this list, but it's undeniably memorable, and for that it finds a place in the top five! During the memorable finale that has Cece getting her arranged marriage to Shivrang amidst protest and pranks from Schmidt and Winston, along with some developments in Jess and Nick's relationship. As the wedding episode reaches its finale, Taylor Swift pops out to pronounce her love for Shivrang. It's a weird and funny twist for the episode and the perfect insert of someone as iconic as the singer.
4. Jamie Lee Curtis And Rob Reiner - Parents - Season 2
A genius bit of casting in New Girl was the decision to make Jamie Lee Curtis and Rob Reiner Jess' parents in the series. The pair made a few recurring appearances to the Fox series after their introduction in Season 2, but every single time they were an absolute delight. They play a divorced couple who are convincingly Jess' mom and dad and it's so much fun to see the pair play off each other and the cast. They truly struck gold with these two and New Girl is better for their additions to the series.
3. Josh Gad - Katie - Season 2
New Girl also gave us Josh Gad more unhinged than ever with his role as Bearclaw in Season 2. In the episode "Katie", the actor uses his unique brand of humor to play a man she meets at a bar on the same episode she meets David Walton's Sam Sweeney (her famed doctor boyfriend). In the episode, she blows off Bearclaw to go out with Sam, and things get super awkward. Gad returns in two more episodes to deliver his best moment, a woodland animal musical. Bearclaw makes excellent use of the Frozen actor and has some of the most laugh-out-loud moments in the show.
2. Justin Long - Bad In Bed - Season 1
As we soon approach the end and top of the New Girl guest star ranking, we've come to the last of Jess's ex boyfriends. I guess that makes my favorite guest boyfriend in the series Justin Long's Paul Genzlinger, who is basically the male version of Jessica Day. The couple meet in the first season of New Girl at school and then briefly date. Long has a few episodes on the show, but every time his dynamic with the cast is absolutely perfect. He plays a bit of a golden retriever boyfriend and plays off the awkwardness of Jess in a really fun way. A moment of silence for that cringe-y sex scene where Jess tries to mix it up in bed with roleplaying… nope, can't do it, still hilarious as ever.
1. Prince - Prince - Season 3
Was it ever going to be anyone else but the late Prince? The Season 3 guest spot might be the most iconic moment in the series ever, and there are so many reasons why. The singer was apparently a big fan of the sitcom, and therefore allowed the cast to grace his presence for an episode about the loft gang getting into an exclusive party hosted by Prince. The episode comes at a pivotal moment in the series where things are heating up between Jess and Nick, and Zooey Deschanel's character is gearing up to say those three special words to him. The Prince episode is majestic, fun and showcases everything that's wonderful about New Girl.
All seven seasons of New Girl is currently available to stream on Netflix. Which notable guest star on the series was your favorite? Vote in the poll below. That's my queue to backwards moonwalk out of here!
This poll is no longer available.
Your Daily Blend of Entertainment News
YA genre tribute. Horror May Queen. Word webslinger. All her writing should be read in Sarah Connor's Terminator 2 voice over.
Your Daily Blend of Entertainment News
Thank you for signing up to CinemaBlend. You will receive a verification email shortly.
There was a problem. Please refresh the page and try again.