Taylor Swift: 8 Movies And Other Streaming Options To Watch If You Love Taylor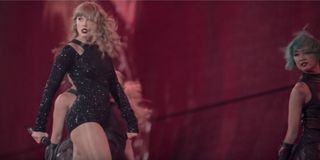 CinemaBlend participates in affiliate programs with various companies. We may earn a commission when you click on or make purchases via links.
Taylor Swift's work ethic and constant quest to reach new heights has made her a global superstar. Swift has won a legion of dedicated fans by going the extra mile for them and being relatable with her girl next door persona. Recently, Netflix released Miss Americana, a documentary that allows fans, and critics, to get a deeper look at the woman behind so many of today's greatest pop hits.
For Swifties, there is no such thing as too much Taylor Swift content. Therefore, if you're in need to catch up or binge some content with the "Red" singer, here's a few great options.
Taylor Swift: Miss Americana (Netflix)
Miss Americana is a Netflix documentary that follows Taylor Swift as she tours, records music, and lives her everyday life. It's an unprecedented look at the pop and country princess.
Taylor Swift is such an unstoppable force, and such a huge popstar, that it can be hard for those who aren't already fans to relate. However, Miss Americana shows the many layers of the phenomenon that is Miss Swift. You see her drive, her struggles, her dreams, and her anxieties. Everything that makes her this fantastic performer and human. Miss Americana reminds fans of her roots and shows a little vulnerability to the "You Belong with Me" singer.
Stream it on Netflix here (opens in new tab).
Taylor Swift Reputation Stadium Tour (Netflix)
Don't have the money to see Taylor Swift live (or devastated over the postponement of LoverFest)? Want to relive the concert experience? Trapped at home and can't see concerts live? No problem, Netflix has you covered. Experience her Reputation album stadium tour live from the comfort of your living room. The over two hour concert film features Swift performing some of her biggest hits, like "I Did Something Bad, " Look What You Made Me Do," "Blank Space," and "Bad Blood." It's a great way to pump up your energy and enjoy the dynamic performing style of Taylor Swift.
Stream it on Netflix here (opens in new tab).
Valentine's Day (Netflix)
Taylor Swift joins an ensemble cast in Valentine's Day, a movie about several different couples experiencing the ups and downs of being in love on Valentine's Day. Taylor Swift has one of her rare acting appearances in this film. She mainly acts opposite Taylor Lautner as they play two teens in love. Swift gives a very cute, fun performance in this movie. It showcases the goofy side of Swift.
Her scenes, especially the ones with the reporter, are actually pretty funny. They're a little bit cheesy but isn't that how Valentine's Day is supposed to be? Taylor Swift adds her quirky charm to Valentine's Day while also bringing some killer dance moves.
Stream it on Netflix here (opens in new tab).
New Girl "Elaine's Big Day" (Netflix)
Taylor Swift had a very brief appearance on the New Girl Season 2 finale. The episode revolves around Cece (Hannah Simone)'s wedding to Shivrang (Satya Bhabha). "Elaine's Big Day" contains a lot of relationship drama between Nick (Jake Johnson) and Jess (Zooey Deschanel), as they contemplate if they should end their relationship or become more serious about it.
Spoiler alert to those who haven't binged New Girl yet, it also ends with Cece calling off her wedding to Shivrang because she's still in love with Schmidt (Max Greenfield), forcing him to pick between her and current girlfriend Elizabeth (Merritt Wever). Shivrang admits that he's also in love with someone else: Elaine (Taylor Swift). Taylor pops out of nowhere and gives a very funny speech that lists all the problems with their relationship. The unlikely pair then runs off together. It's a very brief appearance that allows Swift to deliver some funny lines in a wholesome manner only fitting for a persona like Swift.
Stream it on Netflix here (opens in new tab).
Taylor Swift: Just For You (Amazon Prime)
This 60 minutes documentary goes into the career of Taylor Swift by having industry professionals talk about what makes her such a big star. It also shows some clips and stock footage from previous Taylor Swift interviews, music videos, red carpet images, etc. The short documentary doesn't offer anything groundbreaking that most diehard fans haven't already read or heard, but if you're a new Taylor Swift fan, then this might be a good summary of her career and how she became such a high profile figure. Even if you are a huge Taylor Swift fan, Just For You could just satisfy your need for more Swift related content.
Stream it on Amazon Prime here.
Saturday Night Live Season 35, Episode 5 (Hulu)
Taylor Swift has made many Saturday Night Live appearances, especially as a musical guest. In 2009, she did double duty as musical guest and host. In her opening monologue, she poked fun at some of her famous exes, including Joe Jonas, and the Kanye West VMA moment and on-going feud. The Saturday Night Live gig allowed her to show her skills as a singer, and her love for comedy.
One of Taylor's best skits (which was a digital short) was her "Firelight" one, a parody of Twilight. Swift did a great job mimicking Kristen Stewart's mannerisms, and it's even funnier because at the time she was rumored to be dating Twilight's own Jacob (Taylor Lautner). Another great skit from her hosting gig is the Hollywood Dish one where she just reacts to the insanity of Bill Hader and Kristen Wiig's characters. They do funny faces while she talks. Surprisingly, this might not be Swift's strangest interview.
Stream it on Hulu here (opens in new tab).
CSI: Crime Scene Investigation-"Turn, Turn, Turn," (Hulu)
Taylor Swift made an appearance in Season 9, Episode 16 of CSI: Crime Scene Investigation. She plays a character named Haley who has ties to Nick (George Eads)'s past. This is another very brief appearance with Swift only appearing in flashback scenes, but the episode allows her to take on a darker role.
Stream it on Hulu here (opens in new tab).
Hannah Montana Movie (Disney Plus)
Taylor Swift only appears in one scene of Hannah Montana: The Movie to sing "Crazier." The scene is a cute one because it helps showcase the romance between Miley (Miley Cyrus) and Travis (Lucas Till) and Robby (Billy Ray Cyrus) and Lorelai (Melora Hardin). Since this is only a one scene thing, if you really like Hannah Montana and Taylor Swift, then you get the best of both worlds.
Stream it on Disney Plus here (opens in new tab).
To Rent On Amazon Prime
If you can't get enough of Taylor Swift, and don't mind spending a few dollars, then here are some of the other great Swift projects available to rent or buy.
Cats
There is so much to say about Cats. One good thing about it is Taylor Swift's original song "Beautiful Ghost." She also has a role in the film as Bombalurina. She struts and shows off her feline persuasion. If you love cats as much as Taylor Swift, then you may enjoy this movie musical. Rent or buy it here.
The Lorax
Taylor Swift voices Audrey, Ted (Zac Efron)'s love interest. She's the typical, artsy, creative girl next door. Rent or buy it here.
The Giver
Taylor Swift plays Rosemary in The Giver. The Giver (Jeff Bridges)'s daughter who decided to not follow in her father's footsteps, leading to a tragic ending. It's another short appearance by Swift, but an important one because of the haunting nature of it, especially considering how it all ends for Rosemary. Rent or buy it here.
These shows and movies should provide you with plenty of Taylor Swift content to stay busy all weekend.
Your Daily Blend of Entertainment News
Spent most of my life in various parts of Illinois, including attending college in Evanston. I have been a life long lover of pop culture, especially television, turned that passion into writing about all things entertainment related. When I'm not writing about pop culture, I can be found channeling Gordon Ramsay by kicking people out the kitchen.
Your Daily Blend of Entertainment News
Thank you for signing up to CinemaBlend. You will receive a verification email shortly.
There was a problem. Please refresh the page and try again.